Expanding the MEPRO FT Family of Fiber and Tritium night sights, the company will also introduce a new Two-Dot rear sight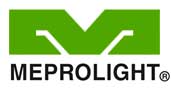 Farmingdale, NY -(AmmoLand.com)- Meprolight – a leading manufacturer of electro-optical systems, thermal and night vision equipment, and Self-Illuminated sights for military, law enforcement and civilian applications – will unveil its unique fiber and tritium Circle-Dot sight for pistols at SHOT Show 2016.
Expanding its MEPRO FT family of fiber-optic and tritium sights, the company will also introduce a new 2-Dot sight. Both these sights will be available in the US market in the second quarter of 2016.
MEPRO FT – Circle-Dot Sight:
This groundbreaking new sight is the only one of its kind in the world, requiring a rear sight only. Enabling quick, easy, and accurate target acquisition, it provides a bright green or orange circle and a dot for day or night shooting. The sight picture simulates reflex sights, with a very low sight profile, which fits to any standard holster. Always ready for action, it has no batteries, no switches, and comes with a 12-year luminance guarantee. MSRP $139.00.
MEPRO FT – Two-Dot Sight:
Enabling easy target acquisition using a regular two-dot rear sight and a one-dot sight at the front, it can be quickly adjusted for windage with the new wrench retaining system. Shooters can use the sight with both eyes open, with or without corrective lenses. The sight delivers a high level of accuracy, with 24/7 (day and night) aiming dots. It has a low profile and a very simple installation process. Available in either green or orange color, it comes with a 12-year luminance guarantee. MSRP $169.00
Both sights will be available for Glock and Springfield pistols first, with additional brands and models planned for later release.
According to Amir Karo, Director of Sales & Marketing, "We are pleased to announce the expansion of our portfolio of sights for pistols. We continue with our ongoing R&D efforts in order to offer our customers the latest high-end technology with proven results. The MEPRO FT family is an intuitive low-profile aiming solution that facilitates quick, instinctive, and accurate shooting day or night. The combination of fiber and tritium technologies allows us to reach a very high brightness level. The new sights are easy to install, and enable simplified zeroing using their Left/Right adjustment."
Come visit us at SHOT Show 2016, 19-22/1, Las Vegas, US, Booth #15138.
About Meprolight:
Meprolight is a leading International Electro-Optics company, developing, manufacturing and marketing systems for infantry, armed forces, law enforcement agencies and civilian markets since 1990. Meprolight provides comprehensive solutions with a wide array of combat-proven products; electro-optical and optical sights and devices, night vision sights and devices, thermal sights, and fire control systems and other tritium illuminated products and accessories. Meprolight's solutions are currently operational in safety and security applications for law enforcement, military and civilian communities worldwide.
For more information on Meprolight, please visit www.meprolight.com.
The post Meprolight Reveals Unique Fiber and Tritium Circle-Dot Sight for Pistols at SHOT Show appeared first on AmmoLand.com.