By Ashley Brugnone, CMP Writer

Camp Perry, OH -(AmmoLand.com)- MSG Robert Mango, 41, of the U.S. Army Reserve, was this year's recipient of the coveted Daniel Boone Trophy for claiming the overall position in the National Trophy Individual (NTI) Rifle Match at this year's National Trophy Rifle Matches at Camp Perry.
MSG Mango fired a score of 494-22x for the win. Additionally, MSG Mango was awarded the Citizen Soldier Trophy as the highest ranking Reserve competitor, as well as the Association of the U.S. Army and 25th Infantry Division Trophy honors.
High civilian of the match was Jeffrey Lindblom, 41, of Moscow Mills, MO, with a score of 492-18x. Lindblom earned second place behind MSG Mango overall in the event and received the Nathan Hale Trophy.
Claiming the Golden Eagle Trophy as the highest ranking junior in the NTI match was Forrest Greenwood, 19, of Ceres, CA, with a score of 484-16x. The talented young competitor finished in 33rd place out of 1,017 competitors.
Richard Zolnowsky, 62, of Wagner, SD, was the winner of the When Hunter's Dream Trophy – awarded to the high senior of the event. Zolnowsky fired a score of 482-15x.
SSG Amanda Elsenboss, 26, of the Army Marksmanship Unit recorded a score of 490-19x to earn the Women's Rifle Trophy as the highest ranking woman of the event. SSG Elsenboss landed in fourth place overall.
Winning the National Trophy Infantry Team (NTIT) Match was USMC Scarlet, with a score of 1270. Firing members of the team are Sgt. Tanner Bauer, Sgt. Jeremy Benjamin, Sgt. Antonio DiConza, Sgt. Joseph Dukich, Sgt. Joseph Peterson and SSgt. Chad Ranton. The team is coached by SSgt. Mark Altendorf – team captain is Capt. John Sheehan.
Second place team was TSRA (Texas State Rifle Association) Gold, with a score of 1191 – earning the Leatherneck Trophy as the highest ranking civilian team. The Army Marksmanship Unit (AMU) team Praslick came in third, with a score of 1155.
The highest ranking junior team in the National Trophy Infantry Team Match was Arizona Juniors with a score of 870 – leading over the second place team by nearly 70 points. Team members Zachery Clark, Jessica Fallenbeck, Kade Jackovich (captain), Morgan Langdon, Sarah Nguyen and Donnie Smith performed for the win. The team is coached by Thomas Kirby.
Though the USAMU Praslick team came up short during the NTIT, it managed to claim the National Trophy Rifle Team (NTT) Match with a score of 2938-100x. Members are SFC Brandon Green, SGT David Bahten, SSG Daniel Crody, SSG Amanda Elsenboss, SGT Joseph Hall and PFC Ben Cleland. The team is coached by Emil Praslick, and team captain is SFC Robert Shoup.
Coming in second was TSRA Gold with a score of 2900-76x, followed by the All Guard Gold – firing a score of 2898-88x.
With their third place finish, All Guard Gold earned the Hilton Trophy – given to the highest ranking Reserves or National Guard team. The TSRA Gold took home the Soldier of Marathon Trophy, awarded to the highest ranking civilian team.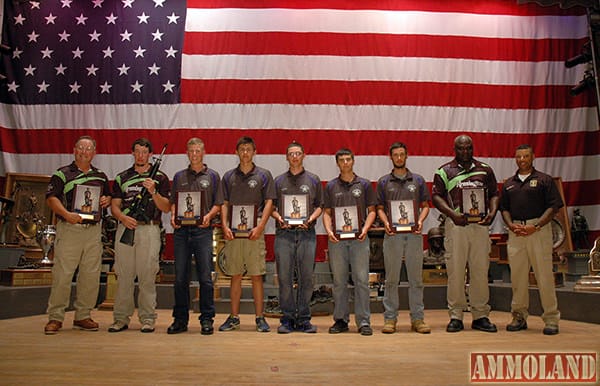 Earning the Minuteman Trophy, for the highest ranking junior team, was PRPA (Pennsylvania Rifle & Pistol Association) Junior #1, with a score of 2821-56x. Team members are Matthew Lovre (captain), Joseph Hendricks, Alexander Thomas, Kevin Kerin, Jack Graw and Wyatt Thomas. The team is coached by Ken Roxburgh.
For a complete list of results of these matches and other National Match events, visit https://ct.thecmp.org/app/v1/index.php?do=match&task=edit&match=12504.
For more information about the CMP and its programs, log onto www.TheCMP.org for more information and program descriptions.

Article also posted at http://thecmp.org
About The Civilian Marksmanship Program (CMP):
The Civilian Marksmanship Program (CMP) is a national organization dedicated to training and educating U. S. citizens in responsible uses of firearms and airguns through gun safety training, marksmanship training and competitions. The CMP is a federally chartered 501(c)(3) corporation that places its highest priority on serving youth through gun safety and marksmanship activities that encourage personal growth and build life skills.
For more information, please visit www.TheCMP.org.
The post Mango Earns NTI Honors, USMC Wins Rattle Battle at 2015 National Rifle Matches appeared first on AmmoLand.com.