"Frederick County Sheriff and Gun Dealer Indicted for Scheme to Illegally Acquire Machineguns," a Wednesday Department of Justice press release for the District of Maryland announces. "A federal grand jury has returned an indictment charging Charles Austin Jenkins, age 66, of Thurmont, Maryland, and Robert Justin Krop, age 36, of Frederick, Maryland, with conspiracy and false statements in order to acquire machineguns.  Krop is also charged with illegal possession of machineguns."
There are multiple felony allegations that, if proven, could put both men away for years:
"The six-count indictment alleges that from August 2015 to May 2022, Jenkins and Krop conspired to unlawfully purchase machineguns and falsified multiple documents on the Frederick County Sheriff's Office letterhead requesting machineguns for evaluation and demonstration to the Frederick County Sheriff's Office.  Krop allegedly drafted these documents for Jenkins' signature.  According to the indictment, Jenkins and Krop knew that there would not be a demonstration of the machineguns to the Sheriff's Office and that the machineguns were intended for rental to Krop's customers.  Krop also allegedly illegally possessed seven machineguns.  The indictment further alleges that Krop's business offered political support to Jenkins in recognition of his support for the business."
Per a CNN report, "Jenkins remains in his position as sheriff," and through a spokesman issued a statement proclaiming innocence:
"I have been in constant communication with the DOJ and the ATF for over a year and have been 100% cooperative throughout the course of this investigation."
The Maryland incident is the third prominent recent case of law enforcement officials getting in trouble with the feds over machineguns they obtained by using their official positions to procure them.
In December, AmmoLand reported on an indictment from the United States Attorney's Office for the Southern District of Iowa charging Adair Chief of Police Bradley Wendt with unlawfully obtaining and possessing machineguns.
Per the USAO press release:
"Wendt … exploited his position …  to acquire 10 machine guns purportedly for the official duties and responsibilities of the Adair Police Department, but later resold several of those machineguns at a significant profit. [He] acquired 13 machine guns for his Denison-based gun store, BW Outfitters, through false statements to the ATF that the machine guns were being demonstrated for future potential purchase by the Adair Police Department. [He] sought to demonstrate or purchase approximately 90 machineguns for the Adair Police Department, which serves a town of less than 800 people [and, with an accomplice] hosted public machine gun shoots, where they charged patrons money…"
And like Sheriff Jenkins, Chief Wendt was soon back on the job.
Then in May of last year, another police chief avoided prison through a plea deal in which prosecutors agreed to drop 14 charges of illegally obtaining machineguns in exchange for three guilty pleas of:
Conspiracy
Making false statements in records maintained by a federal firearms licensee
Making false statements to the Bureau of Alcohol, Tobacco, Firearms and Explosives
Convicted of "using his law enforcement position to illegally help two federally licensed firearms dealers in Indiana acquire and resell about 200 fully automatic machine guns," former Tri-State police chief Dorian LaCourse was sentenced to "three years' probation, including six months of home detention" and fined $11,800 in an arrangement that also resulted in "100 illegally obtained machine guns, $2,500 rounds of ammunition and more than $6,000 in criminal proceeds seized from LaCourse's office desk [being] forfeited to the United States."
With federal law enforcement ready to prosecute average citizens on machine gun charges for possession of a bump stock, it's hard to imagine them being willing to cut a deal with a "civilian" over an actual full auto. It also makes fair the question of whether deals will be offered to Jenkins and Wendt to secure convictions on something, anything…
But whether the top cops are innocent or guilty of charges is beside the real point gun owners should be concerned with.  The militarization of police is what opens the door to exclusivity and enables corruption. And you'd better believe the officials and the deputies/officers they command would arrest any of us if they found us non-compliant with a "gun law." The "Only Ones" hypocrisy reeks.
While Democrat politicians and their media cheerleaders are quick to call the semiautos that enforcers routinely deploy with "patrol rifles," they demand that the people the Second Amendment is supposed to legally protect surrender their "weapons of war suitable only for killing as many people as quickly as possible."
What the prohibitionists are missing, deliberately, is that we have a right to own machineguns without any special permissions which government usurpers have no Constitutional authority to give (or deny) – and the politicians have known that ever since they first proposed taxing them.
You know it, I know it, and most importantly, the domestic enemies in high places who want to disarm us know it.
---
"Frederick County Sheriff's Office, MD – Integrity Driven • Community Built" addresses the charges in a Wednesday press conference:
---
About David Codrea: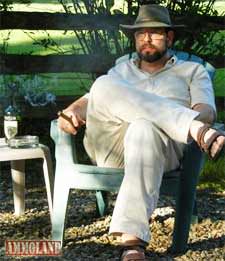 David Codrea is the winner of multiple journalist awards for investigating/defending the RKBA and a long-time gun owner rights advocate who defiantly challenges the folly of citizen disarmament. He blogs at "The War on Guns: Notes from the Resistance," is a regularly featured contributor to Firearms News, and posts on Twitter: @dcodrea and Facebook.