Colorado – -(AmmoLand.com)- In a Gun Safety Resolution so extreme it puts Boulder's so-called "assault weapons" ban to shame, Longmont, CO city council is asking federal and state elected officials to implement laws such as gun registration and requiring gun locks so advanced the technology barely even exists yet, among many other things.
On Tuesday, Councilman Tim Waters presented the resolution. It was voted 5-2 to advance to the next step – deliberation and a final vote which will take place on Tuesday, Sept 10 at 7 pm during the weekly city council meeting. If approved, Mayor Brian Bagley would have to forward this resolution to state and federal elected officials conveying that these are the laws city council believes Longmont's law-abiding gun owners should have to abide by. It should be noted, Mayor Bagley was one of the NO votes to move the resolution forward, along with Councilwoman Bonnie Finley.
Here is what the resolution calls for:
1.) Required state-issued permits for gun ownership.
2.) Universal background checks on all sales, including the private sale of firearms*.
3.) State issued permits for concealed carry*.
4.) State issued permits for concealed carry within a vehicle*.
5.) Banning the personal sale or purchase of military-grade weapons by non-military personnel.
6.) Limits on magazine capacity*.
7.) Required gun locks that enable only permitted gun owners to fire a weapon.
8.) Prohibitions of gun ownership by convicted felons and individuals convicted of domestic abuse.
9.) Red flagging individuals who have given family members and/or law enforcement reasons for concern about their mental and emotional stability*.
Read more about this action as well as access a PDF of the resolution here: Longmont, CO Wants to Register Their Gun Owners
Please speak up, especially if you are a Longmont resident. You can email the entire council at once at: City_Council_Mayor@longmontcolorado.gov and telephone numbers can be found here. Please also attend the next two city council meetings: Sept 3rd and Sept 10th, both at 7 pm, Civic Center 350 Kimbark St. Longmont, CO 80501. If you are comfortable doing so, come with a 3 minute prepared speech to give during public comment (it's easy). If you don't want to speak, please still come and offer support to others. Questions? Contact us.
---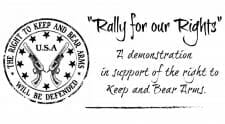 About Rally for our Rights
Rally for our Rights is a non-partisan gun rights advocacy organization that was founded in early 2018. It has quickly become Colorado's most active Second Amendment group with a focus on frontline activism and community outreach.
The post Longmont, Colorado City Council To Vote On Extreme Anti-Gun Resolution appeared first on AmmoLand.com.