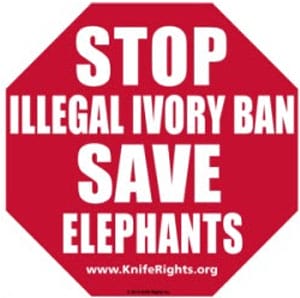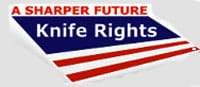 Gilbert, AZ –-(Ammoland.com)- A Knife Rights representative attended the August 24 2015 meeting of the Federal Advisory Council on Wildlife Trafficking in Washington, DC to speak out against the Council's continued support for the Administration's irrational proposed ivory ban rule that will hurt many knifemakers, collectors and millions of Americans.
Knife Rights abhors poaching of all species and supports science-based conservation efforts that have succeeded in posting significant GAINS in some elephant populations in recent years. We support practical efforts to defend elephants in the field that have resulted in MARKED DECLINES IN POACHING in recent years, as well as lawful enforcement activities that directly target illegal black-market trade in ivory. We support targeting poachers, not abusing law-abiding Americans in violation of long-held American principles.
Click here to read the letter we submitted to the Council opposing the irrational and unsupported ivory ban.
A key point we make is to note that the Convention on International Trade in Endangered Species (CITES) published a study, "Monitoring the Illegal Killing of Elephants (MIKE) UPDATE ON ELEPHANT POACHING TRENDS IN AFRICA TO 31 DECEMBER 2014" that evaluates relative poaching levels based on the Proportion of Illegally Killed Elephants (PIKE). The latest report published last year clearly shows that the illegal killing of elephants peaked back in 2011 and declines and levels off thereafter. The report also notes that illegal killing of elephants in Eastern Africa has dropped for the last four years and these populations are now at sustainable levels. Southern Africa herds have been at sustainable levels for all the years monitored, 2002 -2014. Where elephant herds in Africa are protected from poaching, the herds are proven to be sustainable.
You can read about the proposed Federal Ivory Ban rule here: http://www.kniferights.org/index.php?option=com_content&task=view&id=344&Itemid=1
If you have not already done so, to support our efforts opposing this draconian and ill-advised rule that only serves to steal from honest Americans and which won't save a single elephant in Africa, please submit a comment TODAY based on the article above this one.
Knife Rights is working with our partners in the many organizations opposed to this rule to develop additional effective, well-reasoned and coherent arguments against this rule. As we progress, we'll ask you to help by submitting additional comments.
About:
Knife Rights (www.KnifeRights.org) is America's Grassroots Knife Owners Organization, working towards a Sharper Future for all knife owners. Knife Rights is dedicated to providing knife owners an effective voice in public policy. Become a Knife Rights member and make a contribution to support the fight for your knife rights. Visit www.kniferights.org
The post Knife Rights Speaks Out Against Ivory Ban – Urges Respect for Rule of Law appeared first on AmmoLand.com.