Kimber Continues to Support the USA Shooting Team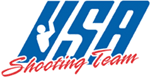 Colorado Springs, Colo. –-(Ammoland.com)- Kimber Manufacturing's Owner Leslie Edelman and Web & E-Commerce Specialist Alexander Edelman present USA Shooting Team members with a check at the 2011 SHOT Show.
Kimber Manufacturing, Inc. continues its unprecedented support of USA Shooting with a check presented at the 2011 SHOT Show pushing total contributions to $840,000-the largest amount donated by a firearms company in Team history.
"What Kimber continues to accomplish on an annual basis in support of the USA Shooting Team is phenomenal," said Buddy DuVall, executive director of the USA Shooting Team Foundation. "Kimber's support for our organization has a direct impact on our athletes' results in international competition. With the success our athletes are having, we're extremely optimistic about how the USA Shooting Team is shaping up for London and we're grateful for Kimber's contribution toward this effort," said DuVall.
At the 2011 SHOT Show in Las Vegas, Kimber owner and CEO Leslie Edelman and Kimber Web & E-Commerce Specialist Alexander Edelman presented USA Shooting Team members Caitlin Connor, Jaiden Grinnell, Courtney Anthony, Amy Sowash, John Mullins, Haley Dunn, Collin Weitfedlt and Corey Codell with a $78,500 check, bringing Kimber's total contributions to USA Shooting to $840,000.
Since 2003, Kimber has been an official sponsor of USA Shooting and one of its largest supporters. For each Kimber Team Match II 1911 pistol sold, Kimber makes a donation to USA Shooting. In addition to more than 8,000 Team Match II's sold to date generating funding for the team, Kimber provided a special Centennial Edition 1911 .45ACP that recently auctioned for over $10,000 at the Dallas Safari Club convention.
For more information on Kimber firearms please visit www.kimberamerica.com.
About USA Shooting:
USA Shooting, a 501c3 non-profit corporation, was chartered by the United States Olympic Committee as the National Governing Body for the sport of shooting in April 1995. USA Shooting's mission is to prepare American athletes to win Olympic medals, promote the shooting sports throughout the U.S. and govern the conduct of international shooting in the country. Check us out on the web at www.usashooting.org and on Twitter at twitter.com/USAShooting.
The post Kimber Continues to Support the USA Shooting Team appeared first on AmmoLand.com.