U.S.A. –-(Ammoland.com)- The QUELL rifle suppressor from Wilson Combat has been designed to be extremely rugged, and compact while offering exceptional sound attenuation. With a Magnum caliber rating, the QUELL is an ideal hard-use suppressor for any carbine or rifle.
The 6.9" long, 1.5" diameter, 15.9-ounce (19 ounces with the suppressor mount) QUELL is built of 100% hardened 17-4 PH stainless steel and completely sealed with circumferential welds for impressive structural integrity. The QUELL is built in-house on our 5-Axis, CNC machines to exacting tolerances resulting in a minimal shift in point of impact (sub-1MOA) and a very low likelihood of baffle strike.
The QUELL "K-Type" fixed baffle stack has a superb sound signature reduction and durability against the high heat associated with modern service carbines and high round count precision rifle platforms. This robust construction allows the use of the QUELL in full-auto, supersonic rifles, those with pistol length barrels and magnum caliber bolt guns. The QUELL is a true "one-size fits all" hard use suppressor solution.
The QUELL "K-mount" muzzle interface is easily user-installed without shimming or indexing-the only tool needed for installation is a commonly available 7⁄8", 12-point socket wrench. With the suppressor removed, the black nitride finished "K-Mount" will reduce muzzle flash comparable to an M16A1 flash hider.
Available in your choice of our heat resistant Armor Tuff finish color, the QUELL from Wilson Combat will set a new standard in hard-use modern service and sporting rifle suppression.
QUELL Rifle Suppressor Specifications
Weight: 15.9 oz.
Outer Diameter: 1.5 in.
Overall Length: 6.9 in.
Available for 9mm, 5.56, and 30 Cal
Features
"K-Mount" Muzzle Device
"K-Type" Fixed Baffle Stack
100% Hardened 17-4 PH Stainless Steel
Armor Tuff Finish
The Wilson Combat WCR-K22 Rimfire Suppressor was designed best-in-class noise reduction, easy maintenance and long-term durability in mind. This lightweight, ultra-quiet design will be equally effective at controlling sound on your rimfire rifle or pistol. The time-tested K-baffle design as designed by Wilson Combat allows for improved durability, less gas escape and more volume for improved noise reduction over similarly sized rimfire suppressors.
The WCR-K22 has precision machined 7075 billet aluminum "K" baffles for the ultimate in noise reduction. The stainless steel "sprocket" endcap is easily removable with a commonly available 7⁄8" or 23mm socket wrench. The durable titanium tube easily handles full auto rimfire or .22 magnum level pressures.
The WCR-K22 is available in multiple Armor-Tuff colors to match your firearm.
WCR-K22 Rimfire Rifle/Pistol Suppressor Specifications
Outer Tube: Grade 9 Titanium
Core: 7075 T6, Hard Anodized Aluminum
Thread Interface: 416 SS with Black Melonite Finish
Outer Diameter: 1.0″
Overall Length: 6.4″
Thread: 1/2×28 (Right Hand Twist)
Weight: 4.4 oz
User Serviceable, Full-Auto Rated
Available for .22 Rimfire Rifles and Pistols
Features
New "Sprocket" Endcap
"K-Type" Fixed Baffle Stack
Armor-Tuff Finish
---
About Wilson Combat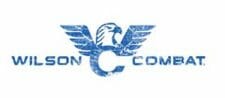 Since 1977 Wilson Combat has been the leading innovator in high-performance, custom 1911 handguns, tactical long guns, and accessories. A Wilson Combat product's unmatched level of exceptional reliability and peerless craftsmanship is only equaled by our legendary customer service. Learn more about us at http://www.wilsoncombat.com
The post Introducing The New Wilson Combat QUELL & WCR-K22 Suppressors appeared first on AmmoLand.com.