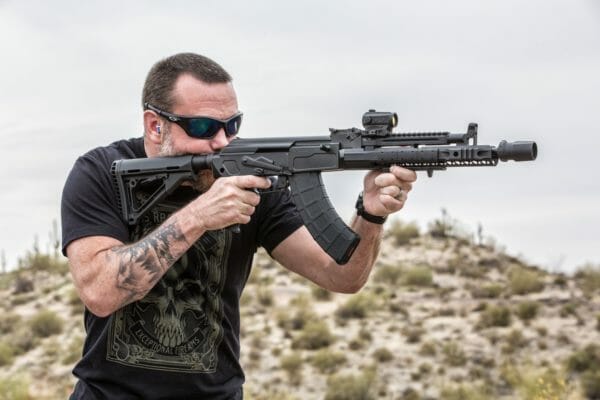 U.S.A. –-(Ammoland.com)- A couple of years back I was surfing the internet while sitting in the gun store, I owned at the time, and I saw something that blew my mind.
It was the "Jack" by a company called Sharps Bros. The design was so aesthetically pleasing that I needed to find out more about the company, so I started rapidly search them out. It turns out this wasn't their only design.
Sharps Bros. has other designs as well such as the "Hellbreaker" which is based on the P-40 Warhawk, and the "Warthog" that were just revolutionary as the "Jack." What they were able to do is use 3D modeling software and CNC machines to make highly functional AR lower receivers and mix in artistry.
Sharps Bros. was the brainchild of John Sharps. John didn't come from a typical background that would lead someone into founding a gun manufacturing company. He came from the world of product design for Microsoft where he worked on such products as the Xbox.
I got to set down and speak with John Sharps, it gave me an insight into the mind of the creative genius behind Sharps Bros.
AmmoLand: What were you doing before starting Sharp Bros.?
John S: Before Sharps Bros, I was working at Microsoft. I spent about 15 years in their hardware group, working on everything from mouse and keyboard products (where I started) to Xbox, Xbox accessories and Surface products. While there I held roles in manufacturing management and product development and even some roles in finance.
It was my time at Microsoft that really taught me everything I needed to know to start my own business, and how to develop and launch a product. It also gave me an eye for design as I worked alongside some of the best product designers the world has to offer.
AmmoLand: Let's deal with the elephant in the room. Bros is the shorthand for brothers. We know about you, John, but is there a brother?
John S: I do have a brother and he is a 'gun guy' just like me, but he isn't involved in the business. I named the business after my two sons. When we had the first receiver designed, and I was just getting the business off the ground, I had watched enough Shark Tank to know that one product did not make a business. So, I wanted a name that reminded me to think long term and to think legacy.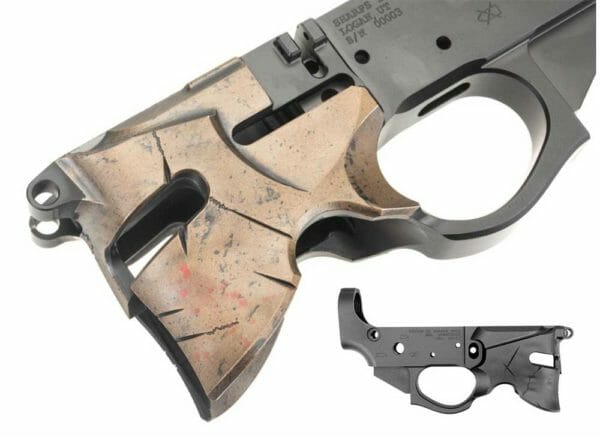 AmmoLand: Your company makes some cool designs. The first time I saw "The Jack" I was blown away. What inspired you to design your AR lowers with an artistic flair?
John S: I had the itch to start my own business since I was young – but never had a good feeling about what business idea or type to pursue. I grew up hunting and shooting firearms regularly and both have been and continue to be passion areas for me – so I knew the category I wanted to be in but didn't have the idea.
At the time I was doing a lot of technical diving in the Seattle area where we lived. There is a lake in Seattle named Lake Washington. It's a deep, cold freshwater lake that at one time had a naval air station on its shores. During the WWII timeframe, there were 7 WWII aircraft ditched in the lake and not recovered. Because the lake is fresh water and because its depths are in the 200ft range, the wrecks are both well preserved and generally untouched because of their inaccessibility to anyone but technical divers.
One rainy Saturday, my wife and I were looking for something that got the kids and us out of the house. We decided to go to the air and space museum – I was going to show the kids a Corsair aircraft, similar to one I had recently been diving in Lake Washington. While walking to find the Corsair in the museum, I saw a P-40 Warhawk with the Flying Tigers theme painted over the nose.
It just struck me right then, I turned to my wife and said, I should put that on a firearm receiver. And not just laser engrave it in, but really make it a part of the receiver. That was the moment. I just started chipping away at it from that moment on and have never stopped.
AmmoLand: You had an itch since you were young, so what type of things did you do back then?
John S: My first job was in 4th grade selling playboy pictures cut from magazines to my friends. I had a business partner which eased distribution. We had the good fortune of finding a major stash of magazines, so inventory was cheap. The packaging was nice: each photo rolled individually and held closed with a rubber band slipped over the outside.
We kept them in cigar boxes and sold them at prices varying from $.25 to a $1. Our kid customers knew inherently if they wanted a centerfold it was going to cost a $1 – but at 25 cents the smaller pictures sold well; easier to hide, usually a little racier in style, and a price that enabled them to build up their own stash of product.
The images we sold at $.50 were also well received, but the $.75 photos were usually a stretch. We were arbitrary in our pricing scheme, and it was hard to have a 4th price point so close to the centerfold. Usually, if someone bought a product at $.75 it was the one and only time, we would sell them at that level. Next purchase they either went for a signature $1 product or kept to our cash cow $.25 and $.50 products.
As customers increased, the risk of exposure increased, and that overexposure is eventually what brought us down. At that age, there is no customer loyalty. A kid caught by his folks with a stash of product that he had happily purchased over the course of weeks would sing quite loudly about the supply chain infrastructure when pressed. A few calls between parents later and the inventory was discovered and confiscated. We had to close the shop.
AmmoLand: Can you walk us through the process from an idea at Sharps Bros to an end product, and how long does that process take?
John S: New designs typically take us about nine months from napkin sketch to production samples. I will typically have some sort of inspirational image I use as a baseline in my mind. Everything starts as a sketch, typically a really poor sketch because I can only draw so well as to convey a general idea.
From there we design in Solidworks. When we have a CAD model that we think looks good, we will 3D print one to make sure it looks as good in our hands as it does on the computer, and when we feel settled with the design and the printed model, we then switch to getting CNC fixtures made, CNC programming done, and the first aluminum samples cut.
AmmoLand: Do you design each lower yourself, or are there other creative geniuses working behind the scenes?
John S: There are definitely creative geniuses behind the scenes. In almost all areas of the business: design, CNC programming, CNC machining, etc. On the design side, after we launched Hellbreaker, I began working with a few different people that had more mechanical engineering and SolidWorks talent than I did.
Over time though, I've really narrowed all the design work down to myself and one other designer who I trust. He and I understand one another; he understands my design style, the types of things I am looking for, etc. One, the CNC programming and machining side of things, we have two main people that are CNC programming masters and then a whole team of people working the machines which run almost 24/7.
AmmoLand: Why do you mill your lower receivers instead of casting them?
John S: Mainly because we want the receivers to be a good blend of form and function. We wouldn't ever sacrifice quality as a means to get to a design objective. We cut all of the AR receivers from billet blocks of 7075 aluminum. Peak strength aluminum. An internal and external mantra that we live by is, "Exceptional Designs. Exceptional Craftsmanship."
AmmoLand: All your designs balance form with function. How do you find the right balance between the two?
John S: That is a hard question to answer. Some of it is just making sure we hold to mil-spec tolerances for critical features and dimensions. Trigger recess, lug locations, and size, internal mag well dimensions, pin locations, etc.
If we meet mil-spec, or better than mil-spec, where it is important, that allows us quite a bit of freedom to design around other areas of the receiver, without impacting performance, some of it is just a feeling as well. Knowing when a design is done. When every line and intersection is perfect.
AmmoLand: Do you ever have any ideas that just don't work out, and can you share any that didn't with us?
John S: Because the design time is so long, as mentioned, typically nine months from napkin sketch to production samples, before we embark on a new design idea, I have a good feeling that if we execute on the design, it will be a good seller. So, we haven't had any outright failures where we just walk away, but we take breaks from time to time.
The Jack, for example, it took multiple iterations. The first samples we 3D printed looked like a baby head. The second and third round samples looked like a dork, honestly. Then finally we just iterated enough that we got to the final model – which looks amazing. That iteration process though easily added three months to the project. The Jack took well over a year to design, program and produce.
AmmoLand: Your AR-15 and AR-10 lower receivers get a lot of press, but you also produce AK receivers. How long have the company been producing those?
John S: We got the AK into production toward the beginning of 2016. We are really proud of the receivers (now offered in both 7.62×39 and 5.45×39). Each 2lb receiver is cut from a 15lb block of 4140 steel. Machine time on them is so long we can only make about 20/week running across two shifts.
AmmoLand: Sharps Bros holds a patent on integrated AR buffer extension on AK receivers. How did you develop that idea, and why do you think no one else came up with it before your company? It seems like a no brainer.
John S: I was literally sitting around a campfire with my brother talking about products, new ideas. We were talking about AKs, and it just struck us that no one had ever made a milled AK receiver that had an integrated AR buffer extension.
That was the basis for beginning the design work. The focus was on designing a receiver that could be built with either milled or stamped parts kits, that had a modern look, and incorporated the AR buffer extension so users would have a huge array of stock options to choose from.
AmmoLand: Sharps Bros also makes handguards. Do those go through the same design process?
John S: Yes, they do – but with our upper receiver and our handguards, we also strive to be low cost. The thought process is that people spend more than an average amount when they buy one of our milled lower receivers. I want them to be able to buy components for the rest of their build without breaking the bank.
Our handguards are simple and elegant in their design. M-LOK features where you need them, rail where you need it, lightweight, simple but rock solid attach mechanism.
AmmoLand: Anything future projects or designs the AmmoLand readers should look out for in the upcoming weeks?
John S: We are always working on new things… a couple of the items on the active design list right now we are doing for other companies. In the last year, we've been approached by a few different names bigger than ours, looking for us to design a receiver for them.
So, we have a couple of AR receivers we are chipping away at right now. I also have a receiver in my mind that I want to try and execute on this year – but I can't really give any indication of what those designs might be.
I guess the only thing I will really tease is a potential new category for us: a bolt action chassis. I have been designing one in my mind for a while now. It's not an ornamental design like Hellbreaker, Warthog or The Jack – but it will turn some heads if we can pull it off. That's at least six months down the road though.
AmmoLand readers can find Sharps Bros. at https://sharpsbros.com/
---
About John Crump
John is an NRA instructor and a constitutional activist. He is the former CEO of Veritas Firearms, LLC and is the co-host of The Patriot News Podcast which can be found at www.blogtalkradio.com/patriotnews. John has written extensively on the patriot movement including 3%'ers, Oath Keepers, and Militias. In addition to the Patriot movement, John has written about firearms, interviewed people of all walks of life, and on the Constitution. John lives in Northern Virginia with his wife and sons and is currently working on a book on leftist deplatforming methods and can be followed on Twitter at @crumpyss, on Facebook at realjohncrump, or at www.crumpy.com.