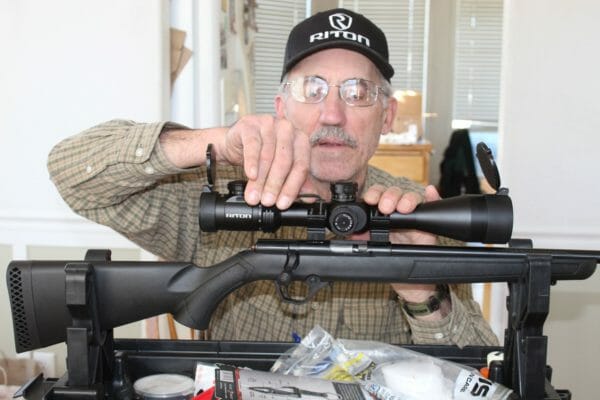 U.S.A. –-(Ammoland.com)- Rather than paying a gunsmith to mount your riflescope, I'd like to encourage you to mount your own! I am by no means maintenance inclined so if I can do it, anyone can. I am about to test some ground squirrel hunting rifles so while it is fresh on my mind, we'll do this article on mounting a Riton Optics scope on one of those rifles.
For the Ground Squirrel Hunting articles, I'm testing Henry's .22 mag and a Mossberg M817 .17 HMR and will be using Federal and CCI ammo. I hate to be old school, but it seems sacrilegious to put a scope on a lever action so we're going to discuss mounting a Riton Optics RT-S MOD 5 6-24x50IR on the Mossberg M817. You may think that putting this nice of a scope on a rimfire rifle is a bit of an overkill but we're going to be shooting small game and small varmints aren't we? They have small kill zones so we need to be able to zero in on a small target.
Obviously, the first thing you must have is a base to mount your rings onto. Picatinny rails are super popular now and for a good reason. But this rifle came with some Weaver base mounts so that's what I went with and I grabbed a set of Riton Optics rings.
When you buy rings, you have a few choices to make. First, does your scope have a 1-inch tube or a 30 mm tube? Next, if it has a larger objective, you may need higher rings. They make low, medium and high rings. You must have tall enough rings so the scope is not touching the barrel of your rifle but I like for my scope to be as close as possible to the barrel. I think they are more accurate that way.
Surprisingly, even though this Riton has a 50mm objective, I was able to use a "low" Riton Optics set of rings.
I'm sure that this will be a point of controversy, but I don't always use Loctite when mounting a scope. Yes, on your magnums you should. Use the blue Loctite if you do decide to use it. That way it isn't as permanent as some of the others.
USE A OTIS TECHNOLOGIES UNIVERSAL RANGE BOX
I'm not saying it is impossible to mount one without a range box but it sure is a lot easier and more stable. I use a Universal Range Box by Otis Technology. I love it. Set it up and put in two-gun vises (Big V's that hold your rifle steady).
As a kid, I'd prop my .22's on a pile of blankets and wrestle with putting on a scope. Trust me; it's a lot easier with the Otis Universal Range Box. You can do a better job plus you're not as likely to drop a scope or rifle.
Next I screwed the Riton scope rings to the bases. This requires a size 12mm socket. After it is tight, remove the top half of the rings by using an Allan wrench. Lay the scope in the bottom rings and then apply the top rings and lightly screw in the screws. You want them loose. Now, look through the scope and make sure that the eye relief is set correctly. You want the scope positioned so that when you throw it up to shoot, that you don't have to move your head forward or backwards to have full view through the scope.
Now that the eye relief is set, we need to make sure that the crosshairs are straight. They make levels to aid in doing so but I always just eyeball it. More than likely you'll have to take the gun outside to set the eye relief and align the crosshairs.
When you have the above two items set, now it is time to tighten down the rings. Place the rifle back in the Otis Universal Range Box. You want to get your screws tight but don't over tighten and strip them out. In extreme cases you could even warp the tube on a cheaper scope if you over tighten. To alleviate this from happening you can use a Brownell's Magna-Tip Adjustable Torque Wrench to set how tight you screw it down.
We're now ready to go sight in the Mossberg M817 and see how it shoots!
---
About Tom Claycomb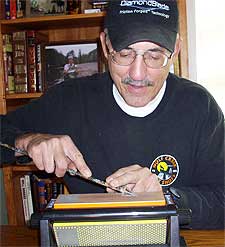 Tom Claycomb has been an avid hunter/fisherman throughout his life as well as an outdoors writer with outdoor columns in the magazine Hunt Alaska, Bass Pro Shops, Bowhunter.net and freelances for numerous magazines and newspapers. "To properly skin your animal you will need a sharp knife. I have an e-article on Amazon Kindle titled Knife Sharpening for $.99 if you're having trouble."