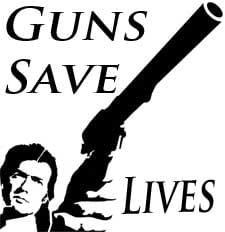 USA –-(Ammoland.com)- Somewhere, everyday in the USA, 2100+ people use a gun for self defense, to stop a crime or save the lives of themselves or their family.
"We believe that the American public deserve to understand that on the average, guns save 2,191 lives and are used to thwart crimes every day," says Alan Gottlieb of the Second Amendment Foundation
Most times you won't see these tales on the news as it does not fit the main stream media's story line of "Guns and Gun Owners are Bad".
This is just one of those stories;
"Gilbert Nunez had already burglarized Paul Cavazo's condo twice before, and was getting ready to make the third time a charm when this time his luck ran out.

Cavazo pulled his trusty sidekick, a .12 gauge shotgun out and pointed the business end at Nunez telling him to drop the TV and kiss the grass. Security camera footage shows a very compliant Nunez laying down after looking down that cold, black barrel.

'I grabbed my shotgun. You know, I've been thinking about this for a long time,' Cavazo said."

"The thief had been making the rounds in the neighborhood and robbed many of the neighbors as well. The entire event was captured on surveillance camera provided by KSAT12"
About the Guns Save Lives Series:
Every few days AmmoLand Shooting Sports News will be featuring a new video clip of stories involving self defense with a hand gun. Be sure and share, like and Tweet these posts and help spread the truth that "Guns Save Lives". See more at www.AmmoLand.com ( http://tiny.cc/s6ef2w )
The post Homeowner Confronts Suspected Burglar with Shotgun ~ Video appeared first on AmmoLand.com.