David LaPell reviews the Henry Arms. Henry single shot rifle in 45-70 caliber.
Check out our Daily Gun Deals page for more savings!
USA – -(Ammoland.com)- America has had a long association with single shot rifles.
The images of hardened bison hunters toting big bore Sharps and Remington Rolling Blocks, to the Trapdoor Springfield in the hands of the bluecoat cavalry during the Indian Wars. Or the early days of the NRA and the long range rifle matches at Creedmoor, New York the single shot rifle has been engrained in the firearms history of this country.
Over the years the single shot rifle has struggled to hold on, the big bore rifles gave way to small bore .22 and .32 rimfire rifles while big game hunting was taken over first by lever action and then bolt action rifles. The occasional single shot rifle like the Ruger #1 and #3 sprouted up but didn't really take hold except among some very select shooters. Soon reproduction rifles started making their presence known, one could go out and buy a Sharps, Remington Rolling Block, Winchester 1885 or Trapdoor Springfield without worrying about the risk of damage to an original. Some low-cost single shot options like the H & R Handi rifle gained a following among shooters with a wide range of calibers and the ability to swap barrels on the same frame.
It was the passing of the H & R Handi rifle into memory that shooters lost a true low budget but high-quality single shot rifle—until now. Henry Repeating Arms has come out with a line of new guns that harkens back to the heyday of the single shot rifle.
Now, to be fair I have had a passion for single shot rifles for most of my shooting life. The first gun I ever fired was my grandfather's CVA Kentucky Rifle, and I have owned as many single shot rifles as any other kind. I have had both original and reproduction Winchester 1885 in both the Low and High Wall variety, a few Remington Rolling Blocks, a Sharps replica a trio of H & R Handi Rifles and I started my son out on a Stevens Favorite .22 Long Rifle. I have never looked at shooting a single shot rifle as a handicap but as a challenge. If you shoot one often enough, you know it becomes more about picking your shot and taking careful aim knowing that you don't have a fresh round in reserve.

The Henry Single Shot rifle fills a needed gap between the historical reproduction rifles, which despite being of great quality, can easily break the bank, and small single shot .22 rifles that are more often geared towards children than adults. Henry has chambered the single shot in some of the most common and popular calibers, you can get the gun in .223, .243, .308, .44 Magnum and .45-70. You can either get the single shot in a matte blued finish on a steel frame or a polished brass frame. The steel frame version has a pistol grip and checkering on the buttstock and forearm, while the brass frame gun has no checkering and a straight grip with a brass buttplate while the steel frame version has a rubber recoil pad.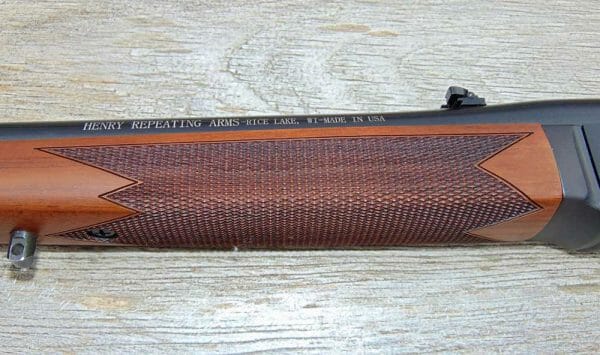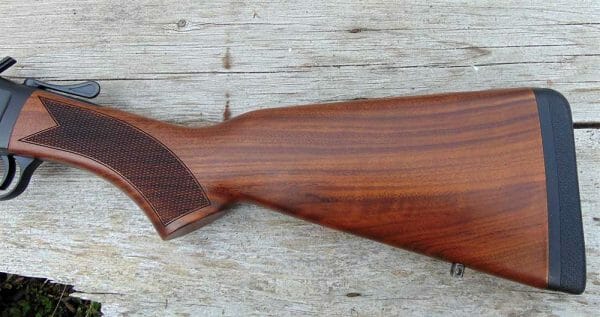 What I noticed the first time I saw the steel frame version was the quality of the wood that Henry used for it. The figure of the walnut they chose is very nice and not something you would normally expect for what this gun costs. The fit is also extremely tight where the metal meets the buttstock and forearm, and both are very nicely checkered and come with sling swivel studs so you don't have to worry about adding them later. The finish is a matte blue, but not like some guns where you have no luster at all or a step above being parkerized. The bluing on the single shot rifle is smooth and reminds one of a Duracoat finish like you would see on automotive parts that is attractive and very durable.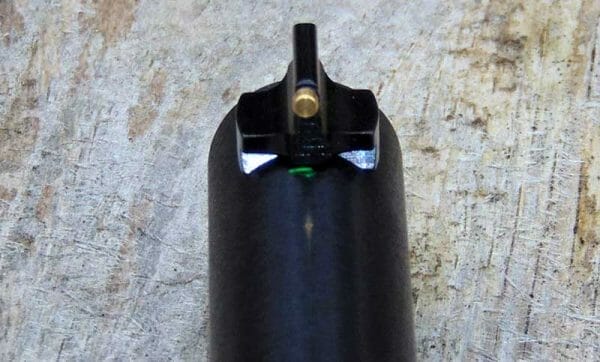 The sights Henry chose for these guns are simple but effective and another reminder of a time gone by. The gold bead front sight will remind older shooters of the Lyman and Marble sights you would encounter on lever action rifles back when they dominated the market and is windage adjustable. The rear sight folds down and is adjustable for both windage and elevation and the combination of the two is very easy to pick up when brought on target. For those of you who would rather go with a scope, Henry has you covered, the single shot is drilled and tapped for to mount a scope.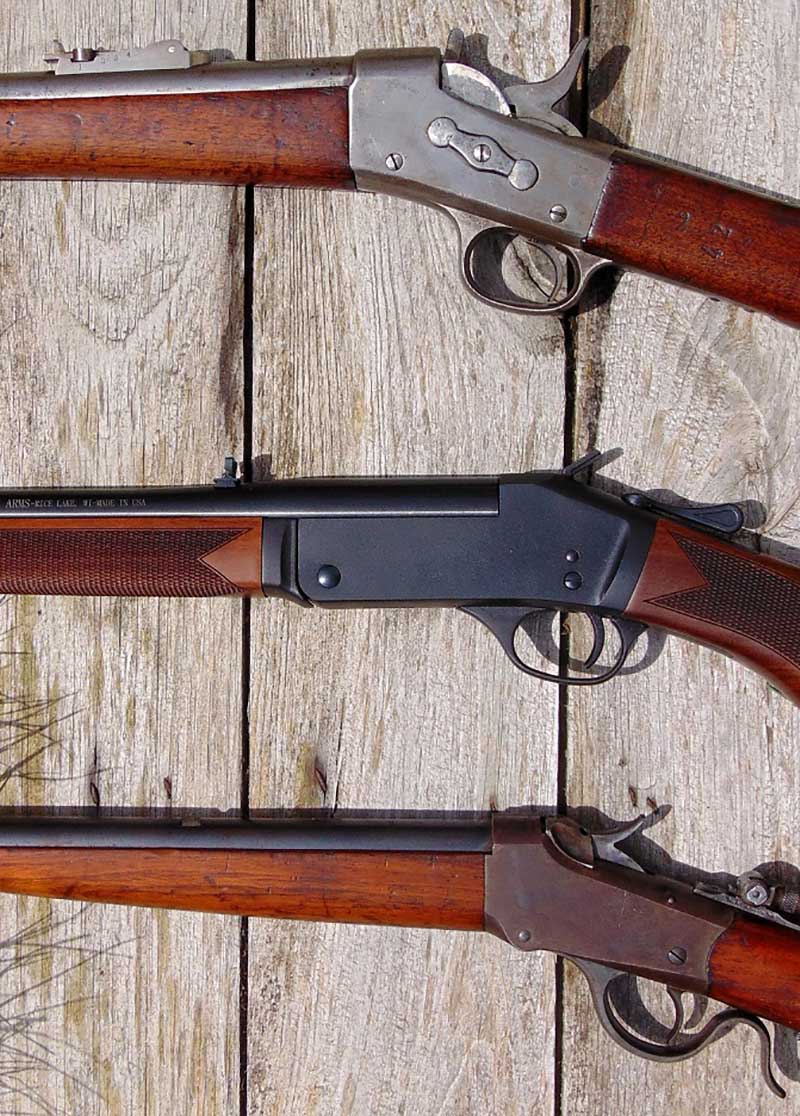 A simple top lever opens the action of the Henry single shot, and where this gun is different from other break actions, is that the engineers at Henry designed theirs to open to the right OR the left, so it can be used with ease by a left or right-handed shooter. The hammer is easy to bring back, and instead of a safety, the hammer cannot touch the firing pin unless the trigger is deliberately pulled.
In another deviation from the norm, Henry gave the single shot an interlock system, so that the action cannot be opened while the hammer is cocked, or the barrel be closed if the hammer is cocked when the action is open. All of this keeps the single shot as user-friendly as possible while still making it very safe.
Handling the single shot really gives you a sense of how compact and light the gun really is. No matter the caliber, you get a 22-inch barrel and an overall length of 37 ½ inches. Now while that might not sound like much,  compare it to the overall length of a Winchester Model 94 carbine, considered by many to be perhaps the most compact and easy to pack hunting rifle, which measures about 38 inches. The single shot, in .45-70, weighs 6.83 pounds and the .223 version at a little over 7 pounds.
That same Winchester Model 94 comes in at 6.81 pounds. All of this tells you that the Henry single shot rifle is lightweight and packs as easy as you please.
Of course, none of this means anything if the rifle can't shoot, so it was off to the range. I first tried out the old standard, the Remington 405 grain JSP. This load, of course, is known for being heavy and slow, and is mild by most standards. It is safe for all of the .45-70 rifles, even those a century old or more. Remington advertises this load as having a muzzle velocity of 1,330 fps and a muzzle energy of 1,590 ft lbs.
I first tried the Henry out at 25 yards with the Remington ammo, and I found that it shot about four inches high, no matter how far I lowered the rear sight. The three shot group was impressive, with a group of 1 ¾ inches. At 50 yards the Remington loads shot five inches high but tightened up to 1 ¼ inch. I did a little bit of estimation and held low from the bench and brought the rounds closer. The group opened up more, but that was more me than the gun, since I was getting a little fatigued. The recoil itself with the 405-grain bullets wasn't that bad considering the gun is very light, the thick recoil pad Henry put on this gun soaked up just about everything. I have shotguns that have weighed more in smaller calibers that kicked a lot harder than Henry's single shot rifle.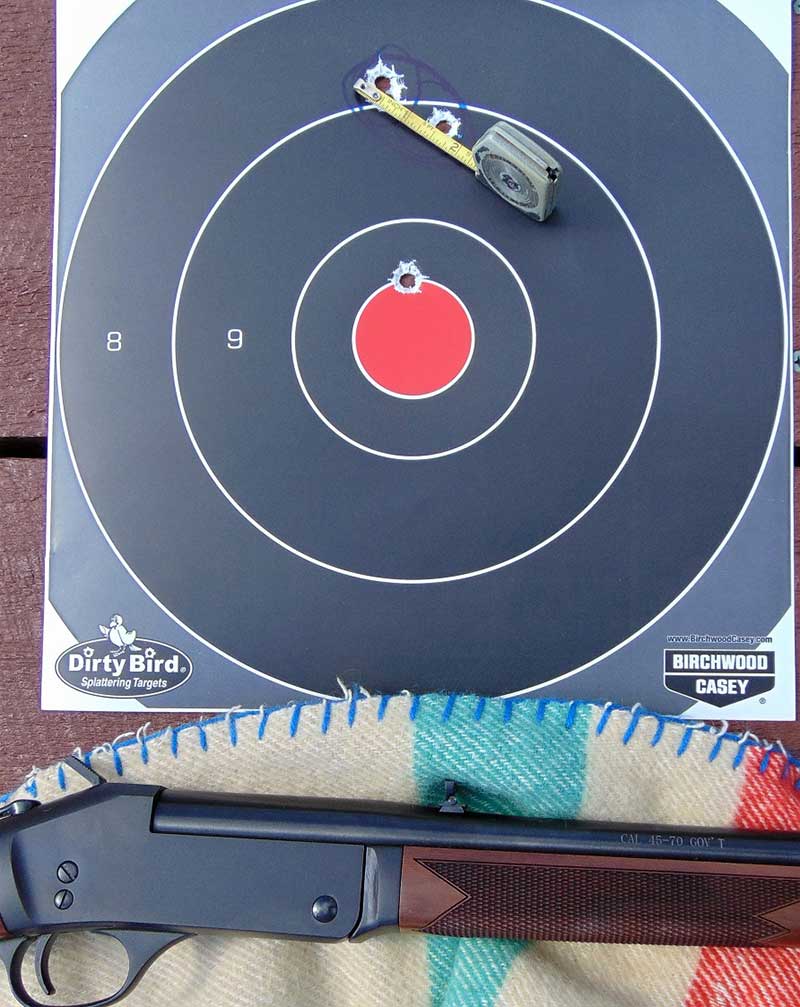 Shooting a .45-70 rifle just wouldn't have seemed right to just try it on the bench, this gun begged to be tried out with a set of shooting sticks, and not just any target would do. I made a silhouette target of a bison, and put it out at the 100 yard line to see what the gun could do when you stretched its legs. Again with some of those 405 grain Remington loads, I put the Henry on the sticks and fired four rounds, all that I had left after playing around with it. It was still shooting a little high, but only a couple inches or so from point of aim. One clipped the back of that poster board bison, and the rest did the job. With a little practice and some work with the sights, this would be a fine load to hunt pretty much any big game that walks around this continent for sure in this gun, especially with how little you notice it on your shoulder.
Next up were some Winchester 300 grain JHP's, which are advertised to have a muzzle velocity of 1880 fps and a muzzle energy of 2,355 ft. lbs., a good deal more than the 405 grain Remington rounds. From the bench, the Henry lined up perfectly, and I got a three shot group of 1 ¾" from 25 yards. You will notice these more when firing them compared to the big and slow of those 405-grain cartridges, but it isn't overly painful, which again, keeping in mind the light weight of this gun, is certainly impressive.
Stretching the Henry out to 50 yards with the Winchester rounds, I got a group size of 1 3/8" and I can tell you, someone with a better eye and steadier aim than mine can probably shrink that group down even more. If I were one who believed in putting a scope on a gun like this, I dare say the group size would probably match more expensive rifles easily. The trigger is very crisp and breaks evenly, and feels like something you would expect on a nice bolt action rifle.
The Henry Single Shot has a simple extractor, which I actually prefer, nothing more irritating than trying to chase empty shells around after they get kicked out over my shoulder. Even the 300 grain Winchesters, when fired, would come out of the chamber just as nice and smooth as they went in.
I decided again to get out the bison target, and again I set it up at 100 yards to shoot off my shooting sticks. I fired three rounds at it and they ended up hitting a lot more to point of aim than the previous load, giving me a spread of about five inches. I would certainly have no problems taking this gun out to a hundred yards or a bit further, as it is for whitetail, bear or whatever else I can come up against.
The Henry Single Shot rifle is a great deal for those who want to walk a different path. If the .45-70 isn't for you, the other rounds would do nicely. One of these in .308 or .243 would be just the ticket for opening-day of deer season, especially with a scope on it. I can't think of a better deer rifle to start someone off with then a Henry Single shot in .243. I have talked to a few who have an interest in these, and many would like to see one in .30-30, and I can tell you I think it would be like selling popcorn at the movies.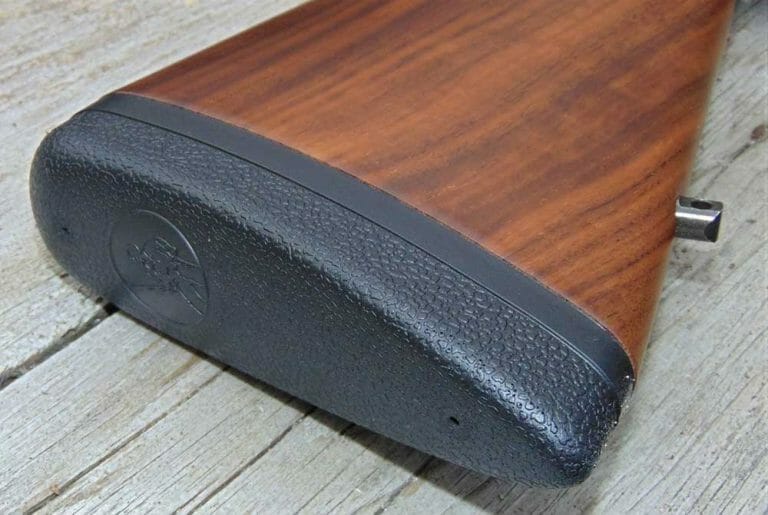 Henry hasn't just filled a void left by other companies that have discontinued their single shot rifles, they brought back the fun of shooting one.
It isn't just about buying a gun on a budget, but with the MSRP of the steel frame rifle at $448.00 and the brass frame at $576.00, it's hard not to want one just because they are so affordable. Don't be fooled though, you're getting quality for every dollar and then some. I have owned some of the finer reproduction rifles out there that cost two to three times as much and the Henry Single Shot is every bit as well built and finely finished as most I have seen. The Henry Single Shot might not have the prestige of the name like Sharps, but it will do the same job and I dare say then some. Not to mention, you're getting a gun made here in America.
Henry's motto of "Made in America or not made at all" is reassuring as most single shot rifles are produced outside of this country's borders.
It was hard not to be excited to shoot this gun, it truly has everything going for it. You're getting a rifle, no matter the caliber you pick, that won't bust your budget, and can be shot by anyone, left or right-handed. If you want to keep the open sights, you can, and I hope that Skinner Sights, who makes excellent receiver sights for Henry's other rifles, comes up with something to fit these as well. But if you want to mount a scope on the Henry Single Shot you can do that too. Henry has a real winner on their hands, and their new rifle brings the single shot into the modern age while still keeping the past alive for those who imagine the smoke of a big black powder cartridge and the sound of a bison herd thundering across the plains.
See more at Henry website. www.henryusa.com/
---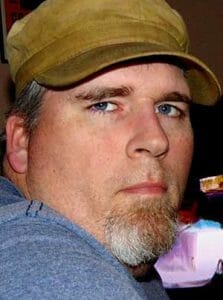 About David LaPell
David LaPell has been a Corrections Officer with the local Sheriff's Department for thirteen years. A collector of antique and vintage firearms for over twenty years and an avid hunter. David has been writing articles about firearms, hunting and western history for ten years. In addition to having a passion for vintage guns, he is also a fan of old trucks and has written articles on those as well.