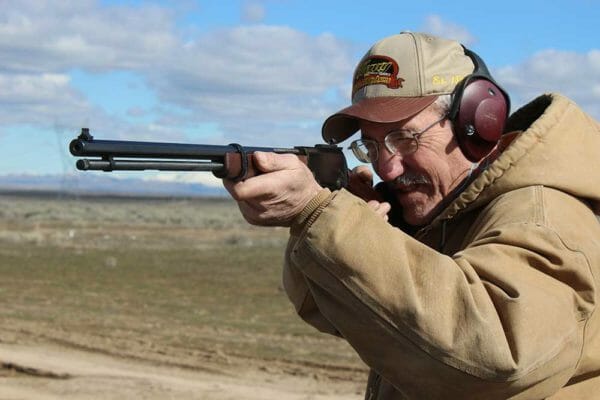 U.S.A. –-(Ammoland.com)- Yes, AR's are cool and all of that but no rifle will ever replace the old lever action will it? Heck no! It's the gun that won the West and is still keeping it tame. I've tested a few of Henry Repeating Arms rifles and will do a Product Review on them all one day but for today, I want to talk about the Henry Lever Action .22 mag. More properly called the .22 WMR but better know as the .22 mag.
This spring I am doing a series of articles on some ground squirrel guns. I thought it'd be fun to feature the .22, .17 HMR and a .22 mag. I have always wanted a .22 mag but have never owned one. As I was about to get a Henry .22 for a ground squirrel gun, suddenly I came to my senses and thought no way! This is the time to grab a .22 mag. It'd be a lot more versatile to use on other hunts.
In fact, in a few weeks, I'm going on a Texas Hog hunt with Slow Glow and am almost tempted to take along my Henry lever action .22 mag. That'd be cool to sneak up and shoot a hog behind the ear, wouldn't it?
The minute I picked up the Henry Lever Action .22 mag I loved it. How could you not? It personifies the Old West. I grabbed some Federal 50 gr. hollow points and ran out to the high desert south of town to test it out.
I set up a target at 25 yards to get it on paper. I am just an average shot so I was surprised at how good of a group that it got. One thing that impressed me is that it came with a Skinner sight. Skinner sights are the best peep sights made as far as I know.
I've never missed a bear but missed my first one right after I got my Henry 45-70. I put on a Skinner sight and rolled a beautiful cinnamon bear the next trip out. Since then I've put Skinner sights on all of my Henry rifles.
Skinner sights are easy to install and I'll do an article on how-to someday. I'm not smart enough to explain why, but for some reason they say they focus your eye better on the front bead than a normal peep sight and they are for sure 10x's better than the old standard buckhorn sights that most lever action rifles come with.
To adjust the elevation is simple. Mine started out shooting about 8-inches low. To adjust, use an Allen wrench (of course American Allen wrench since Henrys are made in America) to loosen the Allen screw securing the back sight. Then you can screw up or down the back sight. Of course, you will have to turn it a full turn for an adjustment so you can see through the peep hole. Actually, you can unscrew the ring and screw it in the other side of the peep sight which would allow you to only turn it a half turn to make a minute change. Smart engineering. When it is in the right position screw back in the Allen screw and tighten it down.
Don't forget when sighting in your rifle you move the back sight the way you want it to go. So if it is shooting low, turn the peep sight up. To adjust for windage you will have to adjust the front sight. This is a little tougher on a lever action because you will have to tap the front sight. You can't make scientific minute adjustments.
You'll need to take a brass rod or a piece of wood and hammer to the gun range while you're sighting it in. Place your block against the front sight (on the bottom) and slightly tap it the opposite way you want to move your group. So tap it to the right if you want to move the point of impact to the left and vice versa to move to the right. Make your adjustments slowly so you don't throw your bullet into left field.
And now that it is sighted in, it is time to take it out hunting whistle pigs and see how it performs.
NOW FOR THE DOWNSIDE
But I did encounter one big problem. I took my wife out with me to sight in some new guns, one of which was my Henry Lever Action .22 mag. The next day my daughter and her boyfriend were going out shooting. As they were leaving, I told Joe to throw in my Henry .22 mag and check it out and gave him a box of Federal .22 mag ammo to shoot since I knew that was performing well in this rifle.
As soon as they walked out Katy asked me why I let him take her new rifle. Wow, so much for the 50/50 stuff. One outing and I'd already lost my new rifle. So don't make the mistake I did, don't let your girls shoot your Henry or it's history. Then it got more complicated. My daughter came home and told me she loved it too. Boy, that ownership didn't last long!
As stated above, I'm using some Federal 50 gr. jacketed hollow points. With proper placement I'd feel comfortable dropping larger animals in a pinch with proper shot placement. (It holds 14 bullets including one in the chamber). And all of this for a MSRP of $525.00. So if your love life is growing stale, buy a Henry Lever Action .22 mag, or maybe you better buy two, a his & hers.
---
About Tom Claycomb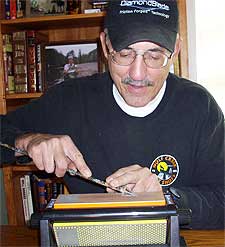 Tom Claycomb has been an avid hunter/fisherman throughout his life as well as an outdoors writer with outdoor columns in the magazine Hunt Alaska, Bass Pro Shops, Bowhunter.net and freelances for numerous magazines and newspapers. "To properly skin your animal you will need a sharp knife. I have an e-article on Amazon Kindle titled Knife Sharpening for $.99 if you're having trouble."