The world of pistol-caliber carbines is a very crowded one – so is there space for the Henry Homesteader? Maybe.
Among its all-American construction, old-school aesthetics, and wide magazine compatibility, the Homesteader might just carve a niche out for itself as a solid alternative to polymer PCCs. Let's take a closer look and find out.
Henry Homesteader 9mm Carbine

The Homesteader is a 9mm, semi-automatic blow-back carbine from Henry Rifles. It feeds from either Henry Arms' proprietary single-stack magazines or (depending on the model) Glock-pattern or SIG/M&P pattern magazines. For the majority of the review, I used Glock mags simply because Henry's proprietary ones were limited to a maximum of ten rounds.
Starting at the muzzle, the Henry Homesteader rifle has a heavy-profile, 16.37-inch barrel threaded to 1/2×28. I ran an Innovative Arms 9mm suppressor on the Henry with great results. Because of the gun's steel and hardwood construction, the added weight of a suppressor didn't really affect the Henry's balance. Just behind the threads, the Homesteader ships with a fixed front-sight post, and fully adjustable rear aperture, both mounted directly to this barrel.
Behind the barrel, the Homesteader receiver is made of aluminum and features a matte black durable finish. The top of the receiver is tapped for a scope with four mounting screws and uses the same mount as the second-generation Big Boy carbines in .357 Magnum and .44 Magum. For the review, I chose a set of one-inch rings from Talley because I wanted the lowest mount for a magnified optic as possible. I paired these rings with a Meopta ZD 1-4×22 RD scope and found the combination to look great and function excellently.
Beneath this, the Homesteader features a reciprocating bolt with a removable ambidextrous charging handle. On most guns, I prefer the charger on the left side so I can keep my hands on the firing controls while working the action. But due to the odd location of the Henry Homesteader's magazine release, I ended up putting it back on the right side.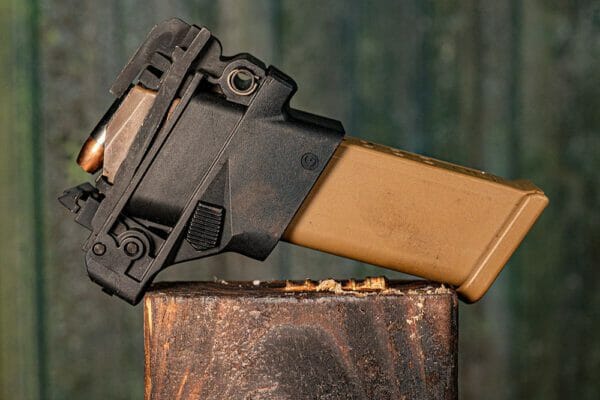 Speaking of the magazine release, its location actually depends on which magazine well module a shooter has installed. The default one has the release located at the front of the magazine, just behind the handguard. It's unobtrusive but also somewhat difficult to use. With the Glock Magazine Module installed the release shifts to the left side of the magazine well.
This is a good spot if a shooter is reloading and retaining the spent magazine – but it doesn't do you any favors if you're trying to reload quickly.
Continuing back, the Homesteader uses a traditional hardwood stock and features a tang-mounted safety similar to those found on Mossberg shotguns. I actually really like the location of this safety, as it just feels 'at home' on a gun like the Homesteader – which, truth be told, feels and points like a pump-action shotgun. Finally, at the end of the stock, Henry includes a rubberized buttpad with the Henry logo molded to it.
Henry Performance
I fired 600 rounds of various types of 9mm ammo through the Henry Homesteader for the review and never encountered a single malfunction despite never cleaning it. This is especially noteworthy given that I almost exclusively ran it with a sound suppressor.
As far as accuracy goes, I managed to get the Homesteader to produce 2.5-inch groups at 100 yards when using both a 4x Meopta scope and a Lyman Bag Jack Rest – but I don't recommend shooting the Henry at that range. Not because it's not capable of making hits, but because if you zero the gun at the range, you'll be shooting several inches high at closer ranges since 9mm is designed for pistols.
In more subjective terms, the Henry points quickly and has very mild felt recoil due to its heft. The gun is handsome and fun to shoot – especially for new shooters with its low recoil and affordable ammunition. But with all that said, I still haven't answered my original question – is there space for the Homesteader in the over-crowded pistol-caliber carbine market?
Arguably, yes. Not everyone wants a tactical gun covered in rails and made of nothing but aluminum and polymer. Personally, I feel like the Henry is a more traditional option to even guns like Rugers' PC9, but it's not one that I personally would take over my MPX SBR. But that's fine; the Henry Homesteader isn't designed to replace pseudo subguns or 9mm ARs. It's designed to be a plinker, or a varmint gun on a farm, or even a home-defense tool. And in any of these roles, it would shine. (Though I would recommend a weapon-mounted light for home defense – but the thought of drilling into the Henry's nice hardwood handguard makes me nauseous.)
Plus, with the proper magazine well installed, it makes a great companion carbine to a shooter's favorite pistol.
Regardless, the Henry Homesteader is a solid PCC that, while it might not appeal to every shooter, is still a great option for home defense, plinking, or as a farm gun.
Henry Homesteader 9mm Carbine Specs & Resources:
Brand: Henry Arms
Product Name: Henry Homesteader
Model Number: H027-H9
UPC: 619835020000
Action Type: Semi-Automatic
Caliber: 9mm
Capacity: 10 Rounds
M.S.R. Price: $928.00
Barrel Length: 16.37″
Barrel Type: Round-Blued Steel
Rate of Twist: 1:10
Overall Length: 35.75″
Weight: 6.6 lbs.
Receiver Finish: Hard Anodized Black
Rear Sight: Adjustable Aperture
Front Sight: Screw-On Post
Scopeability: Drilled and Tapped
Scope Mount Type: Weaver 63B
Stock Material: American Walnut
Buttplate/Pad: Rubber
Length of Pull: 14″
Safety: Top-Mounted Thumb Switch
Best Uses: Target/Hunting/Small Game
Embellishments/Extras: Swivel Studs. 5-round and 10-round Henry magazines included. Threaded Barrel (1/2×28). Ambidextrous bolt handle. Additional magazines and adapters are available separately.
---
About Jim Grant
Jim is one of the elite editors for AmmoLand.com, who in addition to his mastery of prose, can wield a camera with expert finesse. He loves anything and everything guns but holds firearms from the Cold War in a special place in his heart.
When he's not reviewing guns or shooting for fun and competition, Jim can be found hiking and hunting with his wife Kimberly, their son, and their dog Peanut in the South Carolina low country.