He Is The "Van Gogh" Of Outdoor Stores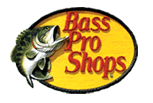 Springfield, Missouri –-(Ammoland.com)- His canvas ranges in size from 50,000 to 330,000 square feet, his palette is as colorful as Mother Nature and his inspiration comes from all outdoors.
He is the artist—the visual designer behind the outdoor 'destination stores' known as Bass Pro Shops Outdoor World. George Carameros and his team of highly skilled, professional artisans are the imagery and visual creators behind the 56 mega stores across the United States and in Canada.
Now in his 8th year as Director of Merchandise Presentations, Imagery and Display, Carameros is able to convey Bass Pro Shops founder Johnny Morris' vision of George Carameros 'bringing the great outdoors, indoors' in all the stores. The company has won numerous awards not only for their conservation efforts and strategic retailing, but for their innovative store design as well. Some of those awards include Chain Store Age's 2008 Special Award for Regional Personalization and the Association for Retail Environments (ARE) Design Awards "Store in a Store" Grand Prize winner for Bass Pro Shops General Store in Leeds, AL.
By using area artifacts, antiques and memorabilia (some 3,500 pieces are used per location) each store becomes a living museum of the hunting, fishing, camping and other outdoor legacies of a specific area while paying homage, respect and tribute to its unique geographical features.
Museum-quality wildlife exhibits adorn the stores which also include state record fish mounts, turkeys, native waterfowl, quail, pheasant, rams, elk, full body whitetail mounts and bear. Visitors can expect to come upon a covey of quail being flushed from grasslands or a sentinel of turkeys standing guard in a thicket or see wolves shadowing a herd of caribou. State record mounts are displayed alongside local historical prints depicting early residents enjoying sporting adventures. Hand-painted murals and wildlife paintings by renowned artists such as Bob Sopchick help portray local and regional scenes and lend authenticity in re-creating the area's landscape.
But it's not just the visual aspects that help give Bass Pro Shops that special 'edge' in becoming America's favorite outdoor store as well as being named the #1 Outdoor Retailer in America by Sporting Goods Business Magazine for several years as well as being ranked in the National Retail Federation's "Top 100 Retailers in America." Carameros knows how to display the merchandise amidst the store décor that makes it both appealing and 'sellable.'

Originally from New York City, Carameros came to Bass Pro Shops via Miami, Florida. At the age of 18, he began as a 'window trimmer' apprentice with Sydney Gorodeski, a prominent window dresser in the area. George was the 'rookie' of the group which meant he set up the shop with all the props and materials the other window dressers needed for the day's work. "I did a lot of ironing," he laughed.
Remembering those days George says "My uncle told me that you'll never learn your craft until you're willing to starve and struggle for it."
So George continued honing his skills and practicing his God-given talent and craft of making the transition between store imagery and store merchandise 'seamless.' One of his early mentors was Manny Rubiano who designed displays with a European, dramatic ambiance. These unique perspectives gave displays an unparalleled backdrop to the clothing being shown.
At that time in the 'business' menswear was where a lot of the action was but George also worked designing window displays with some of the more avant garde stores in Miami who carried more 'off beat' products. But even during that time George knew his specialty and passion lay in outdoor lifestyle window displays.
More and more stores soon realized that the 'window display' was actual selling space and it became popular to make the entire store front a 'window display'. In 1976, George became President/Owner of Display Concepts and Design-Consulting, Merchandising, Visual Merchandising; Boutique and Specialty store design. His resume and list of clients reads like a 'who's who' in the retail world with names like Surrey's International; Atlantis Hotel-Paradise Island, Bahamas; Hard Rock Café—Bayside in Orlando; JW Cooper—Coco Walk, Bal Harbor; Luciano; Clark's of London-5th Avenue-New York; Pancaldi—Mayfair Shops and many more.
From 1993 to 1999 he was also President and Owner of Hemisphere Clothing Company, dba "Outlander" in Miami and was the largest retailer of vintage Levi's in the world. One of his business neighbors on Lincoln Road in South Beach was rapper Vanilla Ice.
Another person who influenced Carameros' work is Marvin Levin. Levin owned the first European Sportswear store in Miami and was George's first individual client. "Marvin's expectations were high in regards to the overall view of the presentation to the customer," said Carameros.
Coincidentally, Carameros and Levin would later join forces in designing visual elements for the Bass Pro Shops stores.
Bass Pro Shops first began talking with Carameros in 1996 and finally in 2004 George made the move from Miami to Springfield, Missouri. "I needed a bigger stage and Bass Pro Shops could provide that," said George when asked why he made the move.
Taking one look at an early Bass Pro Shops store George realized that it was more than 'a fish and hook store.' "This guy gets it," says Carameros of Bass Pro Shops founder Johnny Morris and so did George. He quickly caught on to Johnny's dream vision for his stores to be able to 'bring out the little boy in men, and the little man in boys."
George and his team research a new store location regarding its geography, area history, human population, native animals and plants and folklore. This information is gleaned four to six months prior to walking into the empty shell of the building to create the basic design of the store and is also George's favorite part of the creative process. As he works along side the artists, muralists, craftsmen and installers, the store comes to life and reflects Bass Pro's viewpoint of the area in past times.
A recent addition to the Bass Pro Shops design was George's concept of an old-fashioned General Store. Visitors can hearken to an earlier day and 'sit a spell' in Bass Pro Shops founder Johnny Morris awards George Carameros the 2010 John A Morris/David Hardee Passion and Enthusiasm Award the Snack Shop. There they can enjoy butcher-quality sandwiches served in the ambiance of the old country general store furnished with checker-playing table tops, hickory rockers on the porch and the best homemade fudge. A large collection of foods and gifts are available for country, outdoor and lodge living.
Today, George is busy compiling information and design ideas for the two new stores opening in 2011 besides the continuous change and improvement to the general merchandising of the existing store interiors. His biggest project lately has been the renovation of the Springfield flag ship store.
Ansel Adams probably said it best: "You must have certain noble areas of the world left in as close-to-primal condition as possible….You must be able to touch the living rock, drink the pure waters, scan the great vistas, sleep under the stars, and awaken to the cool dawn wind."
Bass Pro Shops understands this and George Carameros ensures these 'noble areas' are memorialized in each of their stores.
People often speak of leaving legacies—painters–great masterpieces, architects—buildings, musicians—compositions. Carameros believes the Bass Pro Shops stores are legacies in their own right as they are living museums that encapsulate periods of history, times and traditions of hunting and fishing heritages in geographical regions. When asked why this was important he responded, "two reasons—for the grandfather to reflect on the way he grew up and the grandchild to marvel at that." It's what Bass Pro Shops calls, 'passing it on.'
In summary, George believes two things are important in life—leaving behind just such a legacy and having a good name. "I believe I've done both," he said.
The post He Is The Van Gogh Of Outdoor Stores appeared first on AmmoLand.com.