By Gary Marbut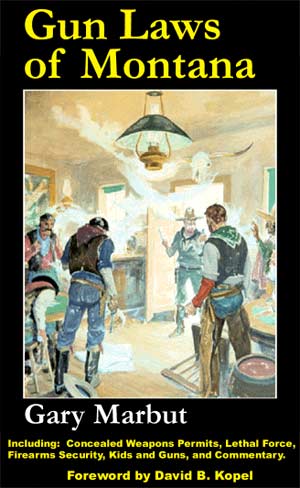 Missoula, MT –-(Ammoland.com)- The Fourth Printing of my book Gun Laws of Montana, updated to 2013, is now available and shipping.
Order your own copy of Gun Laws Of Montana on Amazon : http://tiny.cc/19vk3w
Testimonials & Praise About the Book
"This book is super. The summaries of the laws are great. Availability of this work will be a big help for all gun owners in Montana as well as those visiting the state with their personal defense device. I hope this ends up in every gun store in the state." — Larry Pratt, Executive Director, Gun Owners of America
"Information is power, and Gary Marbut's book on gun laws in Montana is a powerful resource that should be read by every Second Amendment supporter." — Wayne LaPierre, Executive Vice President, National Rifle Association
"We all know of the legal caution 'ignorance is no defense to breaking the law.' If ignorance is no defense, then Gun Laws of Montana by Gary Marbut is a great offense because for the first time every conceivable Montana gun law is collected in one place for easy and quick reference. In addition, Gary offers some good common sense advice about gun safety, protecting your firearms from theft, and most importantly, protecting our children from accidents involving firearms." — U.S. Senator Conrad Burns
"Anyone who owns, uses or carries a gun in any state needs to know its gun laws — even in the generally gun-friendly state of Montana. Gary Marbut, who has long been on the front lines of keeping Montana gun-friendly is undoubtedly the best guy to write about the state's firearms laws and what they mean, and I'm glad he wrote it." — Neal Knox
"Ignorance of the law is no excuse. For gun owners to be law abiding and stay out of jail, they must know what the laws are. This book is a wonderful resource. Nobody has a better total grasp of Montana gun laws than Gary Marbut. Every Montana gun owner should own a copy of this book." — Alan Gottlieb, Second Amendment Foundation
"Gary Marbut's book is a gold mine of information about Montana's gun laws and our gun rights. It also contains experienced perspective and a few interesting stories. Gun owners and concerned citizens should own a copy of this book." — Bob Brown, Montana Secretary of State
"It's really great to see a first-class activist like Gary Marbut jump in and create a book that will serve all Montanans. People need to know what their laws are. Marbut is the perfect choice to create this book." –Alan Korwin, Author, Gun Laws of America
"America's founders believed passionately that the responsible ownership and use of firearms was more than just an individual right; it was a fundamental obligation of citizenship in a free republic. Gary Marbut's Gun Laws of Montana will help Montanans meet that obligation – and thereby help keep America free." — Rob Natelson, Constitutional Historian; Professor of Law, U. of Montana
"This book is a must for anyone interested in the Gun Laws of Montana. It takes out the confusion and adds informative information that everyone can use!" — Sheriff Jim Dupont, Flathead County, Montana
"Quite simply the best and most important study of Montana gun laws ever written. A must for all sportsmen, hunters, collectors, dealers, and gunsmiths in Montana. Most highly recommended." — Hayes Otoupalik, Montana weapons collector
"Gary Marbut has been on the front line fighting to protect and expand the rights of Montana firearm owners and sportsmen for nearly two decades. He is a huge part of the reason that Montana law is as deferential to the Right to Keep and Bear Arms as it is. It is hard to imagine another individual who would have an equivalent grasp, not only of Montana firearm statutes but, of the background and history of their implementation." — Brian Judy, NRA-ILA Montana State Liaison
"Dealing with the disparity in state gun laws is a challenge for any shooting sport enthusiast who travels to pursue their game. This book should be in the luggage of anyone competing in Montana. Marbut's experience and dedication to protecting gun owner's from the intrusive power of government makes him eminently qualified as an authority on his subject." — Dave Thomas, Executive Manager, U.S. Practical Shooting Association
Order your own copy of Gun Laws Of Montana on Amazon : http://tiny.cc/19vk3w
The post 'Gun Laws Of Montana' Fourth Edition Now Shipping appeared first on AmmoLand.com.