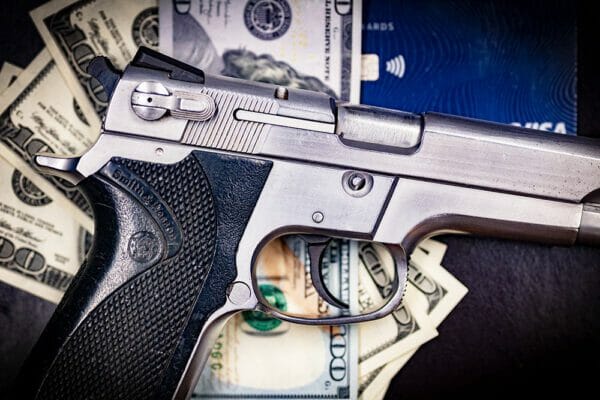 Credit Card Companies 'Paused' Firearm Retail-Specific Merchant Category Code. Suddenly, Gun Control Advocates Can't Live Without Them. Here's Why.
There's no bigger proof that the Merchant Category Code (MCC) specific to firearm retailers is really a bad idea than those losing their minds now that major credit card companies announced they won't put it into practice.
U.S. Sens. Bob Menendez (D-N.J.) and Elizabeth Warren (D-Mass.) sent a letter to the Department of Justice and Treasury Department to publish "any policy advisory, enforcement guidance and other materials needed by financial institutions retailers and law enforcement as the new code is implemented for gun an ammunition stores." That was followed by a letter from 14 state attorneys general, led by New Jersey Democrat AG Matthew Platkin, to the CEOs of the major credit card companies telling them they see "no justifiable reason" to pause implementation of the tracking code.
The attorneys general accused the credit card companies of buckling to political pressure, only to add their own veiled threats if they don't go along with their gun control scheme.
"Should you fail to do so, your complicity with ongoing needless gun tragedies will lead us to consider further actions," the attorney general letter states.
How We Got Here
The MCC is the brainchild of Amalgamated Bank's CEO Priscilla Sims Brown and The New York Times's Andrew Ross Sorkin, all backed by the Giffords gun control group. Amalgamated Bank has been called "The Left's Private Banker," hosting accounts for Political Action Committees for Hillary Rodham Clinton, Elizabeth Warren, U.S. Rep. Nancy Pelosi (D-Calif.) and the Democratic National Committee. The notion of having credit card companies track firearm purchases caught the attention of antigun lawmakers in state capitols and on Capitol Hill.
A specific code for purchases at firearm retail is fraught with Constitutional concerns. First among them is the fact that those who designed this code publicly announced that this specific code is "just the beginning." The way it is currently structured, the code would track undefined "suspicious purchases" at firearm retailers, but wouldn't delve "into the basket" to see what individuals actually purchased. That means the credit card companies would only see total amounts, not individual items. That means purchases for sleeping bags, tents, waders and decoys would be under the same scrutiny as firearms and ammunition.
Pitfalls
That presents serious concerns that these codes could be abused to create a back-door firearm registry. Since the federal government is barred from creating a national firearm registry, these antigun senators and attorneys general would lean on the credit card companies to do that work for them. That would put anyone purchasing at a firearm retailer on a watchlist – even if they didn't purchase a firearm and ammunition.
It wouldn't end there, though. The "just the beginning" admonition can't be interpreted any other way other than the next steps would include scrutiny of examining what is in the shopper's basket. Sorkin's original goal was to deny firearm and ammunition purchases with credit cards altogether, but a much more nefarious scheme would be in the offing. Credit cards could be forced by political special interests to divulge personal information to government authorities. That's more than chilling Constitutional rights. It is an outright intrusion.
This also raises considerable privacy concerns. Firearm owners are rightly wary of their inclusion on any list. As demonstrated, law enforcement authorities in New York and California negligently "leaked" information of concealed carry permit holders to the public. That information now is available to would-be criminals and makes those firearm owners targets for potential crime against them and their household.
State Roadblocks
There is no statutory requirement for credit card companies to track purchases made at firearm retailers. The code is a voluntary measure that was approved by the International Organization for Standardization (ISO). It's not a requirement for credit card companies to implement it. In fact, several states are on the verge of enacting legislation that would specifically prohibit the use of a unique MCC for purchases at a firearm retailer, including West Virginia, Mississippi and Florida.
That is the reason the major credit card companies "paused" their MCC implementation plans. Different states would have differing laws pertaining to their use and would sow confusion and uneven application of policies. Despite what these antigun lawmakers and law enforcement officials claim, financial institutions are already required to report suspicious activities that are potential violations of law.
Adding in millions-upon-millions of lawful transactions at firearm retailers doesn't make communities safer. Even VISA CEO Al Kelly said the codes wouldn't work as Amalgamated Bank and other gun control advocates wished. "If [Visa's Chief Communications Officer] K.C. Kavanagh goes into a gun store and buys three thermoses and a tent, and you go in and buy a rifle and five rounds of ammunition, all I know is you both went to the same gun store… But I don't know what you bought."
Dumping hundreds of millions of purchase records creates a bigger haystack in which law enforcement must search through to find the proverbial needle.
It all begs the question of why these gun control-supporting politicians and attorneys general are now demanding that credit card companies institute these codes. The answer is simple. They're being denied the ability to create a national firearm registry that they could exploit to quash lawful firearm ownership in America.
The firearm retailer-specific MCC was never about controlling crime. It has always been about controlling you.
---
About The National Shooting Sports Foundation
NSSF is the trade association for the firearm industry. Its mission is to promote, protect and preserve hunting and shooting sports. Formed in 1961, NSSF has a membership of thousands of manufacturers, distributors, firearm retailers, shooting ranges, sportsmen's organizations, and publishers nationwide. For more information, visit nssf.org