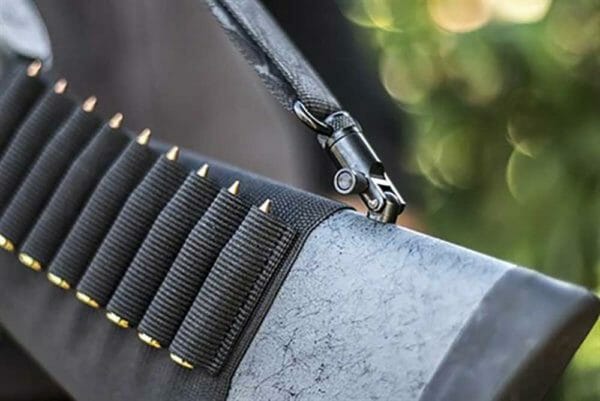 U.S.A. –-(Ammoland.com)- American manufacturer GrovTec has released several new products for 2019 to add convenience and function to your rifle. One example is the Push Button Base to Stud Adaptor.
This brilliantly simple device permits the use of modern QD-type slings on your favorite hunting rifle equipped with a classic stud. By attaching to existing studs GrovTec's adaptor does not require the risk of redrilling your stock.
Not only does this adaptor permit ready adoption of modern quick-detach sling designs, but it also makes removing those slings when its time for storage easy. A handful of these could easily declutter a gun safe as well as facilitate easy movement of a favorite sling from rifle to rifle as the hunt or range plans dictate. Made entirely of steel and treated with black oxide this adaptor is over-engineered for strength and detract from the beauty of your rifle.
As with all GrovTec products, the Push Button Base to Stud Adaptor is made in the United States and warrantied to be free of manufacturer's defect for life.
To learn more about what makes GrovTec a true American success story see the short video below.
---
About GrovTec:
GrovTec was born when a major manufacturer moved operations overseas. Seizing an opportunity, the assets were purchased and GrovTec continued to proudly engineer and machine in Wood Village, OR. Today GrovTec produces some of the finest firearms accessories for OEM, consumer, and contract.