The cat may or not be out of the bag on Franklin Armory's Reformation by now. We got to try it out first hand almost two weeks ago when people were speculating if it was a muzzleloader, 410 Shotgun, barrel permanently attached to the receiver, a trigger that fired on release or even a smooth bore. It turns out it was None of the Above.
U.S.A. –-(Ammoland.com)- The simple answer was the use of straight cut lands and grooves, meaning that there were no spiral cut lands and grooves to impart spin on the rifle's projectile. Although it does retain a standard chamber.
Franklin Armory's NRS barrel technology stands for "Not a Rifle or Shotgun" and because the barrel does not impart any spin on the projectile, it does not meet the definition of "rifling" according to ATF's Technology Branch.
I tried not to make that too confusing.
Let's look back a little:
On August 3rd of 2017, the Chief of the Firearms Technology Division of the ATF confirmed that a firearm equipped with a stock and a barrel featuring straight cut lands and grooves is defined as a "firearm," and is not a rifle or a shotgun. It follows that since the Reformation cannot be a rifle or a shotgun, it also cannot be a short barreled rifle or a short barreled shotgun.
We shot the Reformation at close range, a short-range pistol bay as a matter of fact, and while we were expecting to see tumbling rounds or keyholes on our target, we did not see any. Furthermore, our test firing was done with a Reformation chambered in 5.56 while the initial offering to the public will be 300 Blackout. For straight cut lands and grooves, these 11.5″ barrelled rifles shoot within 4 MOA.
While we did not see any evidence of tumbling, we believe that the potential could be there. This is probably the only thing keeping us from a fuller endorsement as we think there will be a potential for damage to the one accessory the 300 Blackout is intended for: a silencer.
Hell, we have had end cap strikes with spiral cut rifled bores and thread on cans. It can happen when the circumstances are seemingly perfect, but Franklin may have a cure for this in the works.
Since an NRS bore has straight cut lands and grooves, Franklin Armory has engineered fin and flare stabilized projectiles and ammunition for near MOA performance. Yet the Reformation worked fine with the countless magazines of off the shelf factory ammunition that we tried over the weekend both in semi-automatic and binary modes of fire.
Here are the benefits:
No NFA!
No Tax Stamp!
Not an SBR!
Not an SBS!
Not an AOW!
No forms needed to travel out of state!
We have never had a problem with NFA paperwork. It is a single sided Federal Form that is filled out by a dealer in most cases and if that much typing or scribbling is too much work for you; well, there's always Barber College. The only thing that infuriates us is the waiting period as we find it an affront to the Second Amendment.
The matter of the $200 tax stamp is another part that while not excessive, we still see as a tax on freedom, so anything that can avert these two travesties is great in our book.
Beyond the potentiality of keyholing on target or changes in velocity for the worse due to the straight cut lands and grooves which are actually nothing more than conjecture on our part, our only other concern is the placement of barrel threads under the factory rail that may preclude the use of certain QD mounts for a suppressor. Hopefully, Franklin will iron that one out soon.
Pricing is steep depending on options and ranges from $1034 to $2094. A little high for a truck gun, but probably makes for one of the coolest truck guns in town.
Franklin Armory's Reformation — Our Summary:
The Good
When we fired the Reformation we found it to be lightweight, reasonably accurate and trouble free with regard to stoppages or other failures.
Build quality is excellent and all of the components with a few exceptions were well thought out. The fact that some models will ship with the Franklin BFS is a bonus as it ups the fun factor by about 50!
The Bad
We still have our doubts about straight cut lands and grooves until we see more data in the form of live fire, chronograph results for velocity and bullet performance.
Our biggest concern has to do with non-stabilized bullets causing a baffle, end cap or front cap strike in a suppressor.
Which leads to our second concern having to do with the position of barrel threads beneath the rail: Some mounts or direct thread cans may not fit as easily.
Legality
This may be a gray area for some of the very people who need this the most. Chances are if your state of residence has restrictions on rifle length, barrel length, NFA acquisition etc. then they may have other assorted problems such as their definition of a rifle or firearm.
For more information check out their website: https://www.franklinarmory.com
---
About Mike Searson: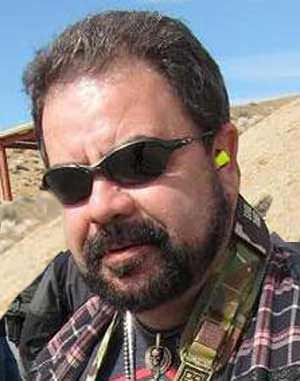 Mike Searson's career as a shooter began as a Marine Rifleman at age 17. He has worked in the firearms industry his entire adult life as a Gunsmith, Ballistician, Consultant, Salesman, Author and was first certified to teach firearms safety in 1989.
Mike has written over 2000 articles for a number of magazines, websites and newsletters including Blade, RECOIL, OFF-GRID, Tactical Officer, SWAT, Tactical World, Gun Digest, Examiner.com and the US Concealed Carry Association as well as AmmoLand Shooting Sports News.