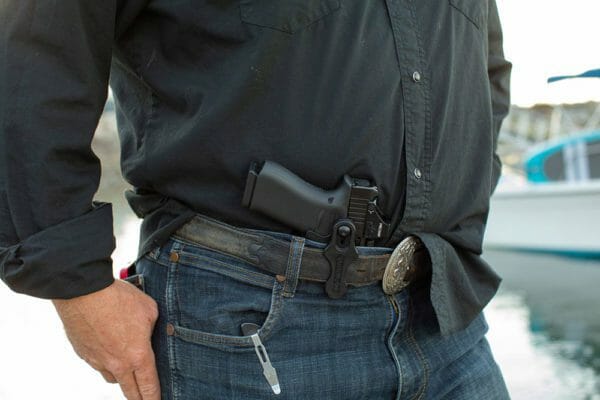 U.S.A. –-(AmmoLand.com)- When Gov. Ron DeSantis signs HB 543: Concealed Carry of Weapons and Firearms Without a License, few Floridians will even notice. The sun will continue to shine. The citrus won't fall off the trees, and the streets most certainly will not run red with blood.
The legislation: "Authorizes person to carry concealed weapon or concealed firearm if he or she is licensed to do so or meets specified requirements; requires person who is carrying concealed weapon or concealed firearm without license to carry identification & display upon demand by law enforcement; prohibits person who is carrying concealed weapon or concealed firearm without license from carrying such weapon or firearm in specified locations; authorizes nonresident to carry concealed weapon or concealed firearm in this state if he or she meets same requirements as resident; provides person authorized to carry concealed weapon or concealed firearm without license is subject to specified penalties for possessing such weapon or firearm at school-sponsored event or on school property."
HB 543 was only introduced this week, yet it is already creating confusion because of comparisons to constitutional carry.
Twenty-five states have already passed constitutional carry, which is usually defined as unlicensed or permitless carry, in which law-abiding gun owners can decide for themselves whether to carry a defensive firearm openly or concealed.
HB 543 accomplishes half of that. There is no longer a training or licensing requirement, but there is no open-carry option. The bill requires firearms to be carried concealed, which has led to some debate about what to call the legislation. Is it constitutional carry? Is it unlicensed carry? Is it something else?
What cannot be debated is that HB 543 is the single largest expansion of gun rights in Florida since 1987 when shall-issue concealed carry was introduced in the state. The bill removes the need to obtain a permission slip from the government before carrying a defensive firearm. For law-abiding Floridians, this is a major restoration of their civil rights. They no longer need to consent to fingerprinting, mug shots, and background checks like a common criminal before bending a knee and begging the State to sell them back their constitutional rights for $97.
To be clear, pro-gun advocacy is not going to stop once Gov. DeSantis signs the bill. There is still much work to be done. Floridians need an open-carry option since carrying a firearm openly is exactly what the Framers had in mind when they wrote the Second Amendment. Open Carry is the bearing part of our right to keep and bear arms. Anything less is an infringement. The remnants of the Parkland bill still need to be cleaned up, too. The gun rights of 18-20-year-olds need to be restored, and Red Flag laws – which are patently unconstitutional – need to be repealed.
False Narratives
Much of the media's angst toward HB 543 has been focused on the removal of the training requirement, even though it likely would never have passed strict constitutional muster. After all, the government does not require training before entering a voting booth or a house of worship.
As a result, some journalists have labeled the bill "untrained carry," which couldn't be further from the truth. Floridians understand that carrying a defensive firearm is a heady responsibility, and they seek out professional training long before ever holstering a handgun.
By far the single most laughable claim is that the bill will make it easier for criminals to carry concealed arms, as if there are gangs of unarmed thugs waiting patiently in their seedy lairs for the governor's signature on the bill, so they can carry guns without breaking the law. Criminals have never cared about gun laws, and they never will.
The media forgets this is nothing new. It has all been done before. Constitutional carry, unlicensed carry, or whatever you prefer to call it, is already the law of the land in half of the country. The horrors these pundits predict will befall Florida never happened in 25 states, far from it. However, the biggest sin committed by these doomsday prognosticators is what they aren't saying.
HB 543 will save lives, which is something not one of the cable TV news actors has ever mentioned. The bill allows someone to legally arm themselves right now, without waiting for a license to be processed and approved. This immediacy likely would have saved Cassie Carlie, who was last seen alive on March 27, 2022, in the parking lot of a restaurant in Navarre, Florida meeting with her boyfriend, who was the father of her 4-year-old daughter. Carlie's body was found two weeks later in a barn in Alabama, buried in a shallow grave. Her boyfriend was arrested and charged with her murder.
During the weeks preceding her death, Carlie expressed concern about her personal safety, her family said. She was afraid of her boyfriend and likely sensed something was wrong. She planned to apply for a Florida concealed-carry license but was never able to complete the lengthy process. HB 543 would have allowed the 37-year-old single mom to legally arm herself without waiting for a government permission slip and could have saved her life.
That's the real benefit of this bill. It's a lifesaver. It makes it easier for good men and women to defend themselves. Marine, author, and legendary trainer Col. Jeff Cooper said it best:
"The rifle itself has no moral stature, since it has no will of its own. Naturally, it may be used by evil men for evil purposes, but there are more good men than evil, and while the latter cannot be persuaded to the path of righteousness by propaganda, they can certainly be corrected by good men with rifles."
Since HB 543 does not allow for the carrying of rifles, the good men and women of the Sunshine state will have to issue their corrections with pistols. HB 543 allows them to do just that without anyone's permission.
Lee Williams is a board member of Florida Carry, Inc., a non-profit, non-partisan, grassroots organization dedicated to advancing the fundamental civil right of all Floridians to keep and bear arms for self-defense as guaranteed by the Second Amendment to the United States Constitution and Article I Section 8 of the Florida Constitution.
This story is presented by the Second Amendment Foundation's Investigative Journalism Project and wouldn't be possible without you. Please click here to make a tax-deductible donation to support more pro-gun stories like this.
---
About Lee Williams
Lee Williams, who is also known as "The Gun Writer," is the chief editor of the Second Amendment Foundation's Investigative Journalism Project. Until recently, he was also an editor for a daily newspaper in Florida. Before becoming an editor, Lee was an investigative reporter at newspapers in three states and a U.S. Territory. Before becoming a journalist, he worked as a police officer. Before becoming a cop, Lee served in the Army. He's earned more than a dozen national journalism awards as a reporter, and three medals of valor as a cop. Lee is an avid tactical shooter.