Miami Beach, FL – -(AmmoLand.com)- A lawsuit for deprivation of civil rights under color of law and violations of Florida firearms and fishing laws has been filed today against the City of Miami Beach and officers of its police department. Over an incident where the officers assaulted, battered, and detained law-abiding fishermen at a Florida Carry fishing meetup on the South Pointe Fishing Pier on June 24th, 2018. The incident was captured on video (link above).
Dubbed the "South Pointe Six," six Florida Carry members and supporters were held by police for well over two hours without cause.
While the police officers went on a fishing expedition of their own in an illegal attempt to find anything, the officers could use in order to charge the "South Pointe Six" with a crime before finally failing and releasing them.
Even after eventually releasing Florida Carry's members, the Police Department forced the premature end of our First Amendment protected gathering by closing the public fishing pier until all known Florida Carry members and supporters left the area.
"Florida Carry will not allow our members to be abused, injured, held without cause, and have their civil rights violated without the strongest possible response to prevent these types of attacks on the good, law-abiding, citizens of our Great State." Said Florida Carry Executive Director, Sean Caranna.

"Most police officers and deputies that we encounter are outstanding professionals who have an incredibly tough job to do, we respect that honor that. However, we've seen these types of abuses happen far too many times in cities and counties who do not respect the Right to Bear Arms. Every City and County in Florida should already know that proper training about the legal possession and carry of firearms is necessary. These types of abuses will not be tolerated – IT ENDS HERE."
The plaintiffs are represented by Florida Carry General Counsel Eric Friday.
---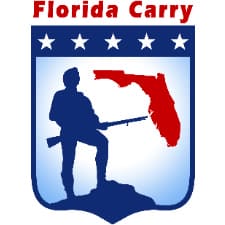 About Florida Carry
Florida Carry, Inc, is a nonprofit, non-partisan, grassroots organization dedicated to advancing the fundamental civil right of all Floridians to keep and bear arms for self-defense. Their website is www.FloridaCarry.org.