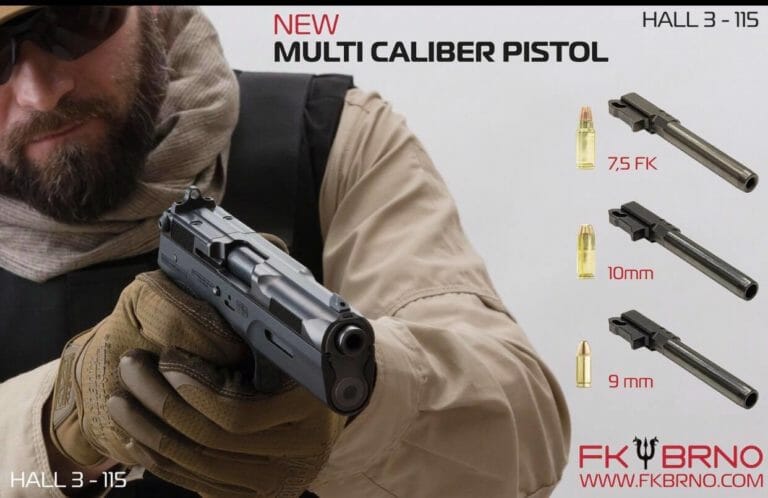 U.S.A. –-(Ammoland.com)- One of the advantages of having a network of industry people is that I sometimes hear about things before they are officially announced. Earlier this evening, I got a message from a friend that is setting up for the IWA Show in Nuremberg, Germany about a new pistol that is apparently being officially announced tomorrow when the show opens. Obviously, I asked for a picture… so, here's what I got and what I've heard.
The world was fascinated by the FK Brno Field Pistol when it was first announced.  A new cartridge, and uncommon recoil system made the gun stand out along with unconventional looks and some exciting claims.  To pull some text from FK Brno's website:
"The 7.5 FK Field Pistol is a single action, tilting barrel type mechanism, with a proprietary recoil attenuating system. This is not a modified design of another product or pistol model. This is a completely new and unique concept and design and the intellectual rights to the system have been registered and claimed by FK BRNO. The design is very ergonomic and even though the magazine holds 15 – 35 mm long rounds, the smallest hands are able to fully wrap around the optimally angled grip of the pistol. The frame and slide are very slender and streamlined for such a size cartridge and caliber."
The original Field Pistol, however, was not received all that well in the US consumer market for two major reasons.  A proprietary cartridge and a price tag that rivaled some decent used cars.  With the help of some consulting FK Brno has produced a new model known as the "PSD" perhaps standing for Personal Security Detachment.  The PSD is rumored to have an MSRP around $2,000, a polymer frame, and the ability to change calibers with an initial launch in 7.5FK, 9mm and 10mm!  Security detachments and general consumers alike can retain the ability to use the powerful 7.5FK round, but also be able to train with and use common 9mm and 10mm ammunition.
Specifications as we know so far:
Frame: Reinforced Fiberglass Technopolymer
Action: Single Action
Length: 9.17″
Height: 5.3″ without sight, 5.75″ with sight.  Slides milled for reflex sights.
Barrel Length: 5.3″
Weight: 38.8 oz
Magazine Capacity: varies by caliber, 9mm is 17 rounds.
If this pistol comes to market it stands a much better chance of wider acceptance.  Although still far from a budget pistol, the lower price is a lot more palatable.  Combine the lower price tag with the ability to use commonly available ammunition and the new PSD sounds like it actually has a chance in the US market.  Time will tell if it will hit the US market, and what the final specifications will actually be.  The 7.5FK from the longer-barreled Field Pistol claims to throw a 95gr or 98gr projectile at 2000fps resulting in muzzle energy of 880ft/lbs.  Velocity and energy for the 5.3″ barrel is unknown at the time of this writing.
Watch for more information at the FK Brno website.
---
About Graham Baates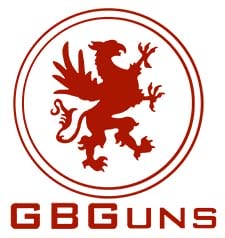 "Graham Baates" is a pen name used by a 15-year active Army veteran who spent most of his time in the tactical side of the Intelligence community including tours in Afghanistan and Iraq. Post-Army Graham spent some time in the local 3-Gun circuit before becoming a full-time NRA Certified defensive handgun instructor and now works as an industry writer while curating a YouTube channel on the side. Visit Graham on Youtube .