The World's #1 Firearms Auction House Announces a Record Breaking Year at $32 Million in Gun Sales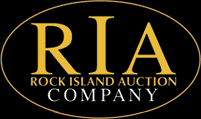 Moline, IL –-(Ammoland.com)- Rock Island Auction's December 3, 4, & 5 Premiere sale at their facility in Moline, IL proved to be the event of the year realizing sales of $9.7 million.
Their total yearly sales broke a world record topping out at $32 million, which is $10 million MORE than any other firearms auction house.
Once again the auction offered up something for nearly every level of collector. This sale featured more than 2,700 quality lots of outstanding firearms covering many firearm genre's. The top seller in the auction, a presentation Colt buntline special single action army revolver from the J.A. Hegeman and Stagecoach Museum collection brought applause from the crowd as it realized $368,000. A cased extremely rare Jeffery double barrel rifle in 600 nitro express caliber brought more excitement as it realized $126,500, more than double the high estimate. Other highlights included a rare original Iron Frame Henry Rifle which brought $120,750, and an outstanding 1939 gold plated Mauser Luger presented to the foreign ambassador or the Reich brought $74,750.
This sale also contained one of the most complete U.S. Military collections ever offered by RIAC from the first U.S. Martial pistol through WWII. Exceeding its expectations a final bid of $57,500 won a Historic Civil War 7th Illinois Infantry inscribed Henry lever action rifle. An extraordinary, complete all original WWII Winchester "T3" Carbine with original First Patten M-2 Infrared Sniper Scope and all the accessories brought a staggering $46,000. The rarest of all semi-automatics, Singer Mfg. Model 1911A1 Serial Number 1 took a high bid of $80,500.
An important section of the U.S. firearms genre was the Martial arms. The Martial arms collection in this auction was the finest RIAC has ever offered, and the prices reflected this. A very rare North & Cheney Model 1799 pistol brought $48,875, and a U.S. Navy Elgin Cutlass pistol brought $31,625. Another interesting part of this collection was a massive, documented U.S. Garrison flag flown at the Lincoln-Douglas debate at Knox College in Galesburg, Illinois that commanded $17,250.
A complete history of the Colt firearm was represented with over 500 rare and outstanding conditioned firearms. An exceptional Colt Paterson Belt Model Revolver No. 2 (Fifth Model Ehlers) and Extraordinary Serial Number 1 Colt Open Top 44 both brought $80,500 each. A Documented Colt Model 1900 Sight Safety Navy Contract Automatic realized $23,000. A Colt 1855 20 gauge shotgun Serial Number 2 brought $28,750.
The early antique arms in this sale had several notable sales including a fine pair of Lazarino Cominazzo flintlock pistols that sold for $31,625. Other early arms that commanded attention from the bidders were the Kentucky rifles. An exceptional transitional relief carved Kentucky rifle which brought $28,750 and a rare John Armstrong Golden Age Kentucky rifle realized $25,875.
A nice selection of Foreign Military arms including a Japanese "Grandpa Nambu Pistol Rig" with matching magazine and matching combination wooden shoulder stock/holster exceeded its estimate and brought $28,750.00. An excellent Japanese "Baby Nambu" semi-automatic pistol topped its estimate of $4,750 realizing $7,475.00. German memorabilia; SS Concentration Camp Officer's Style Peaked Service Cap more than doubled its high estimate when it brought $13,800.00 and a Nazi SS Officer's Brocade Dress Belt and Belt Buckle surpassed its estimate bringing $12,650.
The evolution of the Winchester was well represented in the auction spanning 100 years of production from the volcanic pistol through to the model 70 bolt action rifle. A fine factory engraved Winchester model 1866 lever action rifle brought $43,125 and a rare new haven arms Henry rifle with Japanese markings realized $46,000. A top bid of $43,125 won an extraordinary factory documented Winchester model 1886 deluxe 50 Express Take Down Lever Action Rifle and an exceptional Model 21 Grand American 28 gauge shotgun garnered $31,625.
The shotgun and sporting rifle prices in this auction were absolutely stunning. A massive G Bates 4 bore double barrel shotgun bringing $31,625 and a Manton 8 gauge slug double rifle realizing $28,750 were but a few highlights. Other notable sales in this genre were a Kreighoff Essencia sidelock shotgun bringing $23,000, and an A.H. Fox HE Grade "Super Fox" side by side shotgun bringing $17,250.
RIAC not only broke their own sales record by exceeding $32 million in sales for 2010, but they did it while maintaining a 97% sell-through rate for the year. Now for the past three years RIAC has averaged over 30 million in sales; a feat no other firearms auction house in the world even comes close to.
Rock Island Auction Company is currently seeking consignments. Consign one piece or an entire collection and know that you are consigning with the best. For more information on selling at auction contact Pat Hogan or Judy Voss at 800-238-8022.
Visit www.rockislandauction.com for 2011 upcoming auction schedule.
About:
Rock Island Auction Company has been solely owned and operated by Patrick Hogan. This company was conceived on the idea that both the sellers and buyers should be completely informed and provided a professional venue for a true auction. After working with two other auction companies, Mr. Hogan began Rock Island Auction in 1993. Rock Island Auction Company has grown to be one of the top firearms auction houses in the nation. Under Mr. Hogan'
The post Firearms Auction House Announces a Record Breaking Year at $32 Million in Gun Sales appeared first on AmmoLand.com.