MEMPHIS, Tenn. –  -(Ammoland.com)- During Ducks Unlimited's (DU) 81st annual convention held recently in Indianapolis, Alabama resident Doug Schoenrock was elected first vice president of the country's largest nonprofit waterfowl and wetlands conservation organization.
"Since being elected to the DU board in 2002, Doug has continued to show exemplary leadership and a true passion for conservation and Ducks Unlimited," said Paul Bonderson Jr., DU's chairman of the board. "He's held numerous senior advisory positions and Doug is a natural fit for his new position. I'm looking forward to working with him in the years to come."
As first vice president, Schoenrock will advise and represent DU's president, Rogers Hoyt Jr. He will also work directly for Hoyt on special assignments and represent the president at functions Hoyt is unable to attend.
"I'm deeply honored to be able to serve the greatest wetlands conservation organization in the world," Schoenrock said. "I'm looking forward to working with the thousands of volunteers and staff to help further the mission of Ducks Unlimited in conserving wetlands that benefit not only waterfowl, but other wildlife and people. DU's mission is one I take to heart and I'm eager to hit the ground running in my new role."
A native Tennessean, Schoenrock is an avid outdoorsman, waterfowler and wildlife advocate. A member of the Ducks Unlimited board of directors since 2002, Schoenrock previously served as an at-large member, senior vice president for corporate relations, senior vice president for marketing and communications and senior vice president for youth and education.
Doug spent 22 years with the Sara Lee Corporation. For the past 12 years he has worked with former Sara Lee colleagues operating Savannah Food Company, a leading manufacturer and marketer of home-style hushpuppies and authentic southern side dishes. Doug attended the University of Tennessee in Knoxville, where he earned both bachelor and master of science degrees.
Doug and his wife, Linda, currently reside in Huntsville, Ala., and have two daughters, Lauren and Eve. They are Ducks Unlimited Sponsors in Perpetuity.
In addition to the annual elections, this year's convention featured opportunities for conservation-related education, special tours and entertainment, and presentations by U.S. Secretary of the Interior Ryan Zinke and FedEx Founder and CEO Frederick W. Smith.
Bass Pro Shops founder Johnny Morris accepted DU's Corporate Conservation Achievement Award on behalf of Bass Pro Shops during the event. The award was created to recognize corporations from the United States, Canada or Mexico that have made exceptional contributions to conservation in North America.
The inaugural Wings Over Wetlands Awards Gala, held to honor DU's top volunteers, was hosted by conservationist, environmental journalist and television personality Jeff Corwin.
Live and silent auctions featuring everything from decoys to diamonds generated more than $163,000 for wetlands habitat conservation. Special thanks to our proud partner First National Bank of Omaha, provider of the official Ducks Unlimited Visa card, for sponsoring this year's convention.
Next year's Ducks Unlimited National Convention will be held May 29-June 2 2019 at the Hilton Waikoloa Village on Waikoloa, "The Big Island," in Hawaii.
For a complete list of DU's volunteer board of directors, please visit www.ducks.org.
---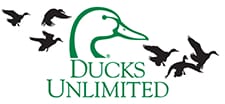 About Ducks Unlimited
Ducks Unlimited Inc. is the world's largest nonprofit organization dedicated to conserving North America's continually disappearing waterfowl habitats. Established in 1937, Ducks Unlimited has conserved more than 14 million acres thanks to contributions from more than a million supporters across the continent. Guided by science and dedicated to program efficiency, DU works toward the vision of wetlands sufficient to fill the skies with waterfowl today, tomorrow and forever. For more information on our work, visit www.ducks.org.