Tom reviews the Dexter Russell "Don't Tread On Me" 6-Inch Boning Knife.
USA – -(Ammoland.com)- To proficiently bone out your game you need a 6-inch boning knife. While there are many boning knives on the market, there are only 8 or 10 that have the correct shape and only 3 or 4 of those are constructed out of good metal that you can easily sharpen on a smooth steel. The Dexter Russell 6-Inch Boning Knife has both qualities.
It also has a wood handle which is hard to find nowadays due to the European Economic Community rules.
Years ago, all boning knives had wood handles but due to the EEC, they enacted the requirement that there could be no wood in Packing Plants in which they bought meat from. This included knives, shovels and squeezes. Their rationale was that wood harbors bacteria and is not as easily cleaned. Since then there has been studies that show that the resin in wood cutting boards can actually help eliminate bacteria, but regardless, the ruling stands.
So just like in 1776, whatever they want to do over in Britain is fine but over here, us Americans like wood handled boning knives. They're more comfortable to work with and you can bone a lot faster with one. But with that said, the Don't Tread on Me comes with a pale brownish/blond handle. That doesn't affect the usability one iota but it is somewhat bland looking.
But have no fear, I figured out how to rectify that blemish. It just so happens that I was having the stock on my Benjamin Steel Eagle airgun tricked out by Adaptive Graphx in Nampa, Idaho www.adaptivegraphx.com and while dropping off the gun stock I thought you know, it'd be cool to dress up my bland looking boning knife. No, it won't help the usability one bit but it'd be way cool so I dropped it by as well to get decked out.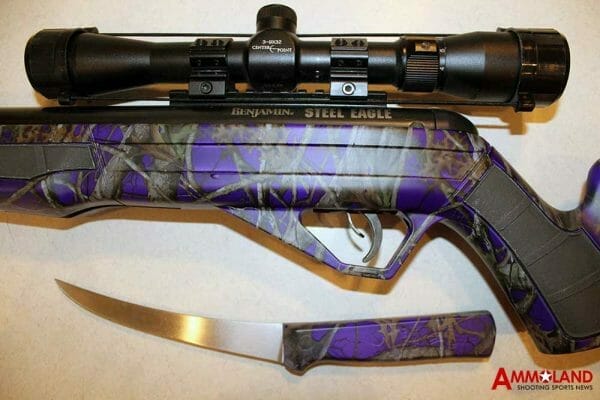 I just picked it up. Wow, now I have the coolest boning knife in the world. I can't wait to bone out something with it now. Too bad, I just returned from a Texas hog hunt with the Pioneer Airbow last week and could of used it then.
But let's get back to the actual knife design. For boning out your big game the Dexter Russell "Don't Tread On Me" (DTM) 6-Inch Boning Knife has the perfect design for it's intended purpose. You want the upswept 6-inch blade for boning everything from an antelope on up to your moose. I also use them to fillet anything from a 10-inch trout up to a 4-foot salmon. The outdoorsman just can't live without a good boning knife.
As stated above, on your boning knife it's imperative that it is made out of metal that is easily sharpened on a smooth steel. The DTM is. I can easily keep an edge on it while boning just using a smooth steel.
The danger with boning knives is that they don't come with a scabbard. They are extremely sharp and pointed so how do you safely carry one in the "mountains? To carry your DTM safely I found a clamshell scabbard made by Forschner that snaps over the blade. These work great to carry it in your backpack or scabbard on your horse. (Although in an extreme fall it would probably pop loose).
Dexter Russell 6-Inch Boning Knife Product Description  :
"Wooden handle knives are the most popular handle material in the world. The Traditional line of cutlery has stood the test of time and is the choice of many who appreciate the feel of a wood handle. The Dexter Traditional product line features a proprietary DEXSTEEL stain-free, high-carbon steel blade that is precision ground for durability. Including an individually ground and honed edge for just the right flexibility and durability. Unique edge geometry ensures a long-lasting blade edge, and easily restored performance every time it's sharpened. The handles are durable and require minimal maintenance if cared for properly, these knives will last you a lifetime. There is something to be said for great American made knives that have been used since the early 1800's. Made in USA."
Superior blade shape for easier slicing
Unique edge geometry for long lasting, easily restored performance
Hand honed to the ultimate edge
Formed handle for comfort and functionality
Polished Rosewood handles
Large brass compression rivets
---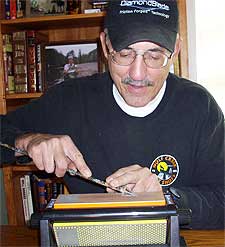 About Tom Claycomb
Tom Claycomb has been an avid hunter/fisherman throughout his life as well as an outdoors writer with outdoor columns in the magazine Hunt Alaska, Bass Pro Shops, Bowhunter.net and freelances for numerous magazines and newspapers. "To properly skin your animal you will need a sharp knife. I have an e-article on Amazon Kindle titled Knife Sharpening for $.99 if you're having trouble"