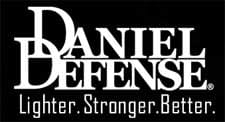 Pooler, GA –-(Ammoland.com)- Daniel Defense recognizes the personal sacrifice the men and women of the United States Armed Forces make every day.
Their dedication and care for the safety of their fellow Americans does not go unnoticed. Friday night, with gratitude, Daniel Defense presented a combat veteran and his wife with the gift of a mortgage-free home.
"These men and women have heroically given up their bodies in defense of our freedoms," says Marty Daniel, President and CEO of Daniel Defense. "While we can't give them their health back, we can acknowledge their sacrifice, thank them and their family for their service, and provide spiritual support."
Through the Military Warrior Support Foundation, Daniel Defense learned of a soldier, injured during his time of service. Specialist Justin Foley sustained injuries when the armored vehicle he was in struck an Improvised Explosive Device (IED). Due to the injuries sustained, Foley now awaits medical retirement from the U.S. Army.
"What we want to provide is hope for these warriors and their families," explains Josh Kinser of Military Warrior Support Foundation. "By partnering with great, patriotic companies like Daniel Defense, we are able to put these heroes in a mortgage-free home and help them transition to a successful civilian life."
Friday night, during a military tribute at the Inaugural Patriot Weekend in Pooler, Georgia, a check for $22,500 was presented to the Warrior Transition Battalion on Ft. Stewart.
Shortly after, Specialist Foley, assigned to WTB Bravo Co., was presented a ceremonial key to the home he and his wife will receive, mortgage free.
About Military Warriors Support Foundation
Military Warriors Support Foundation is a 501(c)(3) non-profit charity, founded by Lt. General, Leroy Sisco, USA (Ret), in 2007. Their Mission is to provide support for our nation's combat wounded heroes and Gold Star Families as they transition out of the military and into their new civilian life. This is a very fragile time for these heroes, and their families, and it is their goal to provide programs that facilitate a smooth and successful transition. Their programs include home donation, academic and employment assistance, as well as recreational activities.
For more information, visit www.militarywarriors.org.
About Daniel Defense
President and CEO, Marty Daniel founded Daniel Defense at the turn of the 21st century. From its humble beginnings as a start-up company, creating rails and accessories for the AR-15 platform in small batches, Daniel Defense has grown exponentially over the last decade, and is now known for its premium line of rifles and firearms accessories. Now with two locations and a combined 128,000 square feet of available manufacturing space, Daniel Defense looks forward to continued growth, as well as the opportunity to better serve their customers.
For more information, visit www.danieldefense.com.
The post Daniel Defense & Military Warrior Support Foundation Give Away Home at Patriot Weekend appeared first on AmmoLand.com.