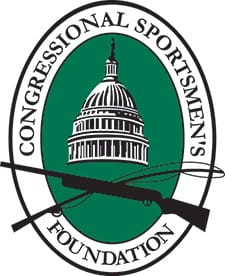 Washington, DC -(AmmoLand.com)- On August 27th, the Congressional Sportsmen's Foundation (CSF) hosted the third annual "Texas Bass, Bucks & Boots" regional event in Houston.
The Midwestern sportsmen's community, including CSF staff and partners, gathered at Minute Maid Ball Park, home of the Houston Astros, for a reception and dinner to celebrate the hunting and angling heritage of the state and discuss upcoming policy priorities at the federal and state level.
CSF President Jeff Crane noted the movement of state and federal policies affecting the Lone Star State over the past year. "We have a number of notable accomplishments to celebrate here in Texas today. At the state level, working with the Texas Legislative Sportsmen's Caucus, this November, Texas voters will have the opportunity to add the Right to Hunt and Fish as a constitutional amendment. And at the federal level, working with Congressional Sportsmen's Caucus (CSC) leadership and all five Gulf States, legislation was introduced to establish a science-based management plan for Gulf red snapper," said Crane. "Additionally, we welcomed Texas Governor Greg Abbott to the Governors Sportsmen's Caucus, which now includes 31 members."

CSC Vice-Chair Congressman Gene Green (TX) also addressed the audience: "I'm proud to be from Texas, which is home to over 2.7 million hunters and anglers, making it the second biggest state for sportsmen and women in the nation. In our state, and across the nation, sportsmen and women contribute billions of dollars to the economy, support thousands of jobs, and enrich our culture. As Vice Chair of the Congressional Sportsmen's Caucus for the 114th Congress, I will continue to work with my colleagues to protect America's public lands and parks to ensure that they can be enjoyed for generations."
CSF Board and event host committee members Bruce Culpepper (Shell Oil Company), and Pat Murray, (Coastal Conservation Association), were recognized with awards for their leadership, commitment to conservation and support of CSF.
"I am pleased to be on the host committee for the third year of the Houston event.  As an avid Texas sportsman, I know that CSF and the federal and state caucuses work hard on policies to protect and advance our interests," said Culpepper.

In addition to discussing important pro-sportsmen's conservation policies, attendees were greeted by former Major League Baseball pitcher Roger Clemons: "As both a professional athlete and sportsman, I've had the opportunity to pass these traditions down to my four sons, who now can't wait for fall hunting season to begin. I support the Congressional Sportsmen's Foundation for working with legislators at both the federal and state level, to protect and advance my rights as a hunter and angler."
The 2015 "Texas Bass, Bucks & Boots" Title Sponsors included: Dallas Safari Club, Houston Safari Club, and Silver Eagle Distributors. Host Sponsors included: Coastal Conservation Association and Shell Oil Company. Co-Host Sponsors included: Bass Pro Shops, Cabela's Outdoor Fund, National Shooting Sports Foundation, Remington, Richard Childress Racing, Safari Club International, Shimano American Corporation, and Vista Outdoor Inc.
About Congressional Sportsmen's Foundation (CSF)
Since 1989 CSF has maintained a singleness of purpose that has guided the organization to become the most respected and trusted sportsmen's organization in the political arena. CSF's mission is to work with Congress, governors, and state legislatures to protect and advance hunting, angling, recreational shooting and trapping. The unique and collective force of the Congressional Sportsmen's Caucus (CSC), the Governors Sportsmen's Caucus (GSC) and the National Assembly of Sportsmen's Caucuses (NASC), working closely with CSF, and with the support of major hunting, angling, recreational shooting and trapping organizations, serves as an unprecedented network of pro-sportsmen elected officials that advance the interests of America's hunters and anglers.
For more information, visit: www.sportsmenslink.org.
The post CSF Highlights Sportsmen's Policy Priorities for the Lone Star State appeared first on AmmoLand.com.