COLLEGE STATION, Texas – -(AmmoLand.com)- The Corps of Cadets Marksmanship Unit (CCMU), at Texas A&M University, and the Corps of Cadets hosted the 6th annual Southwest Championship competition in College Station, TX on February 3rd, 2018.
The match was also generously sponsored by GLOCK, USA. For the sixth year in a row, GLOCK sponsorship provided pistols and merchandise for participants and material support to make this event possible. Also sponsoring the match was the Texas State Rifle Association (TSRA) Foundation and the SASP based competition series which they created and fund….the MagPul Texas Youth Action Shootout (TYAS).
SASP matches are available nationwide to SASP teams with students who vary in age from 5th-grade students to shooters from prestigious college programs. The TYAS was created in 2016 to develop and grow SASP participation in Texas. With 178 competitors from across the Lone Star State, this years event was the largest match of its kind held in Texas, and one of the largest held in the history of the fast-growing national sport.
Competitors fired Centerfire pistols, Rimfire pistols, and Rimfire rifles at the match. Rimfire rifle was added in 2016 and has promoted even faster growth in the sport as youth can now shoot the rifle or pistol platform that appeals to them the most.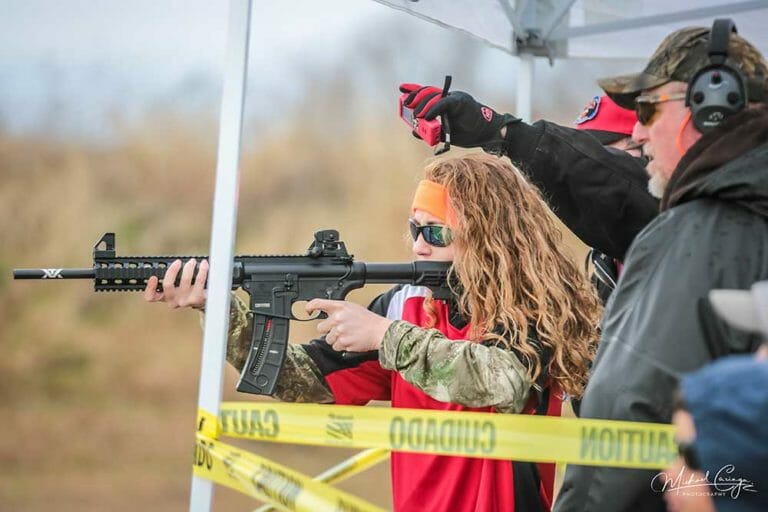 Most notable of all was the fact that 50 of 178 participants were female shooters. SASP is unique in youth shooting sports in that it provides a perfectly level playing field for young boys and young girls and college-age men and women to compete at an event that only awards skill derived by focused training and practice.
The match weekend began on Friday evening when over 350 attendees were welcomed onto the history-rich campus of Texas A&M, and the home of the 142-year-old Corps of Cadets. Competitors and their families enjoyed a Texas BBQ, served in the Cadet Corps historical Duncan Dining Hall, catered locally and provided at no charge by the TYAS and the TSRA Foundation.
Saturday morning the match began with a firing demonstration by the Cadet Corps own Parsons Mounted Cavalry and their 105mm field howitzer. The match was staffed by experienced local Range Officers, and additional staffing was provided on each stage by 30 volunteer members of the Corps of Cadets. Lunch was served on the range; firing was completed by mid-afternoon for all competitors, awards were presented 40 minutes after the last shot was fired and range clean up was complete at 6 pm.
Among the top match competitors there were several notable performances:
Fastest team time goes to Harlingen, Texas-based Team Rio with a total time of 176.97 seconds.
Individual High Overall scores:
-Rimfire Male – E. Incando 31.58 seconds
-Rimfire Female – J. Jones 49.98
-Rifle Iron Male – G. Huling 49.12
-Rifle Iron Female – A. Tate 46.65
-Rifle Optic Male – D. Rodriguez 37.95
-Rifle Optic Female – A. Montemayor 39.6
– Centerfire HOA Male – H. Perez 49.64
– Centerfire HOA Female – K. Allen 59.39
-Complete scores are located here: https://www.tsrafoundation.com/tyas
-As they begin preparing to defend their back-to-back SASP National Championships in 2016 and 2017, twenty-five CCMU cadets fired the match in the College Division placing four centerfire shooters under 50 seconds in the match and several others within a fraction of that score.
The Commandant of Cadets at Texas A&M, Brig General Joe Ramirez, USA(R) was on hand to welcome shooters at the morning safety briefing and also to present awards to all teams and shooters at the afternoon ceremony. Gen Ramirez also introduced a brand new award presented for the first time at this event, The Commandant's Award for Most Outstanding Team. This award, a first for a match of this type, is awarded to the overall team that has the lowest match score derived by adding the four best times from that team's participants regardless of age, division or firearm type. Rewarding a team for their hard work developing shooters is a great next step as this sport grows…as an example of that, the top two teams in the final tally were separated by only 4/10's of a second! Winning the Commandants Award for Most Outstanding Team was South Texas Shooters of Harlingen, Texas with a combined score of 167.3 seconds.
Ed Fitzgerald of Glock USA remarked, "A growing number of main stream educational systems understand the importance that the Shooting Sports have on long term student evolvement in a specific program. Taking this knowledge to the youth programs in Texas, Texas A&M University and the Corps of Cadets are leading the way with the help of the TSRA Foundation. Their collective hard work is providing growth and development of future competitors to be challenged and successful in all walks of life. GLOCK USA is proud to stand with these great institutions building the future of the shooting sports and developing young men and women of high moral character."
The Magpul-TYAS event series could not happen without the generous support of the individuals and corporations who support their operations and matches. Please take a moment to visit their respective web pages and thank these entities for their generous and enthusiastic support.
The CCMU was officially formed in December of 2011, but today's squad represents the latest in over 100 years of history of marksmanship teams competing for the Corps of Cadets at Texas A&M. The CCMU fields competitors in the action pistol sports, steel pistol sports, 3Gun and international trap and skeet. Team members are drawn exclusively from the 2,700 men and women of the Corps of Cadets who are all undergraduates at Texas A&M. Scholarships and in-state tuition are also available for CCMU cadets. The cadets of the CCMU are supported and funded through the Office of the Commandant of the Corps of Cadets, and the generous efforts of the Corps of Cadets Association ( https://www.corpsofcadets.org ) a private non-profit group committed to sustaining the 142-year-old traditions of the Cadet Corps at Texas A&M. Please contact them to make a tax-deductible donation on the team's behalf.
For more information on the Corps of Cadets at Texas A&M University, visit https://corps.tamu.edu/. For information on the Corps of Cadets Marksmanship Unit visit www.cocmu.com or follow the team on Facebook.