Congressional Sportsmen's Foundation On The Hill To Keep Sportsmen In The Field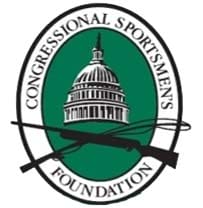 Washington, DC –-(Ammoland.com)- The Congressional Sportsmen's Foundation (CSF) welcomed more than 50 members of Congress and over 500 other guests, including government officials, congressional staff and outdoor industry representatives, for its annual banquet and auction Wednesday night.
The yearly banquet and auction provides an opportunity for the outdoor sporting community to recognize the tremendous work of the Congressional Sportsmen's Caucus (CSC).
Members of Congress were able to meet with the leaders of the hunting, fishing, and shooting sports communities to be acknowledged for their efforts on legislation directly impacting sportsmen.
"We work with members of the Caucus every day on issues of importance in keeping sportsmen active in hunting, fishing and the shooting sports, and the banquet is the best opportunity we have all year to thank them for their diligence in what has been a successful year for pro-sportsmen legislation," said CSF President Jeff Crane.
A reception and silent auction preceded the dinner and live auction, where a large number of items, including guided hunting and fishing trips, vacation getaways, rifles, shotguns, pistols, fur coats and other prizes were auctioned.
"We are very grateful to all those supporters who attended and sponsored this event and provided some fantastic auction items, all benefitting our mission of working with the bipartisan Congressional Sportsmen's Caucus to keep sportsmen in the field," said CSF Board Chairman Tom Baker.
This 2010 Banquet & Auction was hosted by Anheuser-Busch, Amgen, ATK, Cabela's, Cox Enterprises Inc., Dallas Safari Club, Diageo, Ford, Intermedia Outdoors, National Shooting Sports Foundation, Outdoor Channel, Remington, Sportsman Channel, Wine and Spirits Wholesalers of America and Yamaha.
The post Congressional Sportsmen's Foundation On The Hill To Keep Sportsmen In The Field appeared first on AmmoLand.com.