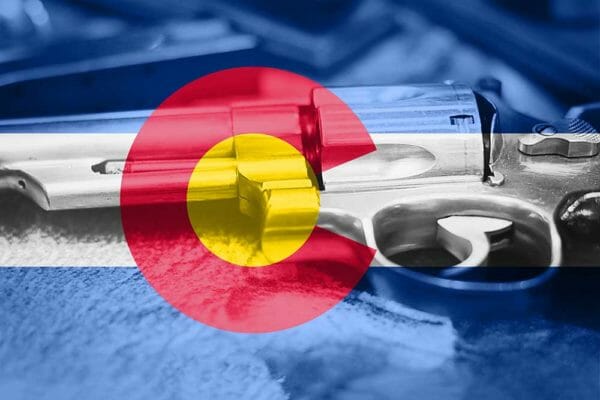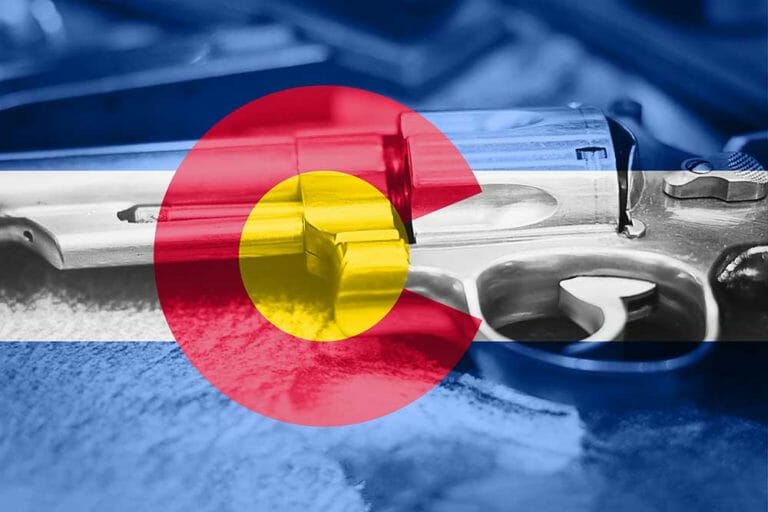 What began as an over-hyped, week-long gun control rally to force Colorado Gov. Jared Polis to ban all guns in his state fizzled out after one day and a little rain.
It was a real-time demonstration of the current reality of a growing and diversified gun-owning community that cherishes the rights guaranteed in the Constitution to lawfully possess firearms.
The Here 4 The Kids Rally was supposed to force the governor to relent to their demands. Instead, all it took was a little rain for the group to call it quits.
Numbers Don't Lie
Saira Rao co-founded Here 4 The Kids, a new gun control activist group created to push national gun control. They chose Colorado's capital to make their first splash. Media hyped the gathering, describing it glowingly.
"On the first day of school vacation in Denver next month, thousands of White women plan to sit on the lawn of Colorado's state Capitol to demand protection for the mental and physical health of America's children. The most committed say they will stay until Gov. Jared Polis (D) issues an executive order to ban guns and buy them back," the Washington Post described. "Organizers are asking protesters to sit at Colorado's Capitol for at least four days before replacements swap in."
Rao and protest organizers hoped 25,000 people – specifically White women – would journey and partake in the sit-in.
The reality? The Denver Post estimated 2,000 people showed up on the first day. NBC News described the crowd as closer to 1,500. The Colorado Sun pegged attendance between 500-800. Other local news reporters on the scene described the crowd as "hundreds." After all the build-up, it rained Monday afternoon, and everyone left, with sporadic attendance the following days. Organizers compared their efforts to the 1960s Civil Rights Movement.
"We were all a bit disappointed," Rao told media, trying to sell momentum. "We will base it on what we have learned this past week, what worked and what didn't work, and we will keep going until we get the Second Amendment repealed."
One attendee described more fizzle than flare, saying, "I understand there was a very low turnout the second and third day. I didn't get the sense that there was a connection there."
Gov. Polis offered to meet with representatives of the group but was rejected – demonstrating the group's lack of seriousness in solving the problem of criminal firearm misuse.
Costly Demands
Here 4 The Kids' goals were simple, if not impossible, and unconstitutional. The demands called for Gov. Polis to sign an executive order "declaring a 30-day state of emergency," suspend the sale of all firearms, and order "a total ban on all guns and a comprehensive, mandatory buyback program." The governor rightly never entertained the idea, stating he "will not issue an unconstitutional order that will be struck down in court simply to make a public relations statement."
Second Amendment proponent Missy Espinoza critiqued the plans.
"What they're asking for — not only is it illegal because it's unconstitutional to ban firearms and to disregard the Second Amendment rights of the people of this country and of our state — but also it's misguided in the way that they're presenting it," Espinoza said.
Asked about the cost of a mandatory buyback scheme to Colorado taxpayers, sit-in participant Wolf Terry was optimistic, if not realistic.
"I think a lot of people would be willing to… I would hope that a lot of people, reasonable people, responsible gun owners, if they're faced with that would be willing to say, 'No you don't need to buy my guns back from me; I'll give them up; this is for the common good,'" Wolf predicted.
Fortunately, there's a nearby example of an expensive taxpayer-funded mandatory buyback scheme that is failing in real time. Canadian Prime Minister Justin Trudeau's scheme is more than two years in the making. He's attempting to "buy back" roughly 200,000 Modern Sporting Rifle (MSR)-styled firearms from Canada's estimated 20 million gun owners. After an initial estimate of $250 million, it's now costing taxpayers an estimated price tag closer to $600 million, with some admitting the real cost could be closer to $2.7 billion.
For comparison, Colorado has roughly 5.8 million people, and law-abiding Coloradans purchased more than 230,000 firearms total during the first five months of 2023, according to NSSF-adjusted NICS data. One media report revealed Colorado residents purchased more firearms per capita than most other states in 2022.
Know Your Audience
Here 4 The Kids announced they picked Colorado for their first protest because of politics – a Democratic governor and some federal races that recently painted the state more purple. But the Second Amendment is colorblind and large numbers of voting constituencies that have historically voted Blue have crossed the aisle specifically to vote for their gun rights.
In Denver, Anubis Heru launched 1770 Armory and Gun Club, the Mile High City's first Black-owned gun club, so the thousands of new local African American gun owners felt welcomed and comfortable. Between 2020 and 2022, more than 1.83 million Coloradans of all backgrounds lawfully purchased firearms, in addition to 2023's total to date.
Despite the repeated demagoguery of the American gun owner by gun control activists and a fawning media usually lending a hand, it is clear which side has an enthusiasm that's both deep and wide. Recently more than 22,000 people from several states showed up in Richmond, Va., to peacefully protest gun control legislation being considered. Gun control groups and antigun talking heads loudly predicted widespread violence. Instead, there were no arrests, and rally-goers left the city cleaner than they found it. Local media reported, "Thousands flooded the surrounding streets of the Capitol Monday for a gun-rights rally. However, some locals in the area say the roads are the cleanest they've seen in quite some time." In addition, Axios reported more gun rights legislation passed state legislatures and was signed into law in 2023 than gun control measures.
As media continues to report on gun control activists and their efforts through rose-colored glasses, the real story is that millions of Americans support the Second Amendment, embrace their right to purchase, possess and practice with firearms and will reject politicians who threaten those rights.
---
About The National Shooting Sports Foundation
NSSF is the trade association for the firearm industry. Its mission is to promote, protect and preserve hunting and shooting sports. Formed in 1961, NSSF has a membership of thousands of manufacturers, distributors, firearm retailers, shooting ranges, sportsmen's organizations, and publishers nationwide. For more information, visit nssf.org