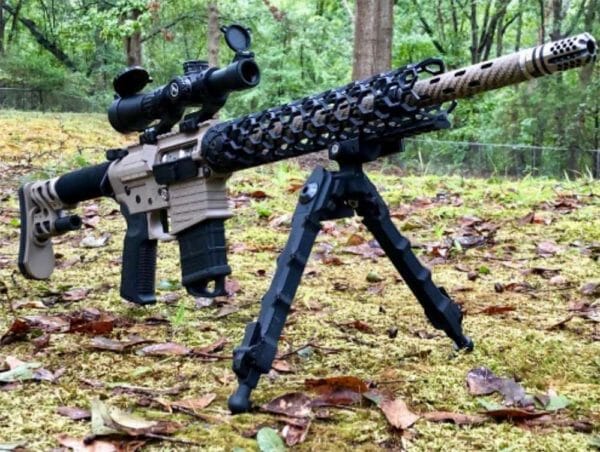 U.S.A. –-(Ammoland.com)- Economically, I love small business, free enterprise, and I tip my hunting cap to all those who enter into the entrepreneurial world. Lifestyle-wise, I love being outdoors, hunting, shooting, camping, and competing when I can.
So, it makes sense I weave these two passions together and start a fun project to build the most versatile ultra-light AR platform rifle to be my go-to weapon for regular hunting activities. I wanted a versatile rifle and a round other than .223/5.56 NATO to be able to take down everything from small animals to larger animals like deer and big wild hog.
Of course, if this project rifle has a little eye-candy benefit, all the better. I'm a little biased, but I think this rifle is damn good looking.
Is it About the Journey or the Prize?
Some say most journeys are about the lessons learned along the way, and that's the prize in the end. What I did learn along this journey surprised me, and the outcome of the prize is really something special.
My journey and desire to build this beautiful beast started when I recently moved from the west coast to a hunting-rich area of the south. After a while, I noticed my wife's and my .308 bolt action rifles were gathering dust in favor of our AR-15s for various hunting and shooting activities. Now that we live in South Carolina, our opportunities to hunt seasonal deer have increased immensely. The prospect of hunting nuisance animals like wild hog and coyotes all year long got me more excited to build a specific rig for day and night hunting. Filling the freezer with truly organic venison and pork is the big bonus.
The itch to build an ultra-lightweight rifle started right after my wife, Laura, and I went on our first guided hog hunt experience a year ago in Texas with 3 Curl Outfitters. I thought an ultra-lightweight workhorse rifle would be perfect for the spot-and-stalk technique needed for night hog hunting.
The bottom-line requirements for this new rifle build (besides being very light) had to help make the shooting and hunting experience much more enjoyable without sacrificing performance, reliability and durability. Being able to stalk prey at night with thermal and night vision is a high priority. If you have ever stalked with a heavy rifle on a hunt, you know a lightweight setup is much more than a luxury.
It's a necessity.
I'm excited to also introduce you to a few inspirational people I met along this ultimate rifle-build journey and their innovative companies and products.
I can tell you through all the political noise these days, the American entrepreneurial spirit is alive and well.
Starting with the Business End of the Rifle!
My good friend and fellow writer, Kevin Reese, introduced me to an owner of a unique barrel manufacturer based out of Wisconsin.
A lightweight high-performance barrel was critical for this build since a huge percentage of the weight of the rifle is in the barrel. The call to Aaron Painter, CEO of BSF Carbon Fiber Barrels (www.bsfbarrels.com), was a great first call to see what he had for the build.
What I learned about his patented barrel and how he created this masterpiece blew me away from the start.
BSF Barrels was recently awarded a patent on Aaron's unique system. His carbon fiber barrel design has not only removed a lot of weight from the barrel, he has also been able to add structural integrity improving accuracy and consistency. It certainly doesn't hurt the looks of the rifle too.
Historically, carbon fiber barrel manufacturers shave off metal from the barrel and "wrap" the barrel with essentially a carbon fiber blanket. This carbon fiber is lighter than steel, so there is usually a weight reduction with this technique. The challenge for this "wrap" style over the years has been to produce a carbon fiber barrel that won't delaminate (as the heat contracts and expands the steel). Some manufacturers have had some success, others not.
Aaron at BSF has come up with a great alternative to the traditional carbon fiber wrapped barrel. Without getting too technical, Aaron has developed a structural carbon fiber "bridge" that is installed after putting the barrel under tension. This carbon fiber structure essentially does not touch the barrel (except at the fastening points.) In addition, Aaron has created venting in the structure to allow the barrel to cool very quickly.
Overall, the BSF barrel not only looks badass, but it also performs like a finely tuned race car. Aaron created a special edition FDE carbon fiber 16" BSF barrel chambered in 6.5 Grendel for this project. BSF offers its barrels in traditional carbon fiber grey, red, and blue and in many of the most popular calibers. He is now offering his amazing technology for bolt action rifles.
I settled in with the Hornady Black 123 grain ELD Match ammunition with this barrel. For some reason, my BSF 6.5 Grendel barrel loves this round. My groupings are extremely tight with the Hornady Black.
The outstanding accuracy can be seen on this video on a recent hunt. The one-shot kill on a wild hog at about 75 yards tells the story of the accuracy, the ammunition, barrel, optic and Kaiser receiver set.
Weight Distribution of the BSF Barrel
This barrel is not only 20% to 50% lighter than many of the other Grendel barrels in the market, but the precision is also phenomenal. A huge benefit with the BSF is how this lightweight and high-performance carbon fiber barrel positively affected the rifle balance. The weight of the rifle now feels closer to the receiver set as opposed to the end of the barrel. This made the perceived weight of the entire rifle much lighter, and it was so much easier to handle since the weight was closer to the body. The Sandman rifle weighs in at a little over 5 pounds, but it sure feels much lighter.
This improved weight distribution helps while holding the rifle up as I'm looking through the thermal scanning the fields and woods hunting wild hogs.
The barrel was nicely finished off with a high-quality lightweight titanium SLR muzzle device. Not only helping to keep the weight down, it's a great-looking product too.
A Great Receiver Set for the Foundation of the Rifle
The barrel can't perform well if it doesn't have a great foundation. To make this ultimate hunting and survival rig the lightest weight, most durable, most reliable, and most bad-ass rifle it can be, I decided on using the Kaiser US X-7 composite receiver set (www.kaiserus.com) in FDE for the solid foundation this beauty deserves. Couldn't be the Sandman with without a sand look of course!
Getting to know Mike and Veronica Beitsch, founders of Kaiser US, helped me feel very comfortable using a non-aluminum receiver set for the first time.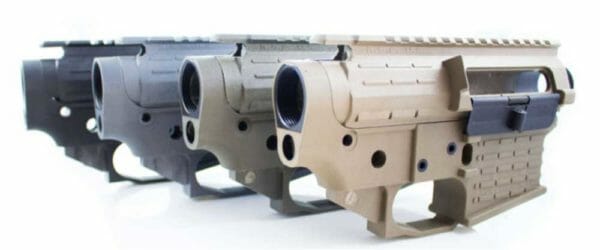 Like a lot of people, I've been very skeptical of polymer receiver sets produced over the last few years. I can tell you unequivocally, this ain't no polymer receiver set. Polymers are essentially plastic. This is a rugged, durable, and reliable composite material.
Mike has created an exceptional and innovative engineering firm in Kaiser US. I think he is on to something unique and innovative with this new generation of firearms material for the AR platform. I'm told an AR-10 platform is in the works too. Can you imagine an ultra-lightweight 6.5 Creedmoor performing this well? Can't wait to see that!!!
Kaiser's patented composite receiver set has about six different components making up this rugged and lightweight set including carbon fiber. This ultra-rugged material is then molded around strategically placed aluminum inserts to create an incredibly strong, lightweight, and flexible system. This little bit of flex is probably why the rifle shoots so smooth.
I did push Mike for more information on the "composite" mixture, but the dramatic silent pause was kind of the "if I told you the proprietary recipe, I'd have to…" kind of thing.
I get it. Kaiser has spent years and years developing and testing this revolutionary system to get it perfectly right.
Other Kaiser Benefits
The Kaiser X-7 receiver set is about one-half of the weight of a traditional aluminum set.
This receiver set is not only ultra-light, but it's also waterproof.
You don't have to worry about any corrosion of the receiver set. In fact, Kaiser is working on an Amphibian AR-15 pistol that is completely salt-water proof. I'm told certain Tier One (military) units looking at this platform for their use.
Another huge benefit is the smoothness of the internal X-7 upper receiver. Combined with one of the Kaiser Skeleton or Kaiser Titanium BCG's, you won't have to use lube, thus less carbon build-up and less cleaning. One of Mike's test rifles currently has over 15,000 rounds through it and has never been lubed or cleaned.
Kaiser has driven over their rifles with a huge Dodge Cummins Diesel pickup and shot through the receiver to test their durability. The receiver sets have passed all sorts of other torture tests with flying colors. Check out the Kaiser YouTube channel and website for some of these videos.
When I first picked up the completed Sandman rifle, my first thought was, "This feels like a toy."
This Kaiser X-7 receiver set is anything but a toy. Buyer beware, you will get a HUGE smile on your face when you pick it up. Seriously, everyone who has picked up this rifle or shot it gets a huge ear-to-ear grin.
Bottom line, this receiver set has been awesome to experience. More important was learning about this innovation in the AR-15 platform, getting to know Mike and Veronica and the inspirational Kaiser story. The performance of the Kaiser receiver set has turned this skeptic into a Kaiser raving fan. The proof is in the pudding…. Several wild hog kills, a white-tail deer, and now that the coyotes are more active, I will be helping a couple of local ranchers save a few calves, deer, and turkey by removing these pests from the area.
Supporting Cast
To round out the ultimate ultra-lightweight Sandman rifle build, a few other companies were very supportive and excited to participate in the build.
Jason Williams at Iron City Rifleworks (www.ironcityrifleworks.com) is producing some very creative and quality AR accessories including the 6.5 Grendel BCG used in this build. His G2 Competition BCG design has shaved a few crucial ounces off the typical mil-spec BCG and still performs at an exceptional level. His BCG has cycled every time, and the Hornady ELD shells have ejected with precision at about the 3 o'clock position.
The folks at Unique ARs out of Idaho are not only great and creative people to work with, but they also make some exceptional products. This is also another inspiring example of a small U.S. manufacturer competing in a very crowded market domestically and internationally. We picked their 12" Ultra-Lightweight Hex handguard for obvious reasons.
I wanted the weight to be almost nothing but have the ability to add equipment if needed. I also wanted to show off the beautiful BSF Carbon Fiber barrel through the handguard. I'd say, "Mission Accomplished!"
You'll see we were able to add an Accu-Tac G2 bipod to the handguard using the optional Unique AR's picatinny rail attachments. These attachments are very easy to use, and the handguard allows for a lot of installation location options. This extremely well-made bipod helps convert this 6.5 Grendel rifle into a tactical precision weapon very quickly.
Last, but certainly not least, I chose the Odin Works Zulu 2.0 buttstock for the build. We could have used a lighter weight, minimalist buttstock to shave off a few more ounces, but comfort and performance need to be considered as well. The Zulu 2.0 in FDE not only looks great, but the rubber pad does also help absorb the recoil nicely. It's adjustable with a few screws and has a nice QD attachment in the end of the stock.
I'm very used to the Magpul QTR buttstock on my other AR-15s and their quick adjustment system. The Zulu is a tool adjustment model, and I thought I might not like that. What I discovered was once I have the optic mounted for the activity, like the Pulsar Trail XQ50 Thermal for night hunting, I don't need to adjust the buttstock again. A more forward position works well. When I mounted the Sightmark Pinnacle 3-18×44 FFP scope for daytime hunting, a more rearward adjustment is perfect for the extended eye relief of this optic.
A huge thanks to expert gunsmith Dallas Henry of Praetorian Inc for his OCD gunsmithing skills to help me assemble this magnificent beast affectionately known as the "Sandman."
Final Thoughts
I can honestly say the performance of the rifle has exceeded my expectations.
More importantly, (I discovered) the people and companies I got to know personally along the way made the journey worth the work and time to write this article. So yes, the journey ended up being the prize at the end of the day. I've made new friends, learned more about the great people in this business, and, in a small way, spread the inspirational stories about these great entrepreneurial companies.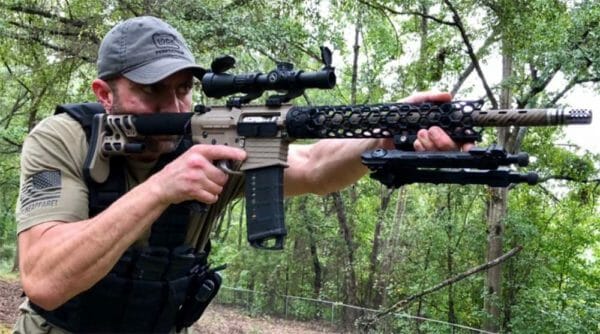 Sandman Specs and Performance
Beauty is only skin deep, but the proof is in the pudding.
Sandman has performed flawlessly for me on five different night hog hunts and bagging a white-tail deer this past November. In fact, I've hauled in about 625 pounds of hog and 175 pounds of deer with only seven 6.5 Grendel rounds. That's five animals weighing about 800 pounds and seven shots of 6.5 Grendel ammunition. Not bad. About 115 pounds per shot.
I like those spec numbers.
In terms of MOA performance… what I do know is the groupings are extremely tight on the range, and even tighter on the animals. I'll get out to the range soon and get some MOA measurements for you, but be assured, this beauty-and-beast performs.
The Sandman rifle weighs in at a little over five pounds (without optic and ammunition) and with the 6.5 Grendel round is lethal on freezer meat animals well beyond the 5.56/.223 caliber ammunition. On a side-note, I'm looking forward to testing out the newly released Kaiser Ultra-lightweight AR Pistols on the feral swine.
Good News!
If you would like to duplicate my build, feel free to contact all of these manufacturers or their retailers to purchase the parts.
If building isn't your thing… rumor has it Kaiser US will be producing a limited Sandman edition model very similar to my build. (Sorry, the FDE BSF Barrel isn't available, but the grey barrel looks awesome with this rifle!)
You can also contact Dallas Henry at Praetorian, Inc and I'm sure he'd be happy to put one together for you!
If you decide to build one of your own, be sure to tell Aaron, Mike, Dallas "the OCD" gunsmith, Jason at Iron City, the good folks at Odin, Unique ARs, SLR, and, of course, Accu-Tac; Bill sent you.
Sandman Parts:
BSF 16" 6.5 Grendel Fluted Option Barrel
Kaiser FDE X-7 AR-15 Receiver Set
Unique Ars Ultra-Light Hex 12" handguard with optional picatinny rails
SLR Titanium Muzzle Device
Magpul MOE + Pistol Grip
Geisselle Extended Charging Handle
Larue MBT-2S 2 Stage Trigger
Pulsar Trail XQ50 Thermal Rifle Scope
Sightmark Pinnacle FFP 3-18×44 Rifle Scope
---
About Bill Mooney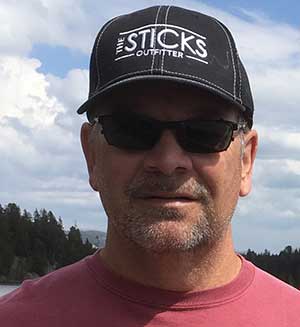 Bill Mooney is an outdoor and shooting industry sales and marketing expert, an outdoor writer, and hunting enthusiast. His experience in sport optics and firearms manufacturing world provides a fresh approach to his inspired writing, information, and instruction.
"I want my writing to inspire consumers to break out of their comfort zone, think differently about buying products, and improve their outdoor and shooting experiences. I also write to encourage outdoor industry businesses to focus on the consumer usability of their existing and new products!" ~ Bill Mooney