Tom reviews the Buck 300 Glacier Folding Knife in his weekly knife gear review.
USA – -(Ammoland.com)- Now and then I wake up planning on just a banging out one task a day. I may be writing all day; I may be working on my truck or going up to the mountains to help a buddy build a cabin. But whatever the deal, on those days I just want to throw a low-priced knife in my pocket in case I need to cut some string or cardboard.
We all need this type of knife now and then don't we?
For the above type of knife tasks, I don't want to carry one of my $475 knives and ding it up. I want a stout, reliable but economical work knife. But, I don't want a cheapo $4.99 Chinese throwaway knife. I still want something reliable that won't fall apart right out of the box, but if I happen to use it to pry open my truck door when it's froze shut or cut hay strings, I don't want to grit my teeth and hope I don't hurt my knife or my hands. I just want to do my job and move on.
I found a good knife for those type of task the other day. It's the Buck 300 Glacier Folding Knife. It has a 3 ¼-inch blade which is large enough for my doodling tasks. I prefer a clip point, and this one comes with a drop point, but the spine tapers down enough, so it does have a decent point for stabbing through leather, etc.
The handle is Black G10, and at first glance, it looks smooth, but upon closer inspection, it is slightly roughed up which should aid in preventing slippage. The lines in it are not as deep as on my Buck 110 Auto Elite knife, but I think they should suffice.
Under the "Features," it says that it is a simple one-handed opening knife. Maybe I'm not coordinated, but after multiple attempts, I resigned to classifying it as a two-handed opening knife. It has a thumb pin but either it is too far down the blade or just too tight but I it is a little rough to open with one hand.
On my bang around knife that's not a deal breaker, but I just wanted to make you aware of that. (Ok, after a little practice I mastered it and can open it with one hand but not too fast).
It uses a liner locking mechanism which is where a piece of metal springs over and locks it in place on the belly side of the knife. And for you guys & gals that like a clip on your folder, this knife comes with one.
A couple of side notes. I like that there are grooves on the back of the spine so that I can choke down on the blade for finer work. It also has a finger groove on the bottom of the handle to ensure that you can maintain a firm grip. These are both nice features.
So my summary is, if you're looking for an everyday carry, work knife, I think the Buck 300 Glacier Folding blade should keep you happy.
Buck 300 Glacier Folding Knife Specifications:
Product Level: Select
Blade Length: 3.25″ (7.8 cm)
Closed Length: 4.0″ (10.2 cm)
Blade Material: 420HC Stainless Steel
Blade Thickness: 0.10″
Blade Hardness: 58-60HRC
Blade Style: Drop Point
Blade Finish: Satin
Handle Material: Black G10
Locking Mechanism: Liner
Pocket Clip: Stainless Steel
Weight: 2.3 oz. (65.2 g)
Import
Features:
420HC Drop Point Blade
Simple One-Hand Opening
Lightweight and Extremely Durable
Pocket Clip for Easy Carry
Forever Warranty
I forgot to mention the best part! I found the Buck 300 Glacier Folding Knife at less than $30.00 online, what bargain.
---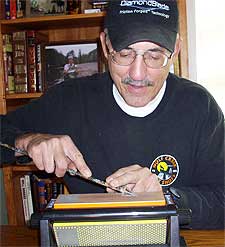 About Tom Claycomb
Tom Claycomb has been an avid hunter/fisherman throughout his life as well as an outdoors writer with outdoor columns in the magazine Hunt Alaska, Bass Pro Shops, Bowhunter.net and freelances for numerous magazines and newspapers. "To properly skin your animal you will need a sharp knife. I have an e-article on Amazon Kindle titled Knife Sharpening for $.99 if you're having trouble."