Tom reviews the Buck 0073SSSVP-B Kinetic Series Throwing Knives.
USA – -(Ammoland.com)- I have never messed around much with throwing knives, other than as a kid playing stretch in Boy Scouts at camp. My only two real experiences were at the Media Day at the Range at the SHOT Show. The last being just a few weeks ago with CJ Buck at the 2018 SHOT.
So, it is fresh on my mind. I thought it'd be a fun activity around camp when things get boring. Whether it's at a family camp this summer or elk camp in the middle of the day. Sometime during the week you get bored and need something to do besides sliding down a steep embankment or falling in the river, don't you?
I'm sure there are knife throwing targets out there but I'm thinking about using something more rustic. Like taking my chainsaw and cutting a slab out of an old log and using that to throw at. I may even get a can of red spray paint and paint circles on it like a target.
I'm not a knife throwing expert but here's what I've learned so far to help you get jump started. Warning: First off, practice a little before you set an apple on top of your mother-in-law's head for your beginning practice session.
As far as I know, there are four things you can do to get consistent at being able to stick your knife:
First, you have to throw it the same way every time. Don't release the knife when your arm is only ¾'s way extended one time and fully extended the next. You have to release at the exact same point every time if you want to achieve any degree of consistency.
The next and equally important tip is that you have to be at the perfect distance from your target. If it hits on the hilt then you can either step forward or backwards the appropriate distance. For ex. Let's say your knife is 12-inches long and it hits on the hilt. Move either forward or backwards 12-inches and it should stick.
Another way to adjust the rotations is to choke down on the knife a little more to change the amount of times it rotates in flight.
Then lastly you can change the rotation speed by throwing the knife harder or softer.
I don't know about you but it only seems natural to me to hold the knife by the blade to throw it but a lot of the throwing knife blades are double edged so it's only a matter of time before you slip and get cut so it's probably best to get used to throwing by the handle. But, if you're throwing a single edged knife you can hold it by the spine and keep your fingers away from the edge.
The Buck throwing knives comes as a set of three knives in a sturdy leather sheath. Inside the sheath is an inner plastic sheath to individually hold the three knives.
Buck 0073Sssvp-B Kinetic Series Throwing Knives Description :
"Originally requested by Chuck Buck for an outside picnic game at his church, these knives were first created in 2005 but never introduced to the public. This year, after extreme testing and a couple of refinements, Buck Knives is excited to introduce this three-piece throwing knife set. Specifically designed for efficient throwing, these knives feature durable 420HC steel with corrosion resistance. With an overall length of 9 7/8″ and weighing 6.6 ounces, these knives are well balanced for accuracy and efficiency."

"The knives fit perfectly in a heavy-duty leather sheath for easy transport and storage."
SPECS:
BLADE THICKNESS:0.178″
BLADE LENGTH :5″ (12.7 cm)
WEIGHT:6.6 oz. ( 187.1 g)
HANDLE:420 HC steel
CARRY SYSTEM:Sheath
ORIGIN:Made in  the USA
---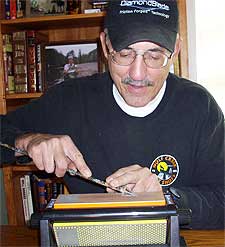 About Tom Claycomb
Tom Claycomb has been an avid hunter/fisherman throughout his life as well as an outdoors writer with outdoor columns in the magazine Hunt Alaska, Bass Pro Shops, Bowhunter.net and freelances for numerous magazines and newspapers. "To properly skin your animal you will need a sharp knife. I have an e-article on Amazon Kindle titled Knife Sharpening for $.99 if you're having trouble"