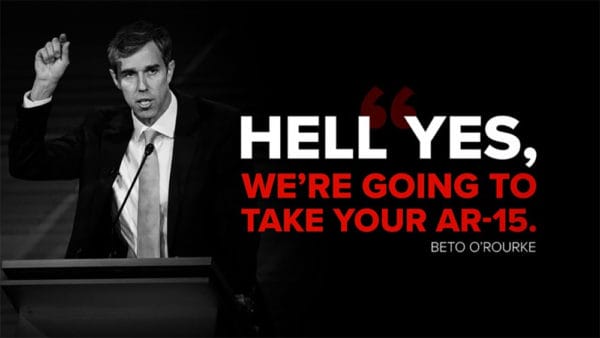 U.S.A. –-(Ammoland.com)- Days after Democrat Robert Francis "Beto" O'Rourke blurted his very open threat to take firearms from American citizens during the presidential debate, his bluster could become center stage conversation fodder at this weekend's 34th annual Gun Rights Policy Conference (GRPC) in Phoenix.
Co-sponsored by the Second Amendment Foundation and Citizens Committee for the Right to Keep and Bear Arms, this year's event has already set a new record for pre-registration, surpassing 1,100, according to SAF founder and Executive Vice President Alan Gottlieb. GRPC was his brainchild more than three decades ago, and it has become an annual "must" gathering for Second Amendment activists from across the country, and a veritable "Who's Who" of gun rights advocates.
This weekend's event features some 90 speakers, more than two dozen panel discussions, Friday and Saturday evening receptions and the annual awards luncheon on Saturday. Pre-registration for the event has closed, according to the SAF website.
This weekend's conference is being held at the Sheraton Crescent hotel, and those planning to attend are waiting for word from the White House about possible proposals to address mass shootings and gun-related violent crime. According to Fox News, White House Deputy Press Secretary Hogan Gidley says President Donald Trump is taking his time with this issue to avoid passage of "feel-good legislation" instead of measures that actually address the problem.
The president tweeted Wednesday that O'Rourke's declaration of "Hell yes, we're going to take your AR-15, your AK-47" has hurt more than helped the process. Trump labeled the former congressman-turned-perennial candidate as "Dummy Beto" and asserted that he "made it much harder to make a deal."
Dummy Beto made it much harder to make a deal. Convinced many that Dems just want to take your guns away. Will continue forward! https://t.co/87jvaYUkyn

— Donald J. Trump (@realDonaldTrump) September 18, 2019
Right now, according to the Associated Press, Senate Majority Leader Mitch McConnell is saying Congress is in a "holding pattern" on guns.
O'Rourke isn't likely to crash the Phoenix conference, but his comment will definitely have a presence. The GRPC is being live-streamed on the SAF Facebook page starting Saturday morning. A link will pop up at the top of the page when the conference goes live.
Democrats are impatient about pushing their gun control agenda, but Gidley told Fox News' "America's Newsroom" that this process "isn't about feel-good legislation, this is about getting something that accomplishes safety and security for the American people and we hope to see that soon."
He told the news network that negotiations are in progress.
By no small coincidence, the conference will open Saturday morning with a briefing on federal affairs, so if the White House does announce a new strategy, it will likely be discussed in Phoenix.
This weekend's conference agenda includes two state legislative affairs briefings, a discussion from the industry's perspective, current and potential future litigation and a report on gun control in the EU.
Of particular interest will be a Saturday afternoon report from author/researcher John Lott about the dangers of universal background checks, "red flag" laws, and gun-free zones.
Sunday's program runs a half-day, with panels discussing everything from the growing interest in gun rights within the LGBTQ and minority communities to using new media to advance gun rights. There will also be reports from several Second Amendment organizations.
And lurking in the shadows will be O'Rourke's debate comment and the fact that none of his fellow presidential candidates raised an eyebrow or lifted a finger to refute what he said.
If O'Rourke's remark actually did seriously damage the Democrats' anti-gun agenda—as many suggest it did—his political career may be finished. What he said will not make him popular in Texas, and other Democrats are reportedly now fearful that his comment will smear them all with the same broad brush that gun owners have experienced for decades, being penalized for crimes they didn't commit.
It is no small irony that O'Rourke has done Trump what may have been a huge favor, and possibly at the expense of his Democrat rivals for the party's 2020 nomination. While it is clear O'Rourke will get nowhere near the nomination, his words will be hanging in the air over every debate, every primary election and the 2020 convention like a cloud.
His threat has energized gun owners, at least for the time being, and some of that energy is going to be felt this weekend in Phoenix.
RELATED:
Did 'Beto' O'Rourke 'Scramble' Dem's Message, or Clarify it?
O'Rourke's 'Hell, Yes' Candor Bares All Democrats' True Intent On Guns ~ VIDEO
---
About Dave Workman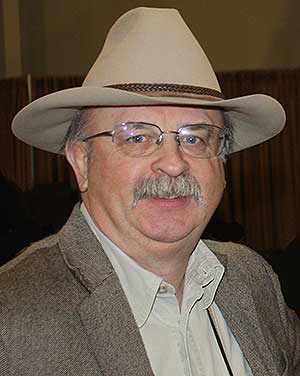 Dave Workman is a senior editor at TheGunMag.com and Liberty Park Press, author of multiple books on the Right to Keep & Bear Arms and formerly an NRA-certified firearms instructor.
The post 'Beto's' Bombast Boosts Urgency of Weekend Gun Rights Conference appeared first on AmmoLand.com.