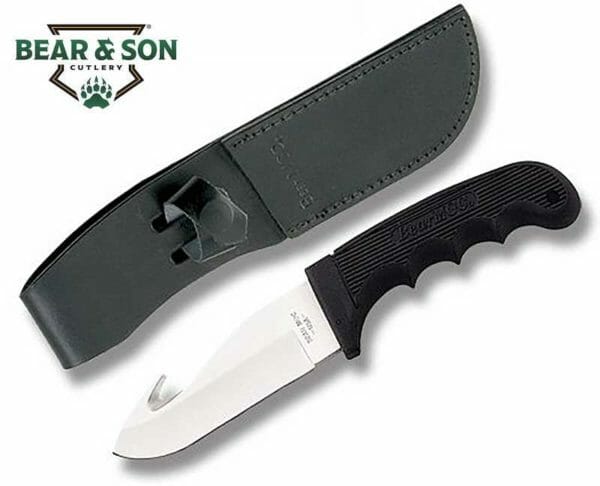 Idaho – -(AmmoLand.com)- Here is a review for those of you out there that like a knife with a gut hook. I recently received a Bear & Son Black Guthook Knife to review and thought a lot of you might find it interesting.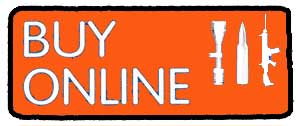 And since I recently met the dad and son of Bear & Son Cutlery at the SHOT show, I thought it'd be fun to run a review on a couple of their knives. It's always fun to meet the owners of knife companies and hear their stories of how they got started. A lot of them have unique stories.
For instance, sometime in the future, I'm going to do an article on the history of Spyderco. They unbeknownst to me started out making ceramic knife sharpeners. I do a lot with Spyderco and thought they had only recently added a knife sharpening line and was surprised when talking to their head marketing girl Joyce to find out that is how they got on the map.
Anyway, back to the Bear & Son Black Guthook knife. I've always been a big proponent of using a straight knife to skin your animals, but the truth be known, if you only skin a deer every 2-3 years then a gut hook can be the ticket. Most people only use a gut hook to rip up the belly to keep from popping a gut and making a mess, but they're also right to cut the whole pattern. The pattern is the "H" mark that you make when you're about to skin your trophy with the cut up the belly line and then out to each hoof. Make an incision in the belly line with a clip point knife and then complete the rip from the A-hole to the brisket with the gut hook. Then using the gut hook make a cut out to each hoof. I think most people only use a gut hook for ripping up the midline.
The Bear & Son Black Guthook Knife also has a good drop point design so after the pattern is cut you can use it to skin your trophy. A drop point designed knife allows you to skin your animal faster without the fear of cutting through the hide as quickly as you would with a clip point designed knife. Not a big deal if you're not saving the hide, but if you are, then you might want to use a drop point knife.
The Bear & Son Black Guthook Knife comes with a black leather sheath. The knife sets somewhat firmly down in the sheath, but it also comes with a button strap that holds it securely in place so that there is no way that it can fall out unless the snap is popped.
This is refreshing since so many knives nowadays are not firmly held in place in their sheath. This is puzzling to me. Some of my knives cost up to $475.00, so it'd be a heartbreaker to lose one and yet some of my most expensive knives are not held securely in their sheaths.
I always point out the good and the bad in reviews.
Here are a few tweaks that need to be made.
1. The grind on the gut hook was rough. I was able to rectify this by using a Smith's diamond pen steel.
2. The edge on the hilt of the knife, the metal was burned, and the edge was a little rough, but I was able to rectify this with my Smith's Consumer Products fine diamond stone. It removed most of the burnt metal, so it wasn't overheated very deep, and I obtained a razor edge in minutes.
3. I'd like to see some thumb grooves on the back 1-inch of the spine for stability while holding the knife. But truth be known, due to the thick handle I feel like that I have a firm grip on the knife when choking down on it to the skin. So this may just be a personal quirk.
The MSRP is $47.99 (less $$ online) which makes it an economical knife for skinning your big game. And as usual, we will close with the specs.
Bear & Son Kraton Guthook Knife with Leather Sheath Product Description:
8-3/8 in. Black Guthook
Blade Material: 440 Stainless Steel
Handle Material: Black Kraton
Overall Length: 8-3/4″
Blade Length: 4″
Weight: 4.4 oz.
Extras: Hollow Ground Blade
Includes: Leather Sheath
---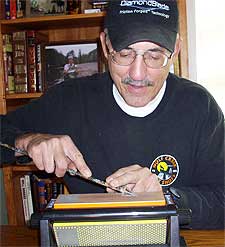 About Tom Claycomb
Tom Claycomb has been an avid hunter/fisherman throughout his life as well as an outdoors writer with outdoor columns in the magazine Hunt Alaska, Bass Pro Shops, Bowhunter.net and freelances for numerous magazines and newspapers. "To properly skin your animal you will need a sharp knife. I have an e-article on Amazon Kindle titled Knife Sharpening for $.99 if you're having trouble."