'Affordable' and 'precision rifle' are two terms rarely found together, which is why the Bear Creek Arsenal BC-10 Side-Charger is so interesting. It has been common wisdom for years that in order to get long-range performance, a shooter has to shell out a hefty sum of dough, but the engineers at Bear Creek Arsenal are attempting to buck that trend. Their Side-Charger series of AR-10s seeks to bring long-range accuracy to the masses at a price point that won't make blue-collar gun lovers balk.
That said, Bear Creek isn't a big name on the PRS scene, so can this relative newcomer hold its own? Let's take a closer look at the Bear Creek Arsenal BC-10 Side-Charger and find out.
Bear Creek BC-10 Arsenal Side-Charger
Live Inventory Price Checker
The Bear Creek Arsenal BC-10 Side-Charger is a direct-impingement semi-automatic rifle based on and compatible with the AR-10. It's currently available in several calibers, including 308 and 6.5 Creedmoor. For the review, I chose to review an upper since I've got a bunch of AR-10 lowers that have been sitting around since the Obama administration.
The first thing you'll notice about the Side-Charger is its heft; the 22-inch heavy-profile barrel pushes the upper's overall weight to an incredible eight pounds! The next most obvious difference between the BC-10 and your standard AR-10, is the presence of a side-mounted charging handle. This might seem minor, but when shooting from the prone position with a PRS, having to use the rear-mounted standard AR charging handle totally disrupts your shooting position and can make reloads awkward at best.
Since the BC-10 can be mounted on a AR-10 lower receiver, it should come as no surprise that it can use SR-25-pattern magazines like those from Magpul and Lancer. In testing the gun showed no preference for either, loading totally find the entire time. The use of an AR-10 lower also means shooters are free to run whatever AR-compatible stock and pistol grip they want, allowing shooters to build their perfect budget semi-auto PRS rifle.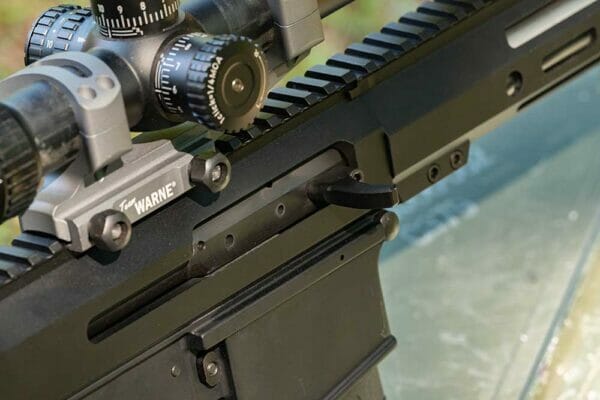 The bolt carrier group and even the receiver are substantially modified from the original AR-10 to accommodate the new charging handle, but functionally, the BC-10 is still an AR-10. So how does it perform?
BC-10 Performance
I fired 300 rounds of various 6.5 Creedmoor rounds through the BC-10, and in all this testing, I never encountered a single mechanical malfunction. The only issue some of my test shooters encountered was a failure to chamber a fresh round on a new magazine if they didn't let the carrier slam home. Speaking of which, if you've ever run an AR-10 hard before, you no doubt know exactly how difficult it can be to charge the action. The side charging handle on the BC-10 totally alleviates this. Yes, the recoil spring is still stiff and heavy, but instead of a tiny charging handle at the rear, shooters now have a larger side-mounted one giving them better purchase and leverage on it.
Back to the operation of the gun for a moment, the recoil impulse on the BC-10 is stout. I've shot plenty of AR-10s in both .308 and 6.5 Creedmoor, and the Bear Creek Arsenal BC-10 has noticeably more recoil than any I've ever shot before. Not so much that it's unmanageable, but enough that I would recommend installing a brake on the gun's 5/8×24 threaded muzzle over the included A2-style flash hider.
In terms of accuracy, the BC-10 was easily capable of making hits out to 750 yards using quality ammunition like Hornady's 140gr ELD Match rounds. When I shot for groups at 100 yards, the gun hovered around 1.1 MOA with a few groups sub MOA and one group measuring 1.3 MOA. Given, the latter was done with Aguila FMJ ammo, which isn't known for being match-grade.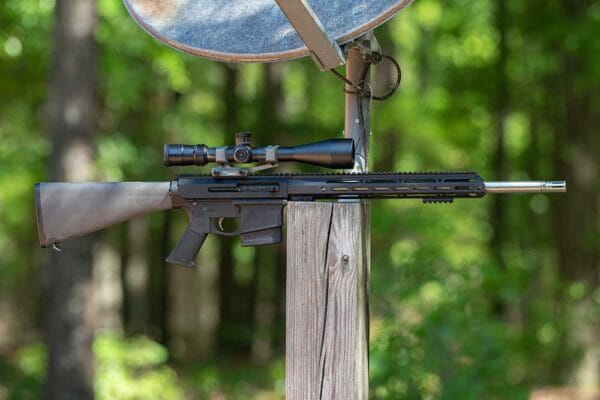 Either way, the gun was dangerously precise at all distances tested.
Bear Creek Arsenal BC-10 Verdict
The BC-10 upper receiver has an MSRP of  $479.99, but Bear Creek Arsenal regularly runs sales on their guns and components, so it's possible to find this upper for just under $300. At that price point, the Bear Creek Arsenal BC-10 Side-Charging AR-10 Upper's reliability and accuracy make it a no-brainer for shooters in search of an inexpensive long-range lead-slinger. It might weigh as much as a bazooka and kick as hard as one, but the BC-10 is die-hard reliable, and more accurate than most shooters are realistically capable of.
Bear Creek Arsenal BC-10 Side-Charging AR-10 Upper Specifications:
Brand: Bear Creek Arsenal BC-10
SKU: 9811N-UASCH65CRHB2218M-15MSR
Weight (lbs): 8.600000
Magazine Capacity: N/A
Length: 22
Profile: Heavy Barrel
Twist: 1:8
Finish Black Nitride
Material: 4150 Chrome Moly Vanadium
Thread Pitch: 5/8 x 24
Caliber: 6.5 Creedmoor
Feed Ramp: AR-10 Feedramp
Flutes: None
Gas System: Rifle Length
Gas Block: System 0.936
Charging Style: Right Side Charging
Classification: Complete Upper Assembly
Platform: AR-10
Bolt Material: E9310
Receiver Material: Billet
Fast Links to all the Sweet Gear Seen in this Review
---
About Jim Grant
Jim is one of the elite editors for AmmoLand.com, who in addition to his mastery of prose, can wield a camera with expert finesse. He loves anything and everything guns but holds firearms from the Cold War in a special place in his heart.
When he's not reviewing guns or shooting for fun and competition, Jim can be found hiking and hunting with his wife Kimberly, their son, and their dog Peanut in the South Carolina low country.