North Ferrisburgh, VT –-(Ammoland.com)- Atlas Gunworks has released the Titan Operator 9mm pistol for duty and self-defense. It's based on the popular Titan competition pistol and is the newest pistol in Atlas' growing lineup.
Atlas understands that competition guns aren't the best choice for military, law enforcement or self-defense. So, when the tactical team at a west coast sheriff's department requested 9mm Titans for duty, the Titan Operator was born. Atlas starts with a full-custom 2011 Titan in fit and finish and adds features for the tactical user. Features include a DLC coated, tri-topped and lightened slide, 5" KKM bull barrel, PT aluminum grip, 19 + 1 capacity, tactical rear sight and a railed frame.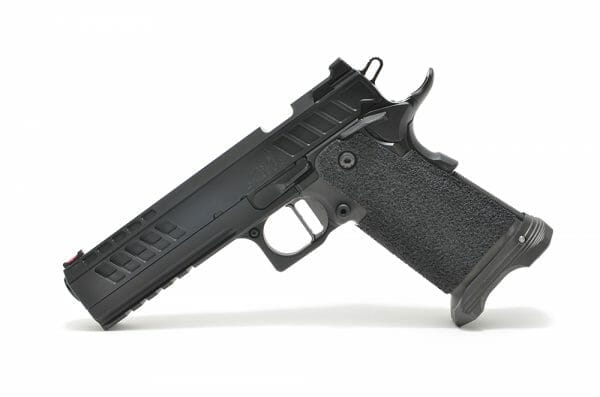 Pistols for duty and self-defense require an extra measure of reliability. It must run in extreme conditions with many different types of ammunition. To achieve this, Atlas installs heavy duty springs to ensure reliable cycling and primer ignition. The trigger pull is also set to be slightly heavier than their competition guns, coming in at 3.0 to 3.5 pounds.
Staying true to their commitment to short wait times, the Atlas Gunworks Titan Operator ships in less than 3 months. For more information visit our website or call 855-940-1911.
---
About Atlas Gunworks
Atlas Gunworks is the country's fastest growing custom gun builder. Located in North Ferrisburgh, Vermont, they specialize in ultra-premium 2011 and 1911 style pistols. Atlas builds guns for shooters serious about winning, whether it's winning a USPSA, IDPA, or 3-Gun competition or winning an encounter in a dark alley. Unheard of in the custom gun market, they are committed to shipping most models in less than three months.