Armed American Radio Adds New Station and the NRA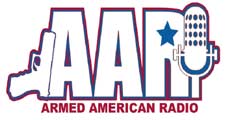 Atlanta GA –-(Ammoland.com)- ARMED AMERICAN RADIO continues its unprecedented growth adding Sedalia Missouri to the list of cities "filling their prescription for freedom".
AAR also welcomes the National Rifle Association, as it's newest national sponsor debuting this weekend.
The Armed American Radio Network hosted by Concealed Carry Magazine writer and co-author of the highly acclaimed book, Lessons from Armed America, Mark Walters is proud to announce the addition of KSIS-AM 1050 in Sedalia, Mo. to the fastest growing, nationally syndicated, pro-self defense radio broadcast in America.
In addition to the newest affiliate, AAR is proud to welcome the National Rifle Association to the list of national sponsors of the program.
Said Mark, "Beginning this Sunday from 8-11pm CT, listeners in the Sedalia, Missouri area will be able to fill their prescription for freedom on the Armed American Radio Network and join other listeners in 26 states tuning in to the fastest growing nationally syndicated radio broadcast dedicated to preserving their right to carry a firearm for personal defense. Armed American Radio is also proud to announce that listeners will now be hearing ad spots from the NRA as our newest national sponsor. All gun owners need to be involved and help us protect our freedoms and no one else does it better than the NRA "
With close to 90 affiliates in 16 months of syndication, Armed American Radio is one of the fastest growing talk radio shows in America, certainly the fastest growing pro-gun show in the nation.
With its hard hitting talk about the right to carry a concealed handgun, Armed American Radio discusses the current political climate as it relates to gun rights, responsible training and gun ownership, how to effectively carry and conceal your firearms, national and local gun legislation and real life and death situations involving the use of a lawfully carried gun for self-defense.
AAR airs nationwide every Sunday from 8-11pm ET, 5-8pm PT and can be heard delayed one hour in the Sedalia area from 8-11pm CT beginning Sunday 4-3-2011.
For more information and to schedule interviews with host Mark Walters,
Please contact:
Mark Walters
Host
Armed American Radio Network www.armedamericanradio.com mark@armedamericanradio.org 386-AAR-Mark (386)-227-6275
Armed American Radio is syndicated on the Salem Radio Network. For media kit information, please visit www.srnonline.com/talk/talk-walters.shtml
About:
Armed American Radio is the most free-thinking, politically incorrect radio station in the U.S.A. We discuss liberty, self-defense, weapons, family, friends, and life. Visit: www.Armedamericanradio.org
The post Armed American Radio Adds New Station and the NRA appeared first on AmmoLand.com.