MetroNews, Charleston, W.V. 04/19/2016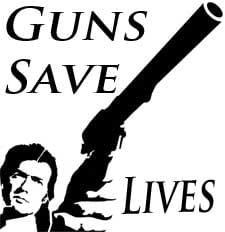 USA –  -(Ammoland.com)- Somewhere, everyday in the USA, 2100+ people use a gun for self defense, to stop a crime or save the lives of themselves or their family.
"We believe that the American public deserve to understand that on the average, guns save 2,191 lives and are used to thwart crimes every day," says Alan Gottlieb of the Second Amendment Foundation
Most times you won't see these tales on the news as it does not fit the main stream media's story line of "Guns and Gun Owners are Bad".
This is just one of those stories;
An 80-year-old man was at home in Fairmont, W.V. when he heard a knock at the door. Suspicious, the elderly man retrieved a handgun before going to the door. The knock came from a woman who asked the resident if she could use the phone, claiming there was an emergency. When the elderly man let her in, two men in their twenties, at least one of whom was armed with what looked like a gun, followed.

Once inside, the intruders threatened the elderly man. The armed resident responded by drawing a handgun and firing at the robbers, striking two. When police arrived then found one of the home invaders fatally wounded in the street.

It was later determined that the intruders had threatened the elderly man with an air pistol. (MetroNews, Charleston, W.V. 04/19/16)
About the Guns Save Lives Series:
Every few days AmmoLand Shooting Sports News will be featuring a new report of stories involving self defense with a hand gun. Be sure and share, like and Tweet these posts and help spread the truth that "Guns Save Lives". See more at www.AmmoLand.com ( http://tiny.cc/s6ef2w )
The post Armed 80-Year-Old Man Fights Off Three Home Invaders appeared first on AmmoLand.com.