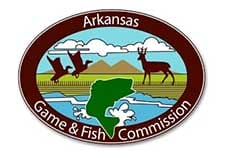 Arkansas -(Ammoland.com)- The University of Arkansas Division of Agriculture Cooperative Extension Service is holding two free workshops on feral hog control.
The two workshops will be held Aug. 27 in Hope and Sept. 19 in Colt. The Hope workshop will begin at 6 p.m. at the Southwest Research and Extension Center. The Colt workshop will be held at the Pine Tree Research Station beginning at 9 a.m.
The workshops are funded in part by the Arkansas Forestry Association and the U.S. Department of Agriculture Natural Resources Conservation Service in cooperation with the University of Arkansas and the Arkansas Forest Resources Center.
Feral hogs are prevalent in many portions of the southeastern United States and Arkansas. Feral hogs are domesticated swine released accidentally or purposefully for sport hunting. After a generation or two, progeny of a domesticated hog appear untamed, with thickened fur and tusks. Sows produce litters, with an average of six piglets, starting at the age of six months and have few predators after reaching maturity.
Their feeding and wallowing behaviors create a number of problems, including agriculture crop loss, pasture damage, wildlife habitat loss, water pollution, and disease transmission to livestock and in rare cases, people. Non-native feral hogs compete directly with native wildlife species for limited food supplies, disturb habitat, and consume small mammals and reptiles, the young of larger mammals such as fawns, and eggs and young of ground-nesting birds such as quail and wild turkey.
Although small numbers of feral hogs have lived in Arkansas for generations, the feral hog population in the state has increased and expanded dramatically in recent years. Many believe this expansion into previously uninhabited areas is from hog releases by sport hunters. The National Feral Swine Mapping System is updated monthly using data collected from state wildlife agencies and USDA APHIS Wildlife Services. These maps illustrate the dramatic expansion of feral hogs throughout North America.
Controlling the prolific feral hog has proven difficult. Feral hogs are very adaptive and learn to avoid hunters and traps. Hogs are very mobile, and will range for miles in search of food or mates. Most feral hogs are nocturnal, and therefore unseen. Signs of feral hogs are rooting, tracks, wallows, nests or beds, tree and post rubs.
The post Arkansas Feral Hog Control Workshops set for Hope and Colt appeared first on AmmoLand.com.