---
Quick anwsers to the best AR 15 Stock pick:
Magpul MOE SL-K AR15/M16
J&E Machine Gen III SOPMOD
Phase 5 Weapons CMSA Carbine Mini
Mission First Tactical Battlelink Extreme Duty Minimalist
---
Why put an AR 15 stock on a pistol with a brace? With the passing of the pistol brace ban, many shooters want to convert their large-format pistols to SBRs. The fastest way to do so – with a tax stamp – is to replace your current brace with one of these top AR 15 stocks.
What Makes a Good AR 15 Stock for an SBR?
The answer is more complex than it sounds. While a solid A2 fixed stock is a great option for tall shooters on full-sized rifles, it completely defeats most of the benefits of a compact SBR. This is why I recommend a solid stock from a reputable company that is compact and adjustable. Wanting a compact stock is pretty obvious, as it helps keep the entire firearm as small and handy as possible, but why adjustable?
Because while having an ultra-short stock is great for keeping the gun handy, it can certainly have negative effects on the ergonomics and handling of the gun for taller shooters. Hell, I'm only 5'9″, and I don't like my M4 stock completely collapsed – I can only imagine how awkward it must feel to someone who stands over six feet tall. So with those parameters in place, let's get into the top five AR 15 stocks to convert your braced pistol into an SBR.
Magpul MOE SL-K AR/M16 Carbine Stock

What do you get when you cross the slim-line Magpul 'SL' series of AR 15 stocks and reduce their overall length by half an inch? A crazy compact PDW-style stock that works great with an SBR. In fact, the MOE SL-K series of stocks is so compact that when in the fully-collapsed position changes the length of pull to a mere 10.3in! This makes the Magpul MOE SL-K stock among the shortest options available without utilizing a custom buffer or receiver extension for your AR 15 stock.
But the MOE SL-K stock is more than just compact; it is also full of desirable features like a thin rubberized buttpad to both reduce felt recoil and keep the stock in place on the shooter's shoulder. Additionally, the MOE SL-K features a 1.25in sling loop at the rear with the ability to accept a QD sling mount, and an oversized adjustment lever that makes deploying the stock to any length effortless. Lastly, the Magpul MOE SL-K retails for around $45, making it an affordable option for all shooters.
J&E Machine Gen III SOPMOD Gun Stock
Of all the options on this list, the J&E Machine Gen III SOPMOD Stock is arguably the most comfortable. With generous comb space on both sides of the JE Machine SOPMOD stock, the mid-sized adjustable AR 15 stock is a great option for left and right-handed shooters alike. The rear of the stock features a thick rubberized recoil pad that serves double duty as a weapon retention aid.
Other great features include two standard 1.25in sling loops and an integral QD sling attachment point. Also, the stock features a slightly oversized adjustment lever that makes selecting the correct length in a hurry very easy and simple. Also, the side rests are water-tight compartments for storing spare batteries in a convenient, safe location. Best of all, the JE Machine costs a fraction of what similar stocks do with an MSRP of around $49.
Phase 5 Weapons CMSA Carbine Mini AR Stock
Do you want your AR 15 stock to be as durable and rock-solid as the receiver itself? Great news, the engineers at Phase 5 Weapon Systems have the perfect option for you: the CMSA Carbine Mini Stock. Built from 7075T1 aluminum, the CMSA AR 15 Stock is built like a brick outhouse and looks fantastic. The only real downside to the stock is that it both requires a proprietary receiver extension and it's not adjustable at all. But if your two biggest concerns for your SBR are compact size and durability, look no further.
Other noteworthy features include a skeletonized buttpad that allows for threading a sling through and a hexagon pattern at the rear to aid in weapon retention. The Phase 5 Weapon Systems CMSA Stock Kit retails for around $140, but street prices are often a little lower.
Mission First Tactical Battlelink Extreme Duty Minimalist Stock
When it comes to compact, durable AR 15 stocks ideal for SBRs, Mission First Tactical's BattleLink Extreme Duty Minimalist Stock is tough to beat. With its affordable price tag, excellent ergonomics, and a bevy of great features, it checks nearly every box a shooter could want.
Built from durable, lightweight polymer, the MFT Battlelink Extreme Duty stock fits on any standard mil-spec buffer tube and makes a great addition to an AR-15, whether it's an SBR or a full-sized rifle. Some noteworthy features include a QD sling mount at the rear, along with a pair of standard 1.25in sling loops allowing the stock to work with any and all slings on the market. The only real downside of the stock is that not all shooters will appreciate it's aesthetics. But as they say, beauty is in the eye of the beholder. The MFT BattleLink Extreme Duty Minimalist Stock retails for around $59.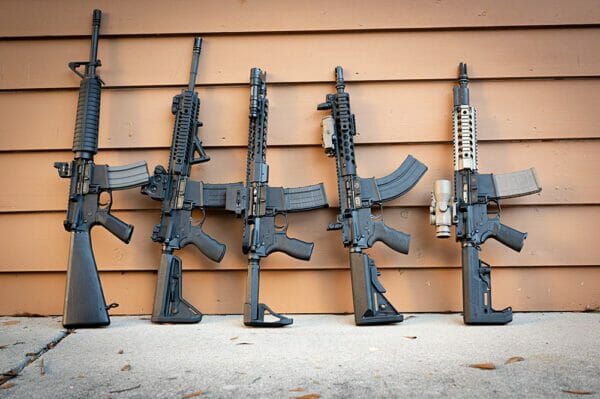 Non-NFA Options Other Than AR 15 Stocks
If a shooter doesn't want to go through the loopholes of registering their braced pistol as an SBR they can always have a gunsmith permanently install an extended muzzle device that brings the barrel length to over 16in. There is a myriad of muzzle devices and even pinned suppressors available, but that's a different article for a different time.
Ultimately, the fact that the Biden administration has turned millions of Americans unwittingly into felons is infuriating, to say the least. And while many will tell shooters to simply not comply (which is ultimately up to the individual, but I would advise against it for obvious reasons.), the reality for shooters like myself, whose ownership of these guns is very public knowledge, means that I have to either register them or find another way to comply.
---
About Jim Grant
Jim is one of the elite editors for AmmoLand.com, who in addition to his mastery of prose, can wield a camera with expert finesse. He loves anything and everything guns but holds firearms from the Cold War in a special place in his heart.
When he's not reviewing guns or shooting for fun and competition, Jim can be found hiking and hunting with his wife Kimberly, their son, and their dog Peanut in the South Carolina low country.