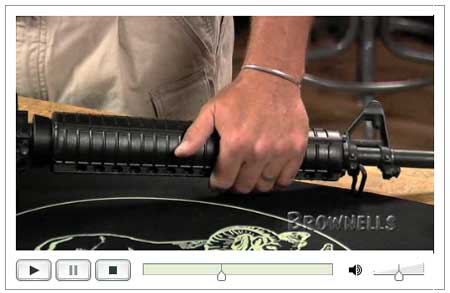 Des Moines, Iowa – -(Ammoland.com)- Responding to customer requests, Brownells, the industry leader in AR-15 parts and accessories, has just announced the release of a DVD version of their "How To Build An AR-15" instructional videos (#080-000-587– $29.95).
The DVD is designed for those who don't have access to the video series available on Brownells.com, or folks who want to see the videos in high resolution, or take a portable DVD player to the workbench or a friend's shop.
It provides the novice or expert with all the information they need to confidently order and build an AR-15 from scratch.
Divided into more than 50 chapters that let you watch just the part you need without excessive fast-forwarding or rewinding. Plus, you can pause the DVD while you perform each step. Introduction segments explain the differences in the many types and variations of AR models while specific, how-to segments show you the correct way to install all the various parts and pieces.
PDF instructions are included so you can load the disc into your computer's DVD drive and print out the illustrated instruction sheet, then head to the bench. Plus, there are checklists to help you make sure you've ordered every piece you will need. Whether you're building a complete gun, or just installing a new safety, flash hider or stock, this DVD contains valuable information to make the job easier.
Shot in Brownells in-house studio, the DVD moves quickly and doesn't have any of those annoying "ums" and "ahs". Straight forward and to the point, you get the "why" and the "how", without any extra chatter or commercials.
The DVD can be purchased for $29.95 from brownells.com.
About:
Brownells is the world's largest supplier of firearm parts, gunsmithing tools, equipment and accessories. Stocking more than 30,000 items, the company supplies gunsmiths, armorers and shooters worldwide. All of their products are backed by a 100% satisfaction, unconditional, lifetime guarantee. To place an order or for more information, call 800-741-0015 or visit brownells.com
The post AR-15 Assembly Videos Now Available on DVD appeared first on AmmoLand.com.