Ammo.com Supporting Those Who Defend Our Freedoms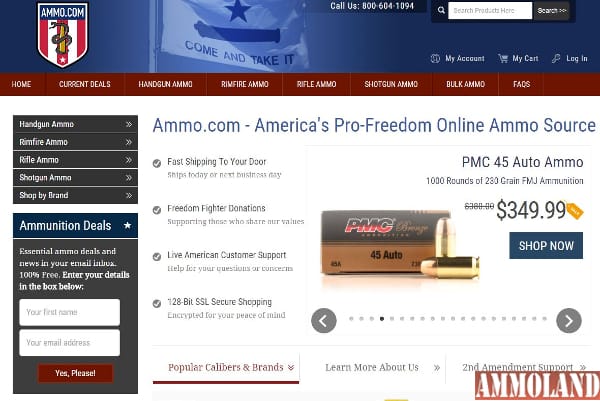 Atlanta, GA -(Ammoland.com)- As America's best source for buying ammo online, Ammo.com recently launched our redesigned site and – in addition to continuing to offer "unbelievably fast shipping & stellar customer service" – we're now proud to actively support those who protect our freedoms through our redesigned site.
Specifically, what this means is that at Ammo.com, we now donate a percentage of every purchase to the chosen pro-military or pro-2nd Amendment organization of each of our customers. This doesn't cost our customers a dime. Instead, we take 1% of each purchase and donate it to one particular pro-military or pro-2nd Amendment organization, based on each customer's choice after they've successfully placed their order. 1% isn't much percentage-wise but, much like the Ronald McDonald House Donation Boxes in each McDonald's which raised over $25 million last year, these donations quickly add up and can make a big difference over time.
Ammo.com makes this donation on every order we receive because we believe in supporting those who protect our freedoms, including the freedom to keep and bear arms. That's why our customers can currently choose between organizations such as Blue Star Families, Homes For Our Troops, National Rifle Association, Small Wars Journal, and Wounded Warriors Project to receive this automatic donation.
In conjunction with this commitment to helping support those who defend our freedoms, Ammo.com also strides to provide our customers with a really spectacular ammo-buying experience. We continue to stand behind our "unbelievably fast shipping" policy, whereby weekday orders placed before 3pm EST ship out the same day and orders placed after 3pm EST or on holidays & weekends ship out the next business day. In addition, as part of our site's redesign, we've aimed to make Ammo.com easier to navigate by including the ability to sort by 9 different options such as casing type and bullet weight on a per-caliber basis so that our customers can find exactly the rounds they're looking for.
Thanks to our redesigned site, Ammo.com has been able to expand our product line too. In fact, our new website now offers 25 different calibers of handgun ammo, 6 different calibers of rimfire ammo, 41 different calibers of rifle ammo, and 3 different calibers of shotgun ammo. And thanks to a revamped inventory system which seemlessly syncs up with our new website, customers to our site only see what we've got in-stock at the moment in our warehouse whenever they visit. Therefore, please visit Ammo.com today and consider making your next ammunition purchase at our site. Customers of ours get "unbelievably fast shipping & stellar customer service" – plus now all purchases at Ammo.com directly help support those who defend our freedoms!