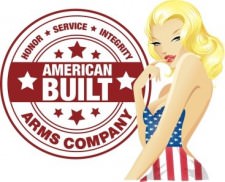 Glen Rock, Pa. (Ammoland.com) –American Built Arms Company (A*B Arms), a Veteran-owned, Type 07 FFL manufacturer of firearms and firearms parts and accessories, has created two ongoing programs to motivate and engage their Facebook fans at www.facebook.com/ABARMS.
Every Wednesday, A*B Arms offers a unique "Midweek Motivation!" post designed to inspire fans with positive and patriotic quotes from presidents, generals, philosophers and game-changers. The motivational quote accompanies an image of Unites States troops and other military themes engaged in the preservation of our freedoms.
Every other Friday, a Facebook Fan is randomly chosen from their Free "T" Friday promotion. Fans "like" the A*B Arms Facebook Page, share the "T" Friday photo and tag a friend in the comments section for a chance to win  the A*B Arms T-shirt featuring "Betty" on the back.
Visit and "like" A*B Arms on Facebook at www.facebook.com/ABARMS to participate in these and other future promotions.
For more information on American Built Arms Company, their products or programs for manufacturers, distributors and dealers visit, www.abarms.com. Follow A*B Arms on Facebook, Instagram and Pinterest.
About American Built Arms Company:
Headquartered in Glen Rock, Pennsylvania, in an area with a long tradition of manufacturing excellence and craftsmanship, American Built Arms Company (A*B Arms) was founded on the principles of Honor, Service and Integrity. A*B Arms is a Veteran-owned, Type 07 FFL, privately held manufacturing company providing the defense industry, security and law enforcement, sporting goods and firearms owners with  American-made, quality firearms products and accessories. www.abarms.com