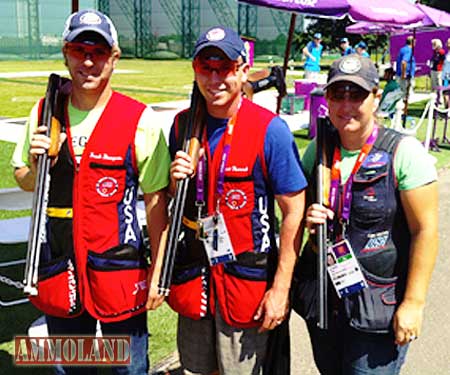 USA Shooting
COLORADO SPRINGS, Colo. –-(Ammoland.com)- America's top shotgun shooters are descending upon the Hill Country Shooting Sports Center outside Kerrville, Texas, for an autumn shotgun showdown that puts the 2012 Olympic Games in the distance and turns the focus to Rio 2016.
The Fall Selection match will be shot in two phases with the skeet and double trap disciplines set to march to the range first beginning Friday through Sunday, October 7. A large contingent of trap shooters are expected during the event's second week (Oct. 11-14). World Cup slots will be awarded from this match for the first two International Shooting Sports Federation (ISSF) World Cups of 2013.
Three Olympians including gold medalists Kim Rhode (El Monte, Calif.) and Vincent Hancock (USAMU/Eatonton, Ga.) along with skeet shooter Frank Thompson (Alliance, Neb.) will compete a little more than two months after taking part in the 2012 Olympic Games.
Rhode made Olympic history in London with a gold medal in Women's Skeet to become the first American competing in an individual sport to win five medals in five consecutive Olympic Games. She also became the first shooter to compete in all three disciplines of the shotgun sports after competing in trap as well in London to go along with her success in double trap and skeet.
Hancock got back on the gun sooner than Rhode as a participant in last month's World Cup Finals in Maribor, Slovenia, where he earned his fourth career silver medal in the event. At the 2012 Games, Hancock became the first athlete to win back-to-back skeet gold medals in Olympic history.
"I feel very confident coming into Fall Selection after the Olympics and World Cup Finals," Hancock said. "I'm looking forward to starting my journey to Rio 2016."
Olympic credentials mean little in this game however as a crop of shooters are primed to ascend the shooting ranks and establish their position as a new quad begins.
The depth in Women's Skeet might be as plentiful as it has been at any point in history within the United States with two recent examples demonstrating that. At the 2012 USA Shooting National Championships, Jaiden Grinnell (Port Angeles, Wash.) had a shoot for the ages to earn the 2012 National title by nine points. Grinnell posted a score of 269/275 overall and with a 245 in qualifying surpassed the two national records Rhode set in 2009. Rhode had a combined (qualifying + final) score of 267 and a qualifying score of 242.
At the recent World Cup Finals, junior shooter Brandy Drozd (Bryan, Texas) showcased a maturity beyond her years in earning a silver medal followed closely by National Team member Caitlin Connor (Winnfield, La.) in fourth.
"I had a great World Cup Final and I'm looking forward to competing against a talented bunch of ladies," said Connor. "The competitiveness and skill among all of us always makes for some great matches. I look forward to strapping that number on my back and getting after it."
Recent National Championship finalists also competing include Amber English (Colorado Springs, Colo.), Gayla Gregory (College Station, Texas) and Morgan Craft (Muncie Valley, Pa.). The Fall Selection Match will also mark the return to competitive shooting for Haley Dunn (Saint Jo, Texas). Dunn is a 10-time National Team member, 2005 World Champion and three-time National Champion who stepped away from competition to devote time to the Gold Medal Shooting Academy in which she serves as the Director of Operations and Master Instructor.
In Men's Skeet, Hancock, like Rhode, has clearly established himself as leader of the pack but there's no lack of marquee names trying to also earn their credence. Thompson demonstrated his abilities in London with an eighth-place finish while BJ Blanchard (Vidor, Texas) and Dustin Perry (Lovelady, Texas) were strong Olympic Trials contenders that will push for medal contention in Kerrville. Robert Johnson (Phoenix, Ariz.) and Jakob Keldsen (Walkerton, Ind.) were among the finalists at the USA Shooting National Championships and will be among those to watch as the week unfolds.
The absence of double trap's top marksmen in recent years including 2012 Olympians Josh Richmond (USAMU/Hillsgrove, Pa.) and Glenn Eller (USAMU/Katy, Texas) along with 2008 Olympian Jeff Holguin (USAMU/Yoma Linda, Calif.) opens up the door for the young guns to establish themselves. That process began back in July for Billy Crawford (Johnstown, Ohio) as he bested a Nationals field that included all three top-caliber shooters to win a national title. Competing against Crawford will be Private First Class Derek Haldeman (USAMU/Sunbury, Ohio) and junior shooter Ian Rupert (Muncy, Pa.), who finished fifth and sixth respectively this summer in Colorado Springs, Colo.
Shooters who have grown accustomed to the current shooting format for the Olympic-shooting sports will savor the Fall Selection Match which will be shot under the current 2008-12 ISSF rules as several changes will be in effect starting in 2013. For a look at the format changes likely to be adopted at the November ISSF meeting, click here.
USA Shooting will release the Men's and Women's Trap preview press release on Wednesday, October 10.
2012 USA Shooting Fall Selection Match SCHEDULE
Friday, October 5 M/W Skeet & Double Trap (100 skeet targets & 150 double trap targets)
Saturday, October 6 M/W Skeet & Double Trap Finals (100 skeet targets & 150 double trap targets + final)
Sunday, October 7 M/W Skeet (50 skeet targets + final)
Friday, October 12 M/W Trap (100 targets)
Saturday, October 13 M/W Trap (100 targets)
Sunday, October 14 M/W Trap (50 targets + final)
For complete results, go to www.usashooting.org or check-out Facebook or Twitter.
About USA Shooting:
USA Shooting, a 501c3 non-profit corporation, was chartered by the United States Olympic Committee as the National Governing Body for the sport of shooting in April 1995. USA Shooting's mission is to prepare American athletes to win Olympic medals, promote the shooting sports throughout the U.S. and govern the conduct of international shooting in the country. Check us out on the web at www.usashooting.org and on Twitter at twitter.com/USAShooting.
Hill Country Shooting Sports Center, Inc.
The Hill Country Shooting Sports Center, Inc., is an official United States Olympic Training Site, and includes opportunities for athletes to participate in Olympic and Paralympic shooting programs. Conveniently located on 140 acres just outside of Kerrville in Central Texas, this facility currently provides a training and competition venue for National shotgun teams and U.S. Olympic Hopefuls. Venues for training U.S. Olympic Hopefuls for Rifle and Pistol are currently being added. The Center offers International Trap (Bunker) ; International Skeet, American Singles & Doubles Trap, American Skeet, NSCA & charity Sporting Clay tournaments; practice 5 Stand, & a 100 yard Rifle & 25 yard Pistol Public Range.