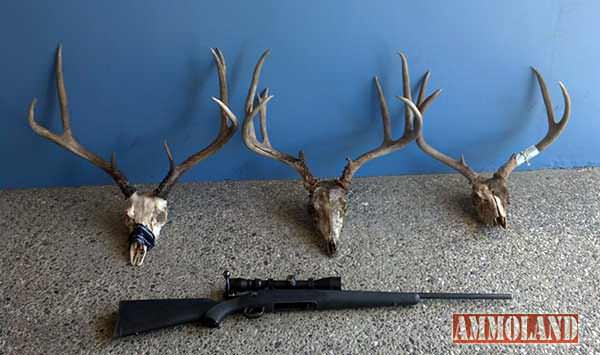 San Francisco, CA -(Ammoland.com)- A Plymouth man was convicted in Amador Superior Court of multiple deer poaching charges.
Gary Michael Creason Jr., age 24, was fined $19,520 for activities involving the take of trophy deer out of season, among other charges. Trophy bucks are described as male deer with very large antlers.
Acting on a tip, wildlife officers from the California Department of Fish and Wildlife (CDFW) contacted Creason at his home in July 2013, where they found him in possession of several sets of trophy deer antlers and deer meat. Creason admitted to taking deer out of season, using another person's tag and admitted to pursuing trophy bucks outside the hunting season. In 2012, Governor Brown signed Assembly Bill (AB) 1162 (Chesbro) that increased the penalties associated with killing trophy game animals out of season.
"Poaching deer during the mating season when hunting season is closed is a common tactic of poachers," said CDFW Lt. Stacey LaFave, supervisor for Alpine, Amador and El Dorado counties. "Bucks have a reduced awareness of their surroundings and become very susceptible to this type of illegal activity."
The $19,520 fine was on top of three years of probation, loss of all hunting privileges during that timeframe and forfeiture of all wildlife evidence seized. AB 1162 established a criminal penalty for any person who knowingly and illegally takes a trophy deer outside the legal hunting season. The penalty for such offense shall be not less than $5,000 nor more than $40,000 or up to one year in county jail, or both the fine and imprisonment.
The bill was sponsored by an organization of hunters to deter poachers from illegally targeting very large game animals.
About The California Department of Fish and Wildlife's (CDFW)
The Mission of the Department of Fish and Wildlife is to manage California's diverse fish, wildlife, and plant resources, and the habitats upon which they depend, for their ecological values and for their use and enjoyment by the public.