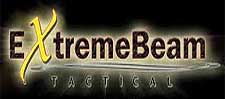 USA –-(Ammoland.com)-  Alpha-TAC, parent company of ExtremeBeam, welcomes industry veteran Douglas Campbell as its new U.S. Director of Sales.
Formerly Director of Domestic Rifle Sales with Colt Defense LLC, Campbell brings with him nine years of sales managing experience from a number of different industries, including sporting goods, firearms, ballistic protection, communications systems and industrial safety.
Along with his extensive background in sales, Campbell also brings 21 years of experience in law enforcement protection – eight years as a United States Army military police officer and 13 years in special operations for the Oakland Police Department in Oakland, California where Campbell served as the department's sergeant.
"Having been a user of professional illumination tools my entire adult life, it didn't take very long to understand the technological advantages and value that ExtremeBeam brings to the marketplace," said Campbell. "I am thrilled to be part of the ExtremeBeam team and promote these game-changing products."
As the U.S. Director of Sales, Douglas Campbell will be in charge of sales efforts to expand Alpha-TAC and ExtremeBeam's presence in the outdoor, industrial, and tactical marketplaces.
"There is no doubt in my mind that Alpha-TAC and ExtremeBeam will benefit tremendously from Douglas's background, experience, and work ethic," said Alpha-TAC President and CEO David Wilson. "The company's growth over the past year has been incredible. I'm excited to have Douglas on board as we start the new year and look forward to having him help us bring ExtremeBeam and Alpha-TAC to the next level."
Douglas Campbell can be contacted via email at Doug@extremebeam.com.
Alpha-TAC's ExtremeBeam is committed to providing the best Sport, Tactical, and Industrial lighting products available on the market. Superior engineering and craftsmanship allow them to outperform and outshine other high-end lighting products of the same class. For more information about ExtremeBeam and its complete line of products visit www.extremebeam.com.
ExtremeBeam – A Shining Light in the Face of Darkness