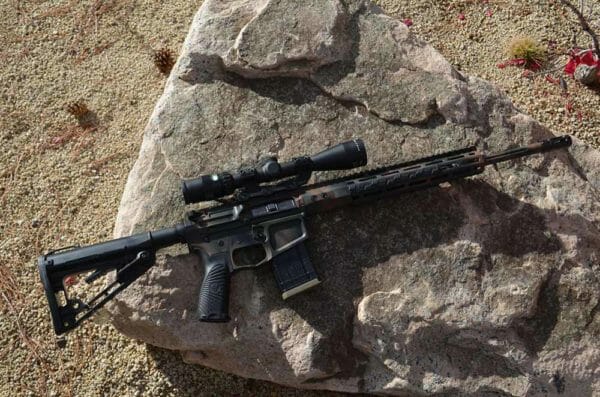 U.S.A. –-(Ammoland.com)- Last year Wilson Combat unveiled a new rifle cartridge known as the .300 HAM'R, purposely made for the harvesting of hogs and other similarly sized game animals.
When I first heard of this new rifle and round, the word around the campfire was that it would give a standard AR-15 rifle the same ballistics as a .308 Winchester without moving up to the larger and heavier AR-10 platform. I thought that was a rather bold statement.
After conducting some research by comparing published loading data on similar bullet weights and velocities, I found the results interesting, but the .300 HAM'R fell short by more than a few hundred feet per second than any .308 Winchester load with which I was familiar. It was closer to or maybe even better than a .30-30 Winchester.
That is still impressive for the AR-15 platform but let us not make the mistake of thinking it is something that it is not. In reality, the .300 Ham'r is much closer to the .30-30 Winchester ballistically. In fact, Wilson almost dubbed it the .30-30 AR.
I delved into the ammunition a bit, to see what the truth behind this new round is.
300 HAM'R Ammunition
Before you think that this is a glorified .300 Blackout or 7.62 X 39 round, it is a bit more than that. Not that those are not good calibers; .300 Ham'r just offers improved performance for hunting and the velocities and muzzle energy are a bit more impressive.
I was told that the round has been in development for over a decade and has close ties to another of Wilson's proprietary rounds: 7.62X40WT.
Like the 7.62 X 40WT, this round is built on the .223 Remington case necked up to accept a .30 caliber bullet. It has an overall length of 2.26″ with a maximum case length of 1.603″. Cases can be formed from .223 Remington brass but factory .300 HAM'R brass is available from Starline. Loading dies by Lee and RCBS are available from Wilson Combat as well.
Factory ammunition is available from Wilson Combat and HSM. Other manufacturers such as Black Hills Ammunition will be adding .300 Ham'r to their lineups in 2019.
As excellent as the factory ammunition may be, I see this round as a hand loader's dream. Unlike the 7.62 X 39 and its odd-sized bullets or .300 Blackout and its use of pistol or shotgun powders while loading; you can use legitimate rifle powders rather than slow burning pistol powders to take advantage of the case capacity and proper .308″ bullets to send those rounds downrange much faster and more accurately. A slower rifling twist of 1 in 15″ will serve those rounds better than the faster twist rates of .300 Blackout as well.
Wilson Combat's Tactical Hunter Rifle
Wilson sent us a Wilson Combat Tactical Hunter. Previously, I had only seen these rifles on their larger platform in .308 Winchester and .338 Federal. So, it was nice to see it in the smaller AR-15 sized configuration. It is very handy and lightweight tipping the scales at 9 ounces less than 7 pounds.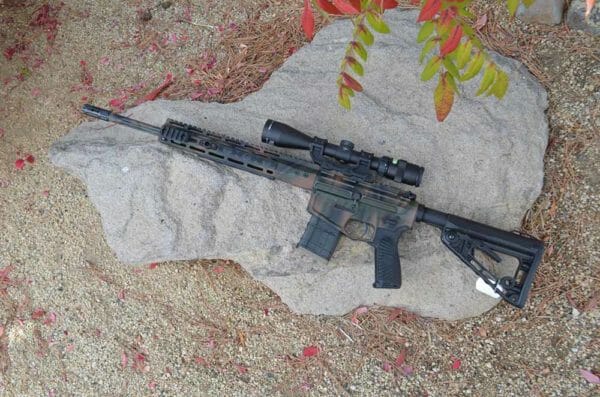 The rifle was topped with a Trijicon Accupoint scope in 3X9 with a tritium dot reticle, ideal for when feral hogs make their appearance as the sun is going down. As a long-time ACOG fan, I found the glass to be extremely clear and the green dot very eye-catching with regard to focus and sighting. I definitely see a few of these scopes in my future.
As with every other Wilson Combat rifle I have shot, the Tactical Hunter is an impeccable build and this is reflected in the quality of components as well as the quality of assembly. This is no cookie cutter rifle slapped together by random builders. Rather, each piece is fitted by expert gunsmiths at Wilson's plant and the build sheet carries the signature of each smith who touched, torqued and fitted the parts in question.
Wilson Combat's Tactical Hunter Rifle – Performance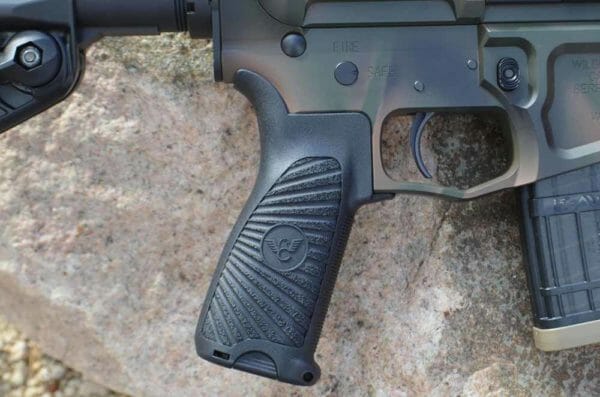 I tried a few boxes of .300 HAM'R 150 grain a125-grainain rounds. The velocity on the 150 grain HC ammunition was 2240 feet per second (fps) and the 125 grain TNT ammo measure at 2525 fps. At 100 yards we were averaging sub 1" groups with either ammunition type.
While I was limited to less than 100 rounds and this was hardly designed to be a 1000 round torture test, I suffered no malfunctions, misfeeds or failures to fire at any time.
Recoil was about as mild as .300 Blackout when fired through a full-sized rifle. That is to say, very mild. This is not only a rifle that would be comfortable to carry all day on a pig or deer hunt but one that is comfortable enough to shoot all day.
Bottom Line
At last count, I have about 20 different AR rifles in my safe from .22 LR to .50 Beowulf. If I were to add another one, the .300 HAM'R would make for a strong contender.
If you are a hunter who prefers the ergonomics and familiarity of an AR to a traditional lever action or bolt action rifle; this may be what you are looking for as an alternative to lugging a heavier AR-10 pattern rifle through the hills or woods in search of game. It performs admirably out to 200 yards and a bit beyond.
The price of a Wilson Combat rifle can be a bit off-putting to most, the author included. However, if you really need to have a rifle or a spare upper receiver in this caliber, all you need to do is order a barrel as every other part will interchange with a standard AR-15 pattern rifle. Wilson offers these barrels from $275. Other barrel manufacturers will undoubtedly jump on the bandwagon in the future for a bit less, perhaps.
With a saturated AR market, it is good to see some innovation, even if it is just a new caliber. I typically shy away from new calibers until they have been around for at least 5 years, but from what I have seen with regard to support for the .300 HAM'R; this round may be here to stay and even if it proves to be another flash in the pan. Quite simply, the ability to build your own ammunition and form cases will mean that it will have more staying power than other rounds.
I may be apt to grab one of my trusty lever action rifles for a typical hunt, but if I were on a wild hog hunt in the southeastern United States where you can literally run into a pack of wild porkers, I would feel better off with an AR chambered in .300 HAM'R to harvest my hams!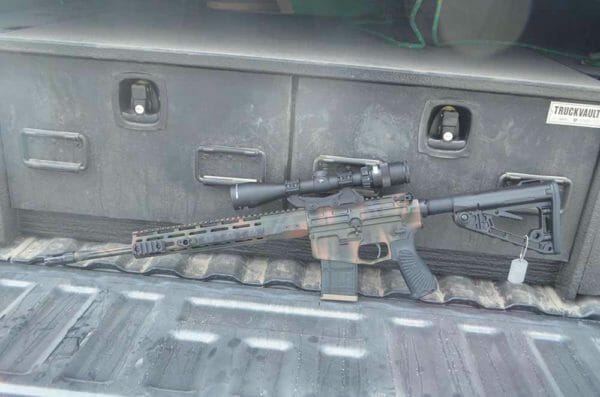 Wilson Combat Tactical Hunter Specifications
Caliber: 300 HAM'R
Barrel Length: 18″
Overall Length: 35″
Weight Empty: 6 lbs 7 oz
Trigger: Wilson Combat TTU (Tactical Trigger Unit) M2, 4#
Finish: Armor-Tuff Finish
MSRP: $2725
---
About Mike Searson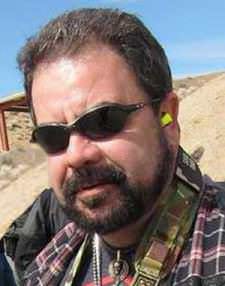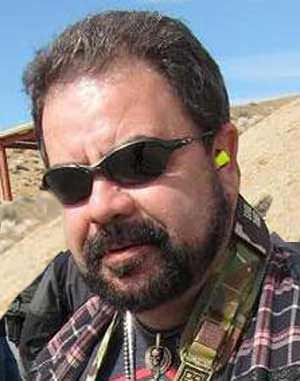 Mike Searson's career as a shooter began as a Marine Rifleman at age 17. He has worked in the firearms industry his entire adult life as a Gunsmith, Ballistician, Consultant, Salesman, Author and was first certified to teach firearms safety in 1989.
Mike has written over 2000 articles for many magazines, websites and newsletters including Blade, RECOIL, OFF-GRID, Tactical Officer, SWAT, Tactical World, Gun Digest, Examiner.com and the US Concealed Carry Association as well as AmmoLand Shooting Sports News.
Homepage: www.mikesearson.com
FB: www.facebook.com/mike.searson
TWITTER: www.twitter.com/mikesearson