3-Gun Nation Finals This Week on 3GN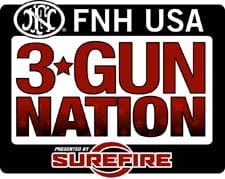 Las Vegas, NV –-(Ammoland.com)- The entire season has all come down to this—16 of the country's top 3-gunners in a single-elimination, man-on-man tournament worth $40,000, the FNH USA 3-Gun Nation Championship, Presented by SureFire, only on Versus.
Watch top pros Daniel Horner, Tony Holmes, Barry Dueck, Dave Neth, Rob Romero, Jerry Miculek, Kurt Miller, Bruce Piatt, Taran Butler, Patrick Kelley – and more – square off for the title and $25,000, courtesy of Leupold Tactical Optics. Second place takes home $10,000 from US P.A.L.M., while third place pays $5,000, courtesy of Timney Triggers.
The drama builds as one-by-one competitors are eliminated in the 3GN Championship Shoot-Off, an all-steel target course of fire, provided by MGM Targets, where contestants use rifle, shotgun and pistol in a race to stop plate.
Watch 3-gun history as the top shooters in the game gun for the largest guaranteed cash payout in the history of the sport.
The 3-Gun Nation Championship Shoot-Off is event like no other. Each competitor runs the same equipment: FNH SCAR 16s rifles, chambered in .223 and fitted with SureFire Muzzle Brakes and Fast-Attach Suppressors; FNH FNX-9 semi-automatic pistols in 9 mm; and FNH SLP 12-guage semi-automatic shotguns. The rifles are topped with either Weaver or Leupold Tactical Optics scopes, and all ammunition is provided by Federal.
To see a video preview of the championship episode, go to http://www.3gunnation.com/video/3gn_season_finale.
3-Gun Nation airs on Versus, Mondays at 7:30 AM EST and Thursdays at 3 PM EST. The entire three-part championship block of episodes will repeat throughout December. For more information, visit www.3gunnation.com.
The post 3-Gun Nation Finals This Week on 3GN appeared first on AmmoLand.com.