By Glen Wunderlich
USA –-(Ammoland.com)- At long last it's official: The .22 rimfire ammo shortage is over. Little by little the big supply houses, such as MidwayUSA, Brownells and Cabela's, are getting more and more quantities of some America's favorite, inexpensive plinking ammo; it's even showing up in local hardware stores.
The new normal means inexpensive in relative terms, however.
It doesn't seem that long ago when we could pick up a box of 50 rimfire rounds for under a buck. Now, that same ammo has skyrocketed to about 4 times as much or more! Compared to any centerfire fodder – or, for that matter, even the more quality-controlled rimfire target and match offerings – the lower-cost rimfire rounds are today's bargain for economy-minded shooters.
If you've contemplated introducing a youngster to shooting, the .22 rimfire is a great way to begin. Month after month, the new rimfire firearms have been introduced, although some of them are mere variants of other models. Nothing wrong with that, but I wondered how popular any new gun would be, if ammo was unavailable. With supply catching up with demand, we are about to find out.
One of the more innovative .22s introduced during the ammo shortage is the Mossberg Flex-22 Youth. I had an opportunity to try one out a couple of years ago, when Linda Powell of Mossberg brought one to the shooting range at a media event. I found it to feed reliably and with an inexpensive red dot sight, it was downright fun to shoot. With a free-floated barrel, grooved receiver scope rail and 10-round magazine, the approximate cost of $200 seems reasonable.
But, the Flex stock system makes it a gun that can be adjusted to fit a youngster's length of pull, as he grows up – a decided advantage over fixed-stock platforms.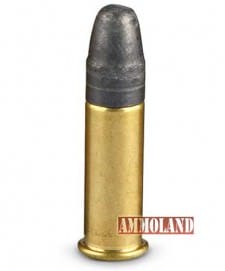 Noise and recoil can turn off a beginner and neither is a concern with the little .22s, although the use of hearing protection is still warranted. Sub-sonic, target, standard velocity, or match ammo brings the noise level down, as well, and is readily available and well-suited for the beginner. And, that's how 6 year-old Landon got his start.
I broke out some ancient CCI CB shorts – ammo that is about a quiet as ammo gets. Of course, it doesn't have the power or velocity of even sub-sonic target ammo, but when sighted in properly, it is a good short-range alternative for a newcomer. Landon's first shot was about an inch from the bull's eye and the second shot was perfectly centered. We then moved on to some reactive steel rimfire targets and the young man didn't miss from the sturdiness of a solid sandbag rest.
It wasn't long before I loaded some sub-sonic ammo into the tubular magazine of my 79 year-old Marlin model 81 bolt gun. The youngster began thinking he was the greatest shot alive, as his confidence grew. Oh, he still missed at times, when he wanted to peek at the results before pulling the trigger. I explained that he had to keep looking at the target after shooting and he got the message.
The concept was now cemented and a new shooter had emerged.
I don't know who was having more fun between us but it didn't matter. It was just plain fun!
About Glen Wunderlich:
Charter Member Professional Outdoor Media Association (POMA). Outdoor writer and columnist for The Argus-Press (www.argus-press.com) and blog site at www.thinkingafield.org  Member National Rifle Association (NRA), Michigan United Conservation Clubs (MUCC), member U.S. Sportsmen's Alliance (USSA), Quality Deer Management Association (QDMA), Commemorative Bucks of Michigan (CBM).