MINNESOTA – -(AmmoLand.com)-   The cult like following of the Minnesota deer hunters hunting camps is legendary so when I got invited to the 2018 Minnesota Governor's Deer Opener in Hinckley, Minnesota I jumped at the chance. I had attended the 2017 event last year in Grand Rapids, Minn. and had a blast. This year promised to be even more fun.
The event is a big banquet put on by the Minnesota Deer Hunter Assn. The event kicks off on Thursday night with a big banquet.
Preceding the banquet, the MDHA puts on a lot of seminars. Riton Optics had me put on a Glassing for Big Game seminar and Knives of Alaska and Smith Consumer Products had me put on a Knife Sharpening/Choosing the Proper Knife seminar.
The bad thing about conducting seminars is that you don't get to attend the other seminars. I like going to seminars as I always learn something. At the Minnesota Governor's Deer Opener there is always an old meat butcher named Bill Hesselgrave that puts on interesting boning seminars. He bones his deer out leaving the whole side intact.
As the seminars concluded we were funneled into the big dining area. Along the perimeter there were raffle tables set-up. Crosman had donated one of their Rogue break action airguns, Riton Optics had donated a scope and Smith Consumer Product's had donated some knife sharpening stones etc.
Along with the raffle tables, there were also booths set-up by various companies such as Mossberg, various taxidermists etc. It was interesting talking to the Mossberg rep, Chad Sandstrom and seeing their new guns. And it is always nice when the reps in our Outdoor World are actual hunters. As soon as his booth closed, he jumped in his truck to head to a deer camp.
This year the dinner was actually a big selection of hors d'oeuvres. They were great. I enjoyed this format since it allowed you to browse at will and leisurely hit all of the exhibit booths, raffle tables and mingle. During the evening there were guest speakers.
I don't know if this is noteworthy but they had a Hunter's Orange contest. Some guy showed up in a fluorescent orange suit, orange tie and using an orange drink holder. Surely he won the contest. After a fun night the evening finally closed after the drawings.
The next morning, they had a breakfast for us starting at 5:30. There were 11 booths set-up for Outdoor Radio stations to conduct interviews. That's one thing unique that I've noticed in Minn. They have a ton of Outdoor radio stations. In Idaho I've only ever know of one that a buddy ran and it closed down years ago. But outdoor radio stations are alive and well in Minnesota.
At breakfast I just happened to be lucky enough to be seated by Leslie with the Minnesota DNR. It was very interesting talking to her about what they're doing to combat CWD and the challenges that they face. Not an easy battle. Doesn't look like to me that there are any easy answers to solving the CWD problem.
After we had eaten and all of the radio interviews were winding down, I threw my Mossberg Patriot Revere 30-06 tipped off with a Riton Optics MOD 5 4-16 scope into my rental car and went out to meet Loren and Arlene Rabe. Hosts had been assigned to visiting writers and I'd be hunting on their land.
Maybe I'll have to do a follow up article on that hunt sometime.
---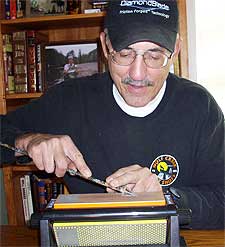 About Tom Claycomb
Tom Claycomb has been an avid hunter/fisherman throughout his life as well as an outdoors writer with outdoor columns in the magazine Hunt Alaska, Bass Pro Shops, Bowhunter.net and freelances for numerous magazines and newspapers. "To properly skin your animal you will need a sharp knife. I have an e-article on Amazon Kindle titled Knife Sharpening for $.99 if you're having trouble."